DIGITAL MARKETING > SEO
Voice Search Optimization: Get on Top of SERPs in 2023
Given the current day and age voice search has become a convenient way of finding what you are looking for. Because of this, it has become important to optimize your website for voice search. In this blog post, we discuss how to do voice search optimization to boost your SERP position.
How is voice search performed?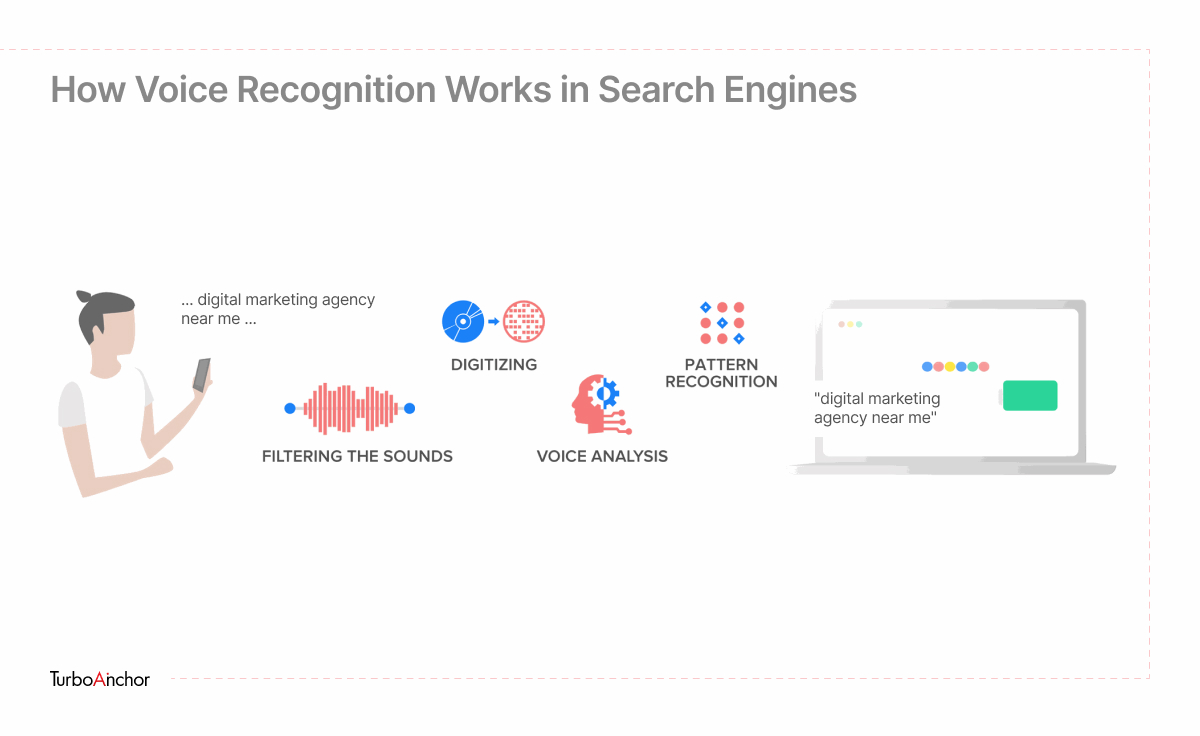 As time passes, voice search continues to expand and evolve as a trend – where is voice search technology now?
There are several technologies that can receive and understand spoken orders, and they all employ search engines as their knowledge base.
At first sight, there may appear to be no difference between smart assistants on smartphones and smart speakers, but when you look at how they are utilized, the differences become plain as day.
Our objective is to ensure that your website is prepared to greet your voice-searching audience wherever they are.
Different Ways people use voice search
Quick Voice Searches on Smartphones
Voice searchers who need a rapid response or solution to an issue frequently use their cell phones. Assume you're on a date and need to determine where to go next. A fast voice search might provide you with several options.
Smart Speakers: Comprehensive Knowledge of Voice Searches
People frequently utilize them in the privacy of their own homes for broad, in-depth searches. Their verbal searches would be for random knowledge, random tunes, or assistance with any plans they might be making, such as a wedding or an international vacation.
Consumers Need Voice Searches in Car Speakers
While driving, 52.8% of individuals use voice search to find destinations, directions, and the lowest rates. [1]
Given the different ways consumers use voice search, it becomes important to optimize for voice search on your website.
What is voice search optimization?
Let's first discuss what optimizing for voice search is. The process of improving and simplifying the material on your sites so that it appears in voice searches is known as voice search optimization. The goal of voice search optimization is to tailor your website to answer people's inquiries when they do speak searches. This technique allows you to have your page read by a voice search device (Alexa, Siri, Ok Google) anytime a user requests information about your page.
Importance of voice search in SEO Rankings
Voice search isn't a passing fad; it's gradually becoming the standard. Approximately 40% of internet users in the United States use a voice assistant at least monthly, largely through smartphones and smart speakers [2]. By 2023, the number of smart speakers in the United States alone is predicted to exceed 200 million [3].
No matter what business you're in, voice search gives you another significant chance to gain organic search traffic. By utilizing voice search, you will gain access to a new group of people who rely on smartphones and smart speakers to discover companies and make purchases.
Voice search optimization can also enhance your site's overall SEO and rating. Search engines enjoy it when websites optimize for voice searches since it gives your site more authority and consequently higher positions on results pages, maybe even high enough to appear in a voice search result.
How to optimize for voice search?
Here are 5 ways you can optimize for voice search
Understand the type of your customer and the device they use
Marketers must go further into knowing the consumer and their behavior, much as voice search engines employ data, location, and many data points to comprehend search context. Real-time data and consumer insights research can aid in understanding how various individuals utilize speech search, as well as the type of voice-enabled device.
Use conversational language
Conversational voice searches, as a result, you should give your material a conversational tone in order to meet readers where they are. A less formal writing style is viewed as more relevant to voice requests, in addition to feeling more natural and simpler to read.
Incorporating more conversational terms (e.g., "I," "me," "you," "we") in blog articles, avoiding jargon and too technical language, and adding touches of comedy to reinforce your views are some strategies to make your material more conversational. If you must adhere to an established brand voice, make the tone of your material fall toward the more informal end of that voice.
Build FAQ answer pages
Voice searchers commonly begin their questions with "Who," "What," "Where," "When," "Why," and "How." They're seeking answers that will meet a pressing demand. Make a FAQ page and begin each question with these adverbs to answer these questions. Then, in order to appeal to voice search, respond to them in a conversational manner. Make sure your website is technically solid and incorporates schemas from a performance standpoint. Ensure that navigation and informative structure are easily accessible, and that page load times are quick.
Be Multilingual
You most likely have a varied group of visitors who speak more than one language. If this is the case, you must produce material that people can locate and use. With voice search, the quality of your content's translation must be extremely exact. You want to sound like a reliable, authoritative source when Siri reads your information. We recommend enlisting the assistance of a local speaker to translate and review your material and content.
Improve Domain Authority
Now comes the part you're probably not looking forward to. As a general rule, voice search selects the best search result for the uttered question. Sometimes the assistant may remark, "Here are a few alternatives," and then leave you to search the SERP. To put it another way, if you want to be heard in voice search, you must have your website on Google's top page. The closer you are to the top spot, the better. Your best bet is to increase your SEO efforts across the board, including backlinks, user experience, local search, technical concerns, and so on. Keep track of your progress by viewing your ranks in WebCEO's Rankings report.
Conclusion
As the world is progressing in technology there is great ease provided to individuals. One of them is a voice search with the utterance of one sentence you can find out about anything anywhere. But as this convenience brings ease to consumers it also calls for websites to optimize themselves for this feature. It has risen as a new to compete for the top spot in the consumer's search.  
References
[1] BrightEdge: Optimizing content for voice search and virtual assistants –

slideshare

 

[2] Voice Assistant and Smart Speaker Users 2020 –

Insider Intelligence

 

[3] Smart speakers – Statistics & Facts –

Statista

 
Get the TurboAnchor® newsletter
Get smarter with the latest news, tutorials and consultation on technology.
By signing up, you agree to our Terms of Use and acknowledge the data practices in our Privacy Policy.