Digital Marketing > PPC
What Is Mobile Marketing & Its Types?
Intro
What is Mobile Marketing? It's a marketing strategy that engages the audience on smartphones or tablets using mobile-specific outreach channels, such as SMS, push notifications, MMS, social media, and in-app notifications. Each mobile marketing channel holds unique value in delivering and conveying specific types of information to the consumer.
In previous years, we have noticed that customers have shifted their attention to mobile. Therefore, marketers are doing the same to create true multichannel engagement. As technology gets divided into more segments, so does marketing. So to earn and maintain the attention of potential customers, content must be strategic and highly personalized. Mobile marketing is a crucial piece of the puzzle when building out any short-term or long-term marketing plan. There are a variety of mobile marketing channels ranging to reach almost every part of your audience. Ranging from email to pay-per-click (PPC), search engine optimization (SEO), content marketing, and social media marketing. 
For effective mobile marketing, you need to organize a cohesive experience that customers hope for. It can be a real challenge as you work to acquire, engage, and maintain users across various platforms. 
Why is mobile marketing important?
Research shows that people spend hours on mobile apps, making mobile devices dominate communication. Also, nowadays, a large portion of the population access the internet through mobile instead of laptops or desktops. Mobile's portability feature helps users get in touch with the world through the internet from anywhere and anytime. An increasing number of internet and mobile users draws a revolutionary trend in the mobile marketing sector. 
Following are the importance of mobile marketing in today's world.
Accessible and Immediate
It is observed that people spend hours on their mobile devices. According to Datareportal, people spend about 4 hours and 10 minutes, which is considered a lot. That may include accessing their favorite social media apps, checking out emails, playing games, and online surfing. So if you want to stay relevant, you need to move according to your users. 
Accessibility plays a vital role in the success of mobile marketing. It lets you reach your audience anywhere and anytime. Also, mobile marketing is the quickest way to communicate with consumers and get your message out instantly. Notably, 56.7% of web traffic came from mobile devices, not desktops. The problem with desktops is that the user won't receive your message for hours. People don't sit at their desks all the time as it limits them compared to mobile. So if you want to reach your audience immediately, mobile marketing is way better. 
Reach & Target audiences around the globe 
In today's time, almost everyone owns a mobile phone. So if your goal is to reach a global audience, mobile marketing is good to go. Not only can you reach all audiences, but you can also choose who you want to reach specifically. Sure, you have some demographic preferences for your audience, whether age, gender, or location. 
Moreover, ad platforms are getting more advanced daily as they offer popular features like interests, hobbies, past purchase behavior, retargeting, etc.
Cost-effective
Well, mobile marketing turns out to be way much cheaper than it comes to old-school traditional marketing. 
According to observation, ad clicks coming from mobile are 24% cheaper than those coming from the desktop. Optimizing your website for mobile use or sending text messages is less expensive than any traditional marketing approach. It gives an excellent opportunity for any business or startup with a limited budget. So if you want to reach more people for half the price of traditional advertising, mobile marketing is your go-to ticket. Another perk is that creating campaign elements is much easier for mobile. The amount of information you can include in a portion of the content is much less due to the limited screen size of mobile devices. That makes the content precise, to the point, and thus more effective.
Easy to Track Results
What makes mobile marketing best is that it's easy to track the results of your campaigns. Firstly you can examine responses to your mobile marketing messages and understand the click-through rate. Secondly, you can adjust your campaign to get a higher ROI. That can help businesses to be more accurate, relevant, and adaptive.
Types of mobile marketing
As a user myself, mobile is the first thing needed after waking up in the morning and the last thing used before going to bed. A business should have a special place for mobile marketing, or it will affect your business. You can improve your business by adopting modern mobile marketing and advertising techniques.
SMS marketing
It's one of the most common methods of mobile marketing. Marketers use SMS/text messaging to reach out to customers with limited-time offers and other promotions. SMS marketing provides a strong delivery platform for marketers. A user indeed checks an SMS in less time. So, SMS is a perfect way to contact a customer regarding their requirement and advertisement. 
App-based marketing
App-based marketing is about creating campaigns that communicate with your users at every step: from when they first download your app to shifting into a regular user and brand advocate who makes multiple in-app purchases. The magic of app-based marketing lies in performing effective marketing activities designed to attract new users and improve retention.
Ads hosted on apps can vary, from banner ads to video and increasingly advanced demos of other apps. App-based marketing lets businesses contain ads in specific mobile application designs. Facebook is an ideal example of ads in an app.
Push notifications
Push notifications are clickable pop-up messages sent to a user's device by a mobile app that appear on a lock screen or in the top section of a mobile device even when the app isn't open. These notifications are designed to grab attention and show reminders, updates (match score), promotions (downloading a coupon or bout an event, such as a flash sale), etc.
Push notifications look similar to SMS text messages and mobile alerts, but they only reach users who have installed your app. These notifications consist of a title, a message, an image, a URL, logos, emojis, and other details. 
Proximity or Bluetooth marketing
It is a marketing technique to target customers based on their precise location at the right time and place. It's important that you should know that it's not just about marketing. Proximity marketing can also work as a medium for collecting data that helps you understand your customer better and to know their interests. As we have observed over time, brands with a strong physical presence, such as stores and shopping malls, restaurants, or hotels, are shifting towards this marketing technique. So for any outlet that desires such services, IoT PROXIM is their go-to ticket and an excellent opportunity to reach their customers. Speaking about how it works, all its uses are channels like beacons and bluetooth technology to transmit information close to mobile devices. So, when a mobile device comes in proximity range of the beacon, the customer will receive a notification or request asking permission to connect with their mobile device. Finally, when they accept that notification or allow permission. They will receive promotional text messages or displayed ads in images or videos related to the product or services of the brand.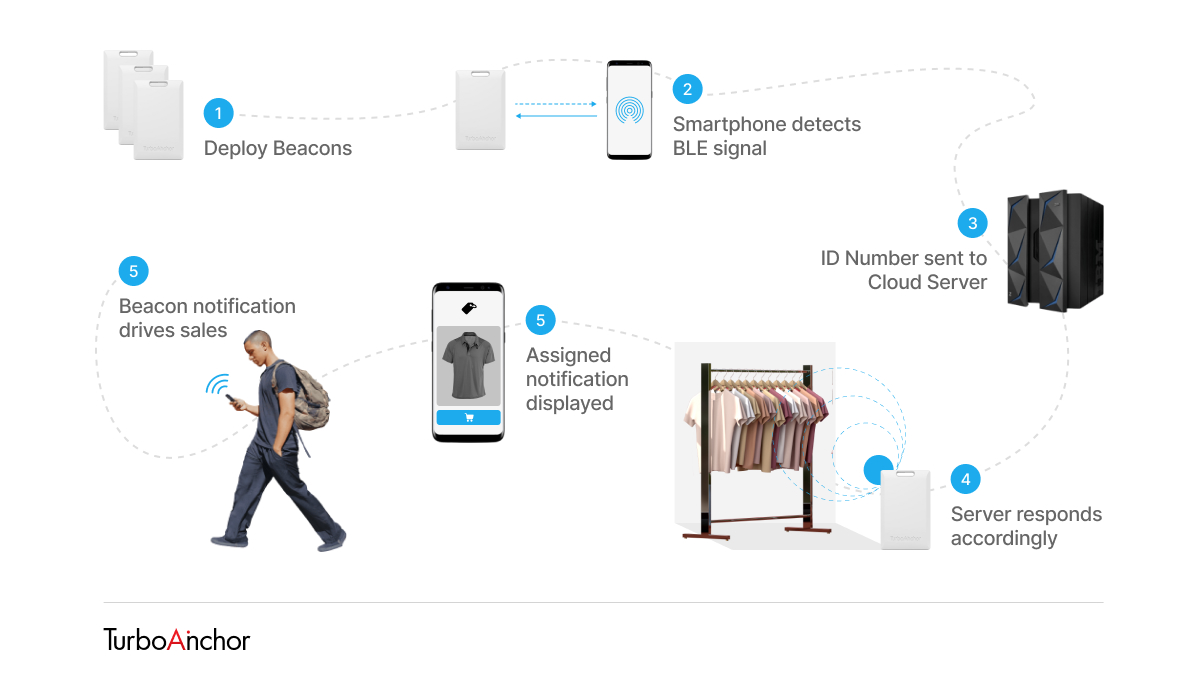 By placing beacons around a store, retailers can gather detailed information about customer movements to utilize their in-store experience and create highly personalized marketing campaigns.
Location-based marketing
People often get confused between location-based and proximity/bluetooth marketing, but there's a slight difference. As the name suggests, both work by targeting users based on their location, but proximity marketing uses a detailed approach. Marketers mostly use location-based marketing to target audiences across a wider geographical area. It uses geofencing to target users within an established geographic area or boundary and delivers content based on where they are or what locations they have previously visited.
In-game mobile marketing
In-game marketing refers to the pop-up ads displayed every time we access a game or play it. These ads can also be within the game cut-scenes, on-screen adverts, billboards, and background displays.
QR codes
Last but not least comes QR codes. Used by different marketers widely these days and over the last couple of years. The concept behind a QR code is to create a scannable image on a smartphone. QR codes contain web address information and links that redirect users to a particular website. Nowadays smartphones are capable of scanning QR codes, so for someone running a business who decides to go for QR code service you only need a QR code generator which is easily available on the internet, and a printer to set things up. Retail customers can scan the code at your outlet, which redirects users to your website.
Get the TurboAnchor® newsletter
Get smarter with the latest news, tutorials and consultation on technology.
By signing up, you agree to our Terms of Use and acknowledge the data practices in our Privacy Policy.