DIGITAL MARKETING > SEO
How To Do SEO For Ecommerce Website
Let's kick off with some basics like What SEO is all about? 
Well speaking of search engine optimization (SEO)  is all about  growing a business's organic search results and driving organic search traffic to the site. SEO's sole purpose is to improve your position on SERP & target unpaid traffic instead of direct traffic.
When it comes to online shopping, people often search for the required product on the search engine rather than for any particular e-commerce platform. Therefore, it becomes necessary to rank your e-commerce website on the search engine's top positions so that it becomes visible to the audience related to your niche before the other competitive websites, and you can get better traffic and conversion rates. Meanwhile, if your site is not ranking at the top positions of the search engine, then that ain't worth it.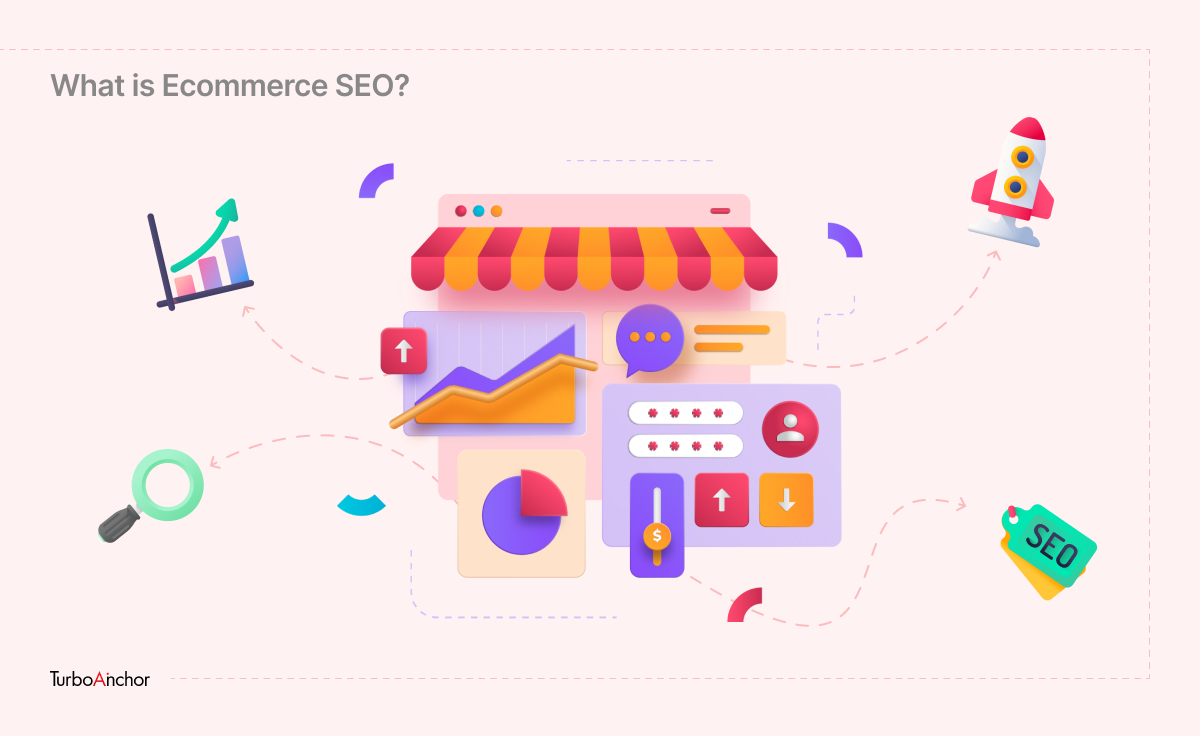 What Is Ecommerce SEO?
E-commerce SEO is a method of obtaining more traffic to your website by making it more visible on search engine result pages (SERPs). As we discussed above, well-ranked pages will receive more traffic, so you want your page to rank as high as possible.
For your web pages to rank higher in SERPs, you must make sure your website is optimized for search engines:
Whether your web store is

mobile-friendly

The keywords you utilize

The technical setup of your web store 

Obtaining

backlinks

from relevant websites significantly impacts SEO optimization
Why does SEO matter for eCommerce?
Now you are almost aware of "what is SEO for eCommerce," You're probably wondering why it matters. Why should you invest in an eCommerce SEO strategy? 
Following are some reasons that make SEO important for eCommerce websites,
Help people discover your brand: If someone isn't familiar with it, eCommerce SEO is a great way to help them discover it. You appear in more search results, which allows more people to find your brand.
Help more people find your products: People tend to search for products your eCommerce business offers. Investing in eCommerce SEO helps boost product visibility & brand recognition.
Provide a better experience for your audience: 
Investing in eCommerce SEO lets you deliver a better user experience for your audience.

You must optimize your site to rank higher in search results, which in turn helps you provide a better experience for your audience.

A more positive user experience leads to a positive brand relationship and improved sales.
Boost sales: When a customer finds your product through a search, they take the time to check them out and see if it's suitable for them. By ranking in relevant search results, you draw customers more likely to convert into sales for your business.
SEO Strategies for Ecommerce Website
The factors that involve ranking for SERP include the following:
Keyword Research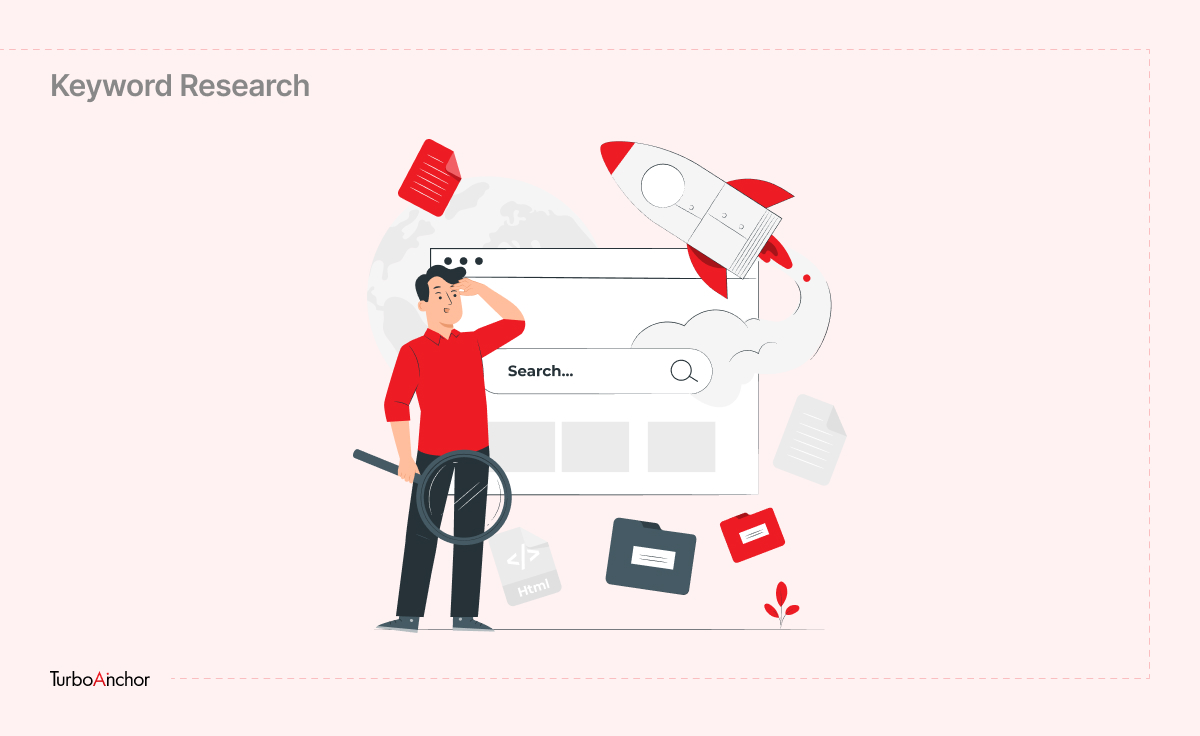 The first step to your ecommerce SEO strategy is keyword research. Keywords are the top player in eCommerce SEO, so you need to be watchful and alert while looking out for the keywords for your e-commerce platform.  It would be best if you went for those highly relevant keywords for your products. 
Before going for a product or category page keyword,
You must specify its search volume

Cost-per-click

User intent for using that particular keyword, or other factors

Analyze the competitor's website as well to get keyword ideas

Use

Long-tail keywords

as they often fit with the user intent and boost the conversion rate. 
For example, if someone wants to find Fitness wear, they may search "Gym workout apparel."
Your keywords help your products appear in front of your shoppers. Search engines, like Google, use keywords to determine your page's relevance in search results. So, you must choose the right keywords for your product pages so you can appear in relevant search results.
You'll want to go with long-tail keywords as you run keyword research because they drive more qualified traffic. You can use various keyword research tools to find suitable and optimized keywords that work for you. For instance, Samrush, keywordsit & wondershare. 
Site Architecture
Ecommerce site architecture, or structure, is concerned with the setup of your navigation, category pages & product web pages. It's about getting the best, most relevant content in front of potential customers and reducing the number of times they have to click to find it. It should be simple and easier to access for the users and the search engine. 
You must consider two crucial rules while working on the site architecture. By that, No page should take more than three clicks from any other page. Now let's get a clear understanding with it an example: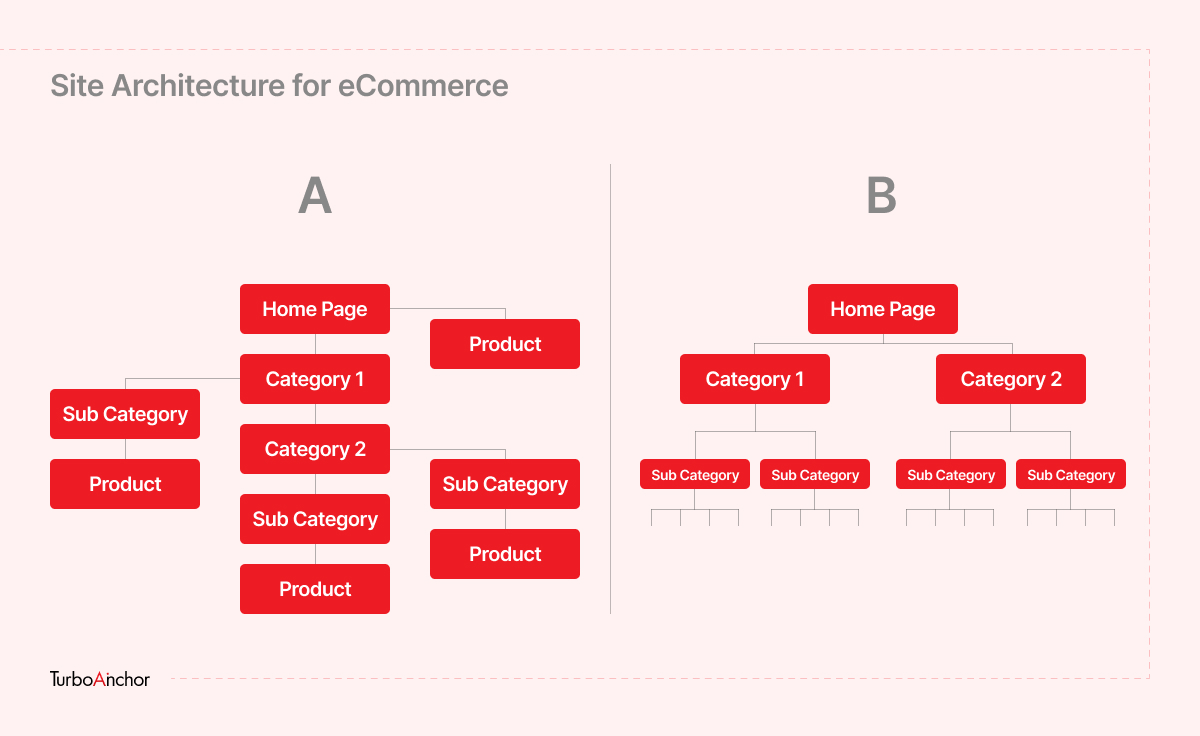 There's an architecture of sites A & B, In which you can see the site A architecture is deep and hard to navigate. As it is not scalable, you must analyze and organize things whenever you add new categories or products. And the most impactful flaw is that in deep site architecture, the authority passed by your site's homepage is weakened until it reaches the product pages.
As when it comes to the site B architecture one can easily access the required page with three or lesser clicks. It improves the user experience and ensures that the product pages get the relevant authority from the homepage. It also makes it easier for the search engine to rank and index the pages.
On-page SEO for eCommerce
On-Page SEO has always been a significant factor for any website to rank on the search engine result pages. An eCommerce site's On-Page SEO revolves around optimizing the product and category pages to rank higher for specific keywords and get relevant traffic and conversion rates. Yet, the techniques for On-Page SEO of an eCommerce site are similar to any other website. Still, there are some different approaches as well that you must take into consideration. The significant On-page SEO techniques for an eCommerce site include,
Use optimized meta titles and descriptions.

Use short and keyword-rich URLs.

Mention Product descriptions and include main & LSI keywords.

Add Schema Markup.

Do Internal Linking, etc.
Use authentic, relevant, high-quality photos or infographics for better results.
Suggested Read: What is the Difference Between On-Site, Off-Site, and Technical SEO?
Create a Long and Unique Product Descriptions
According to eCommerce SEO, writing unique or detailed descriptions for any product is considered the most overlooked. An eCommerce platform can have many products of similar categories, so writing unique descriptions for each product becomes quite challenging.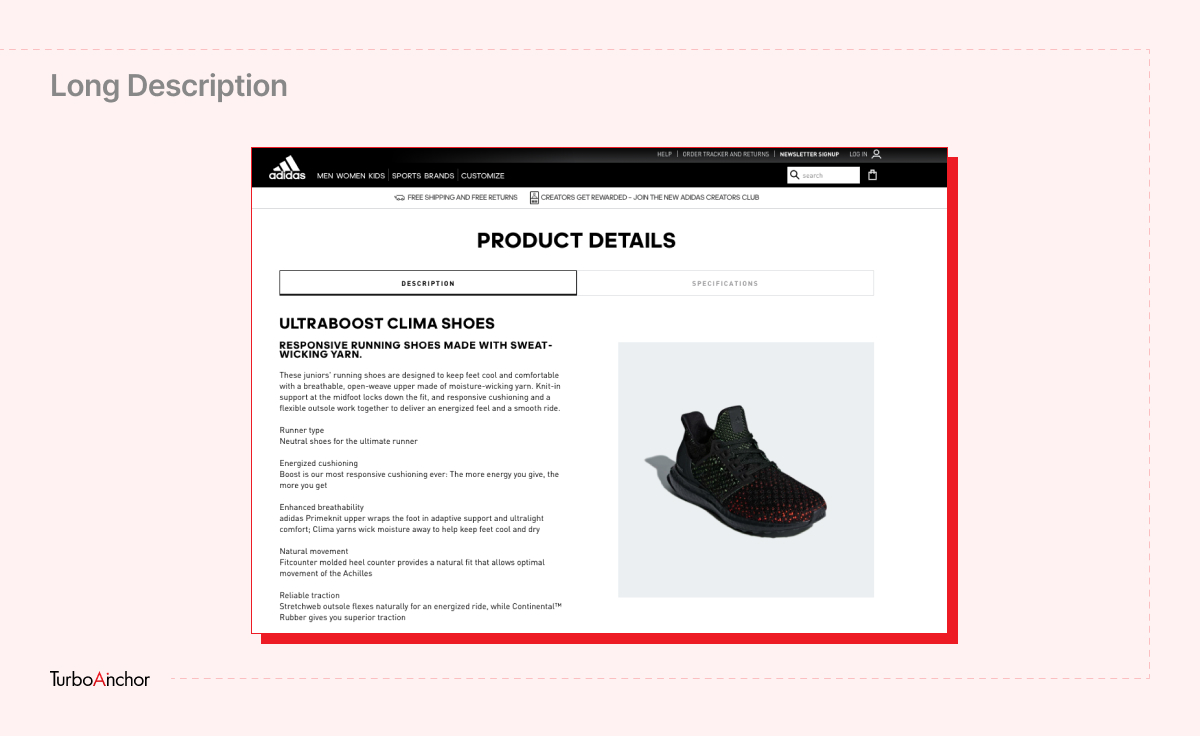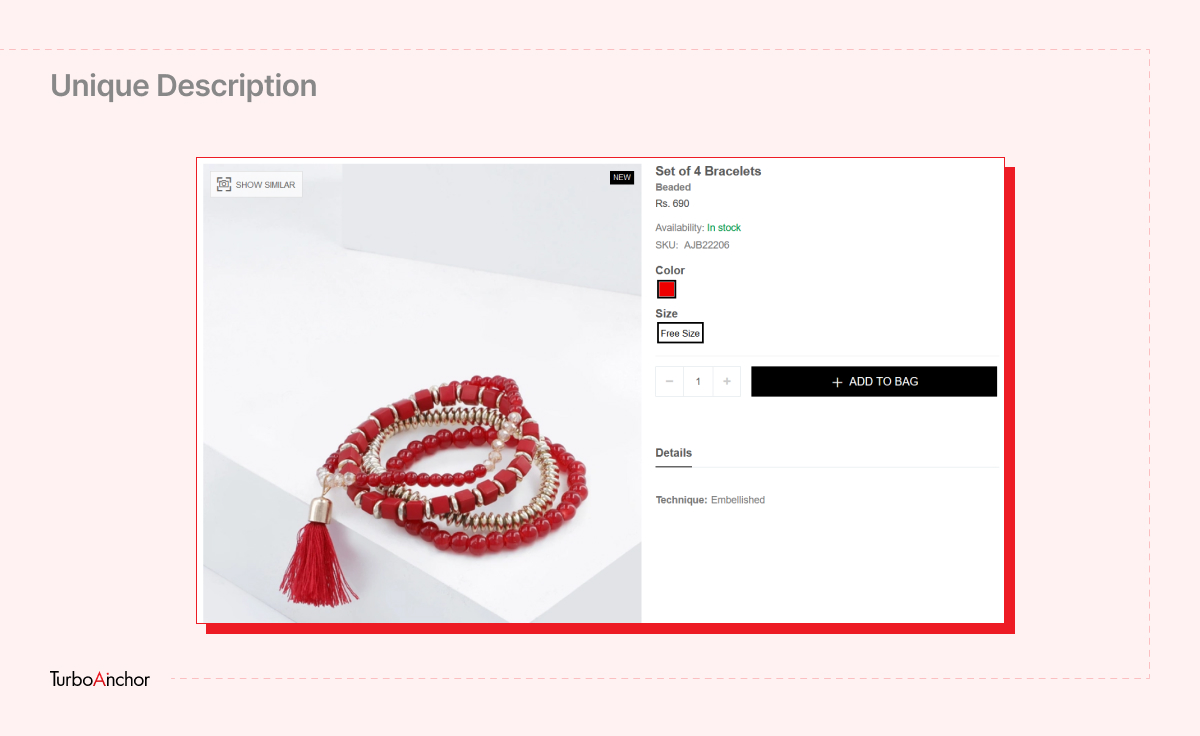 But copying the same description from a manufacturer or supplier leads to content duplicity issues that impact your site ranking and decrease the traffic and conversion rate accordingly. Therefore, writing a compelling and unique description for each product becomes more crucial than it sounds. You can use the following guidelines to write long and unique descriptions for your products,
Write product descriptions of nearly 1000+ words.

Use the main keyword in the description 3-5 times.

Use LSI keywords properly

Add modifiers like "Buy", "Sale" and click-magnet keywords such as "50% OFF", "Free Shipping", etc.

Highlight the specifications and important details of the product.
Improve Page Loading Speed
Your store's page speed is vital to keep as fast as possible. Why may you ask?
According to research, you can increase how fast your website loads by just one second; it can increase your conversions by as much as 7% [1]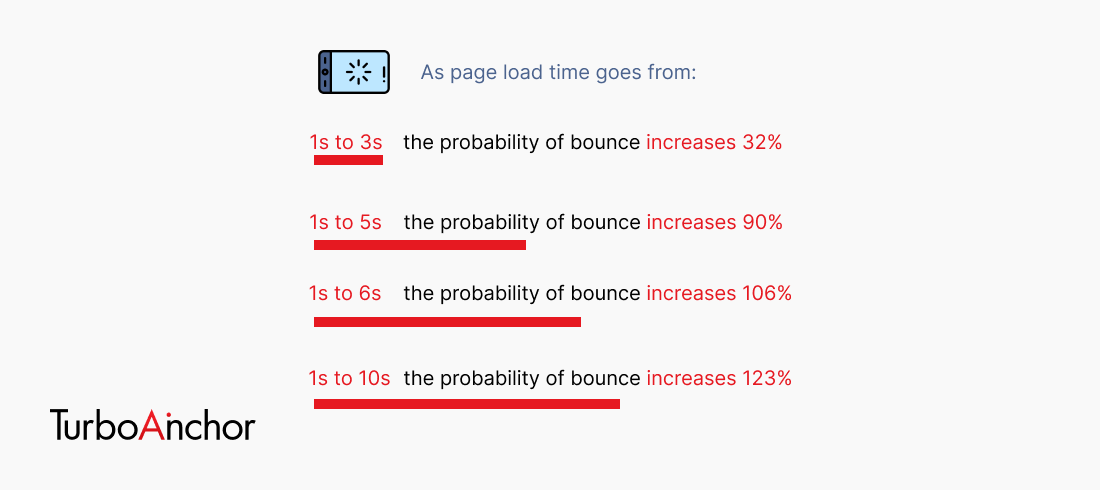 Even though having quality products, valuable service, or other standard features, a slower loading site can cost you a considerable loss of customer base. Apart from that user's viewpoint, the search engine also indicates that site speed is one factor in their ranking algorithms. The faster your site will load, the better ranking it will get by the search engine.
The reason for the slow loading speed of e-commerce sites is high-sized images. Although e-commerce platforms majorly rely on product images, it is not recommended to compromise the image quality and standard. Therefore, you can optimize the images and reduce the file size without degrading the image quality.
Start With Backlinks 
Backlinks are links to your site from other sites. Backlinks can boost your ecommerce SEO strategy's traffic significantly and help improve the authority and trust of your site.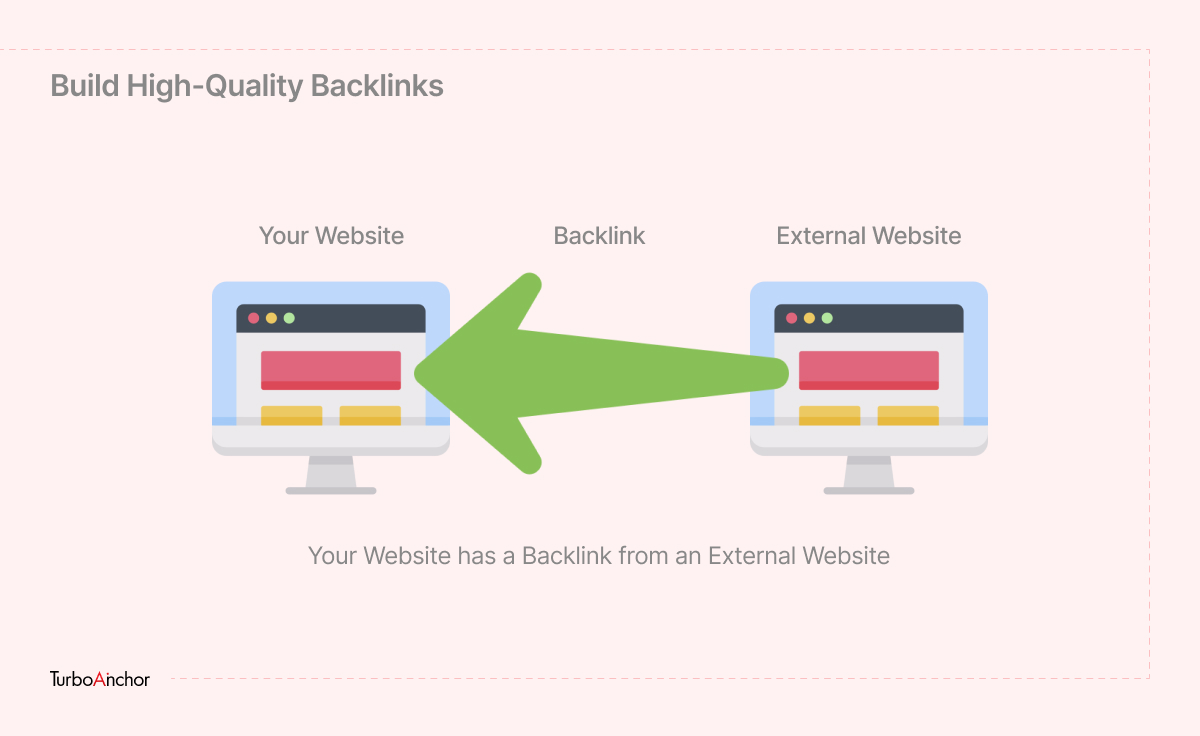 Keep in mind, while building backlinks, that the third-party resource should be authentic, and the linking should be relevant as per your niche. Any spammy or irrelevant links can penalize your site. You can build backlinks for your e-commerce site in various ways.
For instance,  
Infographics on social media platforms

Directory submission

Q/A platforms (Quora, etc.), and many more.

Get high-quality backlinks via Guest Blogging, as most search engines prefer it. 
Suggested Read: What Is Anchor Text? Everything You Need to Know
Secure your Site Security 
As an e-commerce platform deals with millions of users' data and a large number of transactions occur every day, it becomes most important to maintain the website's security. You'll need to encrypt the data you receive from your customers. Your audience wants to feel secure when they input their credit card information and address. Considering the rapidly rising cases of cyberattacks on e-commerce platforms, such as leaking financial credentials and account hacking. Therefore, secure your site to ensure customers keep shopping on your page.
Create a Ecommerce SEO Checklist To Boost Traffic & Sales

FAQs
How do ecommerce products do SEO?
Following are some ways you can optimize for ecommerce product page seo, 
Go for a powerful keyword Strategy

Optimize titles & Meta descriptions

Mark up product pages with structured data

Write unique product & Meta descriptions

Share customer reviews

Test landing pages

Use High-Quality content (video/images)

Improve page loading speed
What are the benefits of technical SEO?
Following are the benefits of implementing a Technical SEO Strategy,
Boost reach across all channels

Improve search engine ranking

Rich Snippets in search results

Position-zero search results

Improved display & layout across social media

Identify technical content weaknesses

Reduce costs of Seo
Which SEO technique should be avoided?
As discussed above, keyword research has long been considered a key SEO point. Creating content that features the keywords and terms your target audience is searching for seems the most logical approach. But going overboard will mess up and will seriously harm your SEO strategy.
Which are some best Ecommerce SEO tools?
Following are some of the SEO tools available in the digital marketing world, 
Ahrefs: SEO Keyword Tool

Google Search Console

SEMRush: Marketing SEO Tools

KWFinder: SEO Keyword Tool

Moz Pro: SEO Software
Which ecommerce platform is best for SEO?
Well, when it comes to the best ecommerce platforms. According to studies Shopify stands at the top as it allows you to write and edit your titles, meta descriptions, alt text, and URLs.[2] You can also submit your sitemap to Google Search Console. 
Conclusion 
In the end, we can say numerous ecommerce business owners want to skyrocket directly to grow sales. It's all good, but you skip one step to another with that mindset. There are various ways to get traffic, from social media to paid ads and email. Search traffic is the only reliable, accessible, self-sufficient, and relatively easy to get. A solid understanding of ecommerce SEO strategies can drastically improve your business' traffic and conversion rate. 
Also Read: 
References:
[1] Why Faster Websites Make More Money [Infographic] – WebFX
Get the TurboAnchor® newsletter
Get smarter with the latest news, tutorials and consultation on technology.
By signing up, you agree to our Terms of Use and acknowledge the data practices in our Privacy Policy.