DIGITAL MARKETING > SEO
How To Create Search-optimized Content With SEO Content Writing?
Before we begin, What is SEO content writing? Let's start with some basics like What SEO is all about? 
Well speaking of search engine optimization (SEO) is all about enhancing the quality and quantity of websites or webpage traffic from free, editorial, or organic search results in search engines. SEO's sole purpose is to improve your position on SERP & target unpaid traffic instead of direct traffic.
While when it comes to SEO content writing is a process of creating high-quality content and researching keywords that rank you on the first page of SERP e.g., Google.
Google uses a program called a crawler, also known as a spider or bot, to gather the information from websites & store it in the index. It continues to move from one site to another to discover & fetch the data, including text, website structure, URLs, images & video. This crawl lets them learn about the page's language and content. The purpose of SEO writing is to optimize the page's content so that search engines will crawl and recognize it as relevant. So if you create content without SEO writing, the search engine won't consider it, and the crawlers won't be able to figure out where the content is from and about. The content should not only appeal to the reader but also to the search engine crawlers.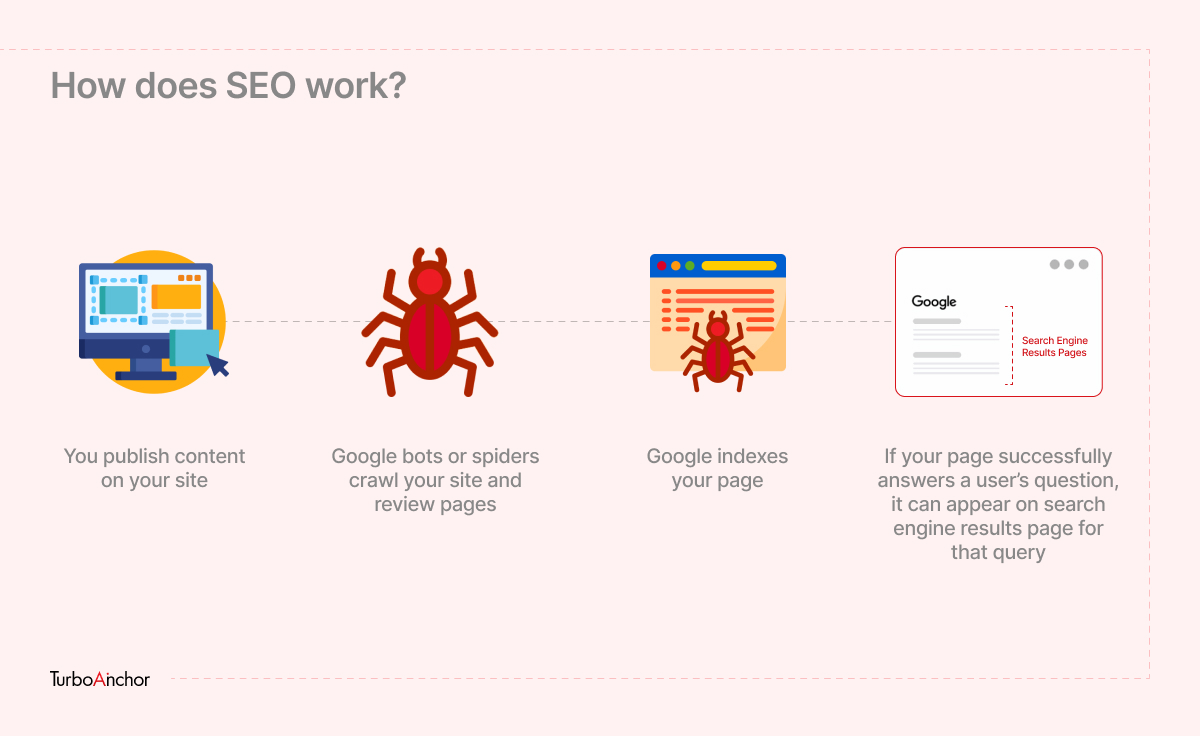 How To Write SEO Optimized Content?
Following are some steps you can take to write SEO-optimized content, 
Research the SERPs for your target keywords
The first thing before writing for SEO involves getting to know the user's search intent. Search intent is a searcher's intention when they type in a query. For instance, if someone searches for the "best gym near me," they intend to find a good gym closest to their current location. It may sound plain and simple, but it can turn out the opposite way. One wrong move can make you end up crashing down the SERP rankings despite how good your content is.  
Read More: How are Web Pages ranked: Important Ranking Factors
In other words: The search engines automatically interpret search intent and display user results that align with it. They often use rich snippet results like the answer box and knowledge panel.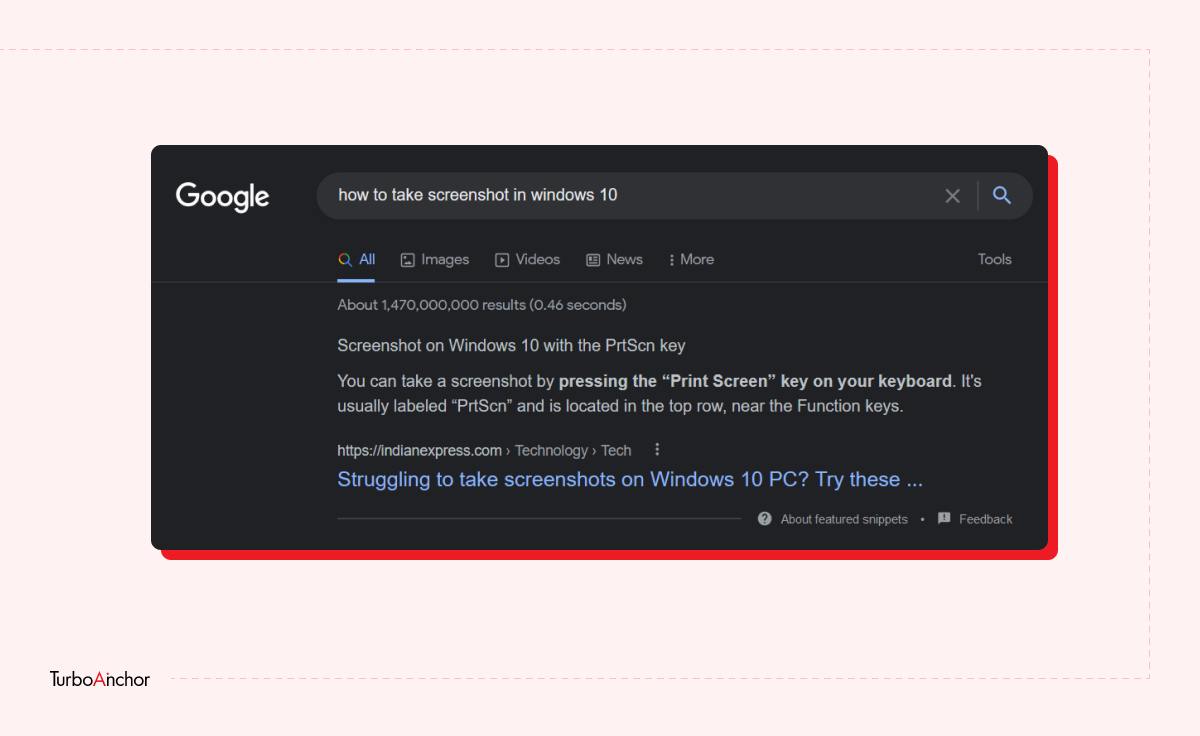 Understanding search intent can help you create engaging content that targets potential customers based on their queries and where they are in the conversion funnel.
2. Make an Article Outline
Well, writing down pinpoints before starting anything is considered good practice. An Outline helps as a roadmap to reach your destined goal; on top of that. It makes the writing process easier and more precise. 
Apart from that, the outline consists of essential SEO details like queries people ask about when searching for a keyword. Besides that, another part of the process is figuring out your article's title, headings, subheadings, goals & point of view. What makes your article different from or better than all the others out there? 
Suggested Read: ​​Discovering – What Are Search Operators?
Here's an example of how an article outline lookalikes,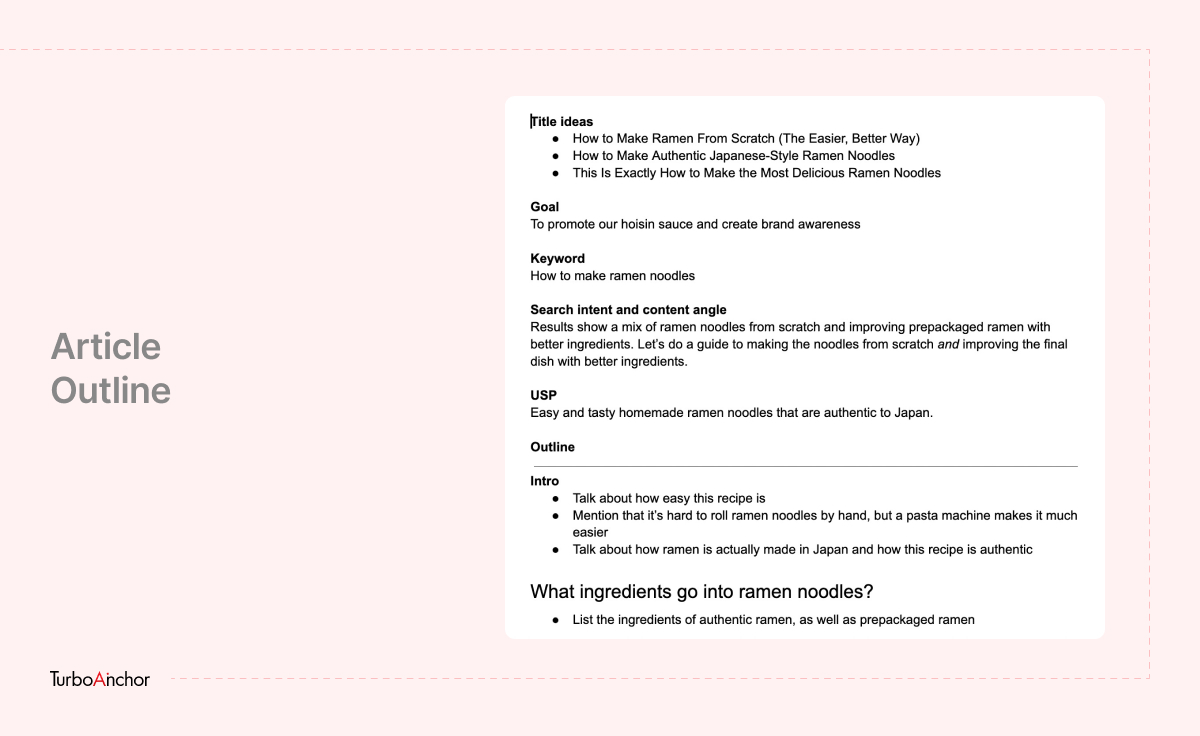 3. Meta description
 Well, for people unfamiliar with meta-descriptions, its exceptional details serve as summary information about a web page. A page's meta description tag is displayed as part of the search snippet in a search engine results page (SERP) and is meant to give the user an idea of the content within the page and how it relates to their search query.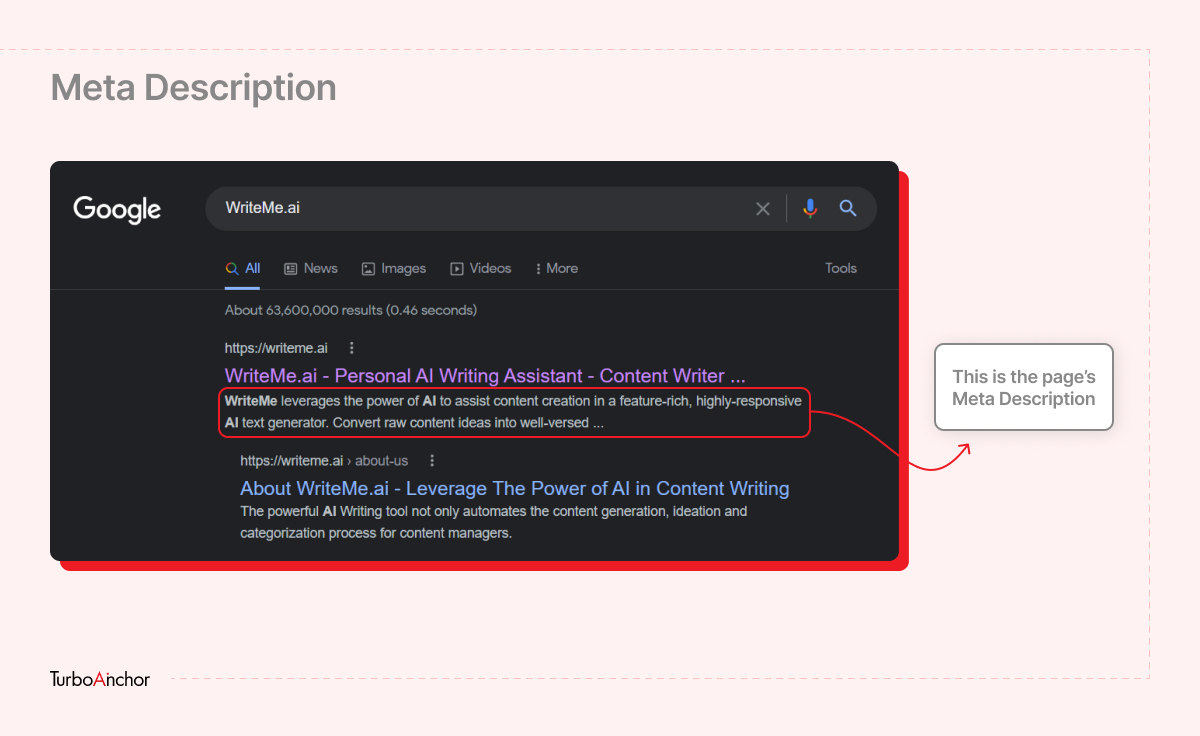 So coming back to the part about why they're essential is that they can impact the page's click-through rate (CTR) in Google SERPs, which can positively influence a page's ability to rank. These short paragraphs allow you to "advertise" content to searchers, decide whether it is likely relevant to their query, and contain the information they're looking for. Putting some effort into writing meta descriptions is crucial since they indirectly affect search rankings and can significantly influence user behavior.
4. Create Subheadings
Subheadings help users and search engines to read and understand the text. They can help split up or make it look precise, even how much the content is. You can even pinpoint your keywords where you think they can get most noticed. In simple words, subheadings act as signposts for the readers and make it easier for them to figure out what a post or page is about. 
5. Write User-Friendly Content 
Well, it's good to play by the book, but sometimes you need to remember that one searching your content wants something they can easily understand. So if you're informative and delivering a high level of value within your content, your keywords will appear naturally. Forget the idea of adding keywords and start adding value. It would be best to focus on optimizing your content to match search intent rather than what people are searching for instead of why they are searching for it.
The thing to note is that remember your buyer's persona and what interests your readers. Therefore, picking the right topic and explaining it precisely so your reader can understand it is essential. You can also go for SEO tools for content writing to assure your content is correct, brief, and human-friendly to rank well and grab the reader's attention. In addition to measuring content engagement, some tools will inform you how long people spend on a page if they visit multiple pages or how far they scroll down.
6. Add Media
Adding any media to your content, whether a gif, image, or video, makes it more engaging and appealing by helping readers understand your content better. Anyone reading your content won't get bored from reading the text; on top of that, images add value to your SEO efforts by increasing user engagement and accessibility of your website. 
7. Add Internal Links
Well, adding links to highly authoritative websites not only helps readers get more in-depth details related to content and prove to them that your content is authentic and coming from a good source. It is suggested to avoid going for low-quality sites that can end up making your page information spam. Nothing can be properly researched and backed up by accurate facts and figures from authoritative websites. The sole purpose of the search engine is to display content with high potential and information from useful websites. So make sure you link to good sites.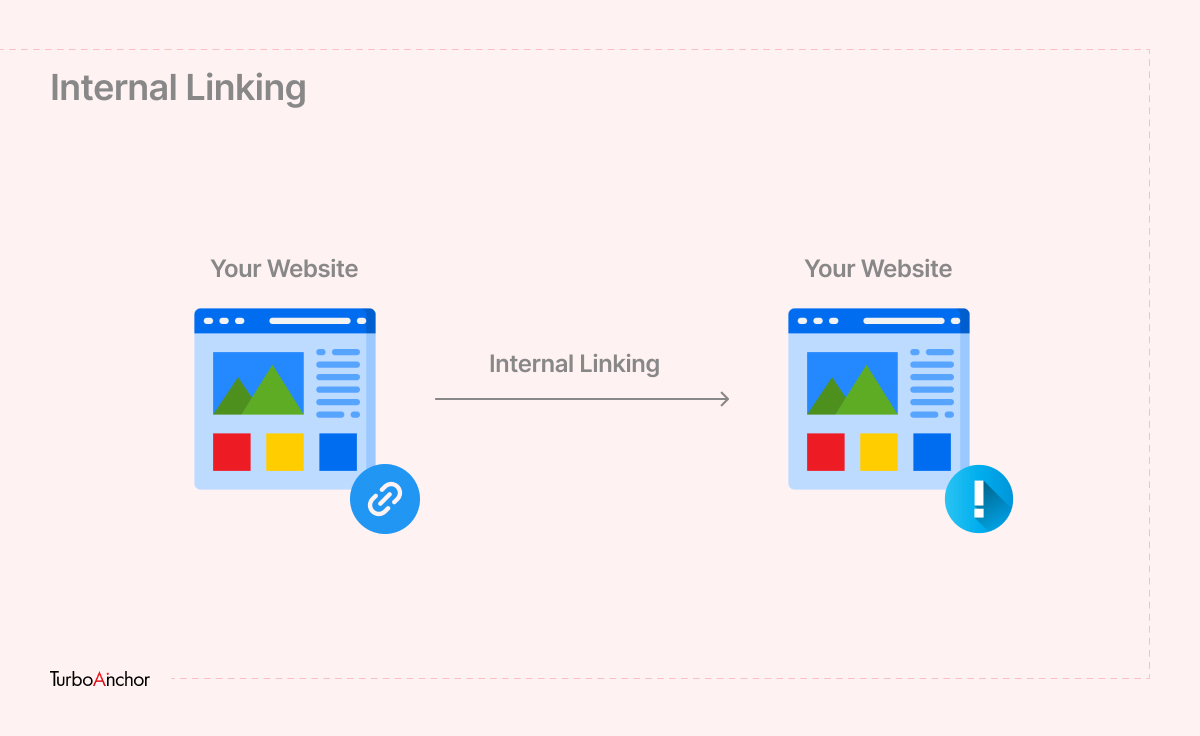 Suggested Read: What Is Anchor Text? Everything You Need to Know
FAQs
What are SEO writing skills?
An SEO content writer must possess the skill to look at a set of keywords, figure out what someone is searching for those phrases & wants to know, and create content that covers all those details. 
What's the difference between SEO content writing and copywriting?
Well, they both serve different purposes when it comes to SEO content writing; its sole purpose is to boost organic traffic via search engines. While speaking of copywriting, its goal is converting the traffic into leads & sales.
What is the purpose of optimizing your website?
Optimization helps improve your website efficiency in converting visitors traffic into potential customers. As a result, improved efficiency means double the ROI & double the web searches. 
Conclusion 
Finally, you can follow the steps mentioned above for someone aiming to create content that can optimize their website well. You can master the content side of SEO. Besides that, you can stay on top of your site's analytics. Regularly analyze your SEO content through content and SEO audits to see what's working and isn't.
Also Read:
Get the TurboAnchor® newsletter
Get smarter with the latest news, tutorials and consultation on technology.
By signing up, you agree to our Terms of Use and acknowledge the data practices in our Privacy Policy.