BUSINESS MANAGEMENT – (IOT)
What Are Proximity Marketing Beacons?
Before we get started with, What are proximity marketing beacons? Let's first get a little head's up about what proximity marketing is? 
Proximity marketing is a technique to target customers at the right time and place, based on their precise location. It delivers one-of-a-kind results for businesses in combination with the right advertising strategies and tools. When it comes to the marketing world, it is common for new technology to pop up and start making a trend and gradually disappear after some time. 
Speaking of beacon technology, that made a comeback in the marketing industry. Proximity Marketing Beacons are small devices that use bluetooth to communicate information to mobile devices nearby. They function within a specific location when the mobile device (like android or iPhone) is within its range. These beacons send messages, and advertisements are sent to a specific profile or ID to the program or app installed on mobile devices. Some people consider beacons similar to the radio, but in one way or another, they are pretty similar. A beacon broadcasts a signal to smartphones that enable bluetooth.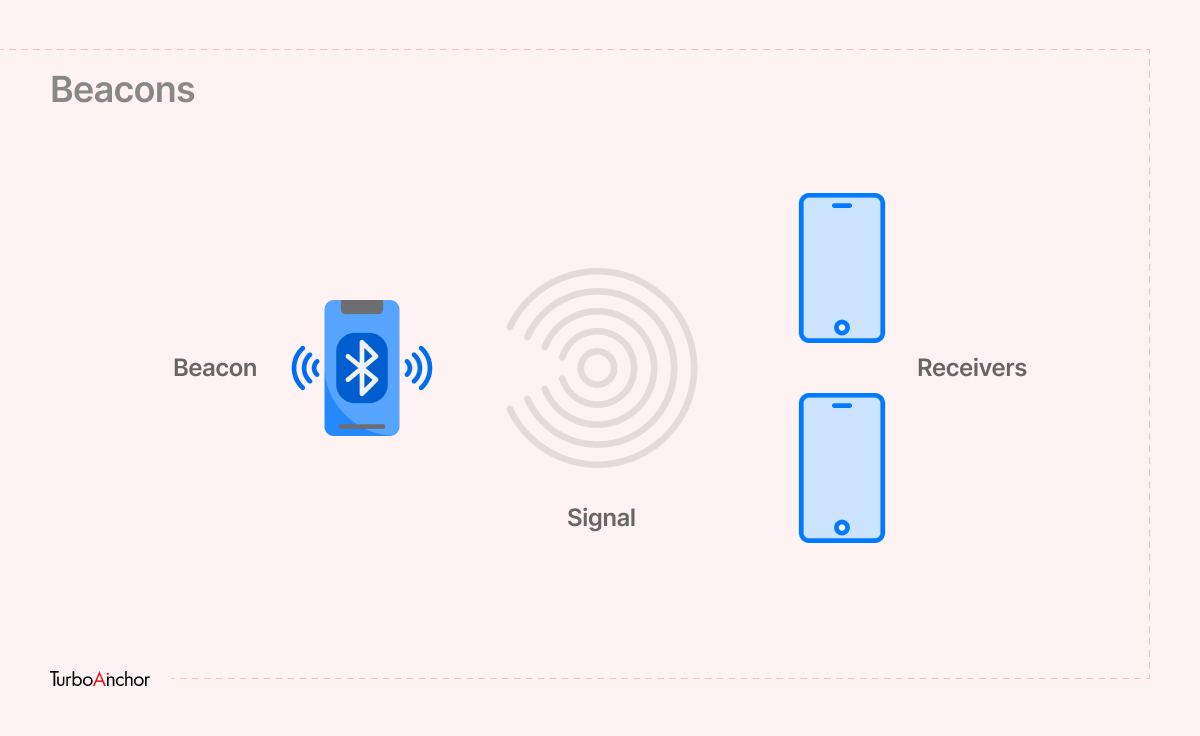 In today's world, where people are widely using Earphones & a variety of other bluetooth devices have always turned on. In that case it makes it easier for beacons to connect with users. According to a previous research, almost 50% of the mobile users have their bluetooth turned on at all times. [1] While on the other hand, research also shows that Android devices pull more than 40 billion queries for beacons-related content from Google service every year. [2]
In either case, it is ideal to have a specially designed app for your beacon since it will make it easier for your clients to use and give you more opportunities for profitable exchange. Furthermore, you can communicate with your customers through the app and ask them to turn their bluetooth on. 
How does beacon technology work? 
After you know what proximity marketing beacons are? Let's understand how it works. First coming towards its built structure, it's not something out of this world; a beacon consists of 3 components: radio, CPU, and batteries.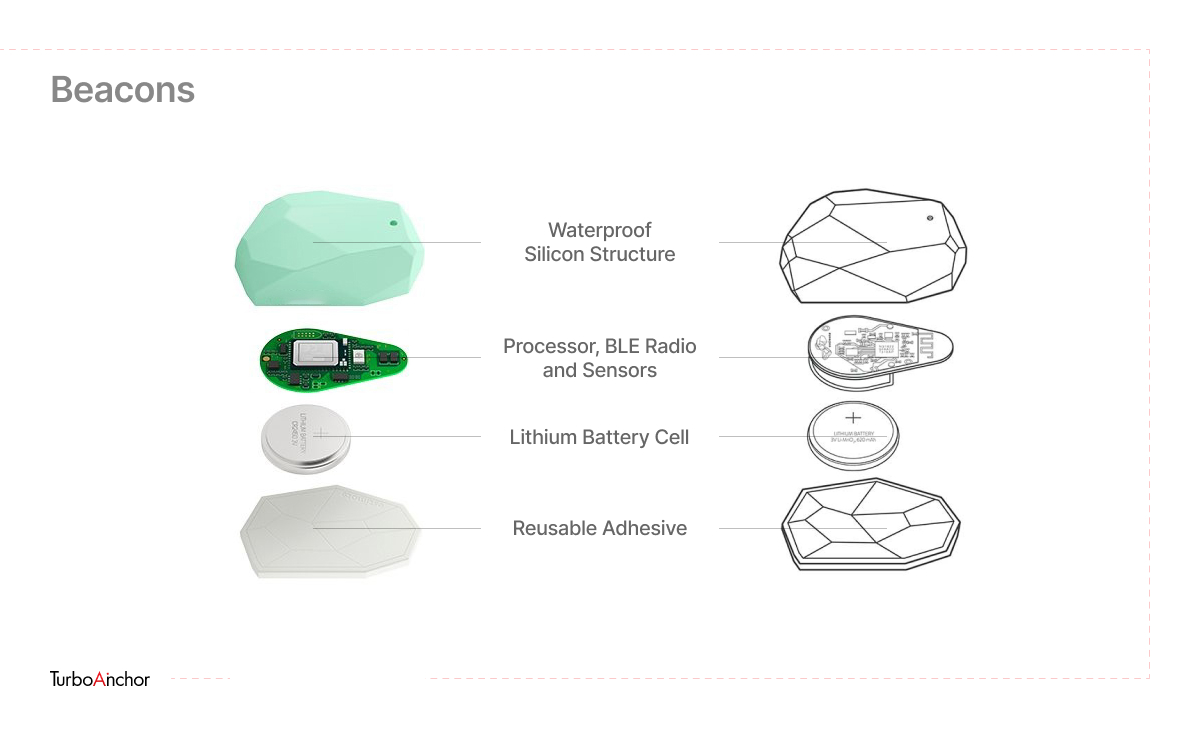 Secondly, speaking of how it is used? When someone enters specific premises where a beacon is placed. The mobile user will receive promotional or advertising text in the form of pop-ups or push notifications on apps available on their mobile devices. You can make this campaign work just by making sure you have placed at least one beacon around the store, designed a mobile app & most importantly user's permission. Beacons are proven to be more effective and accurate when it comes to tracking customers compared to geofencing that doesn't work out indoors.
What are the benefits of using proximity marketing beacons? 
Improve customer experience:

Beacon technology helps retailers or stores target audiences with data collected based on demographics, age, gender, and spending habits. Remember that beacons not only help you in promoting a campaign but also help you track and collect customer-related information. This collected data helps in sending customers to push notifications or pop-up texts. That consists of promotional messages like Flat 5O% OFF, R NEW YEAR SALES. 

Reachability:

With day-by-day innovations, almost all phones can support beacon technology, proving that you can reach out and connect with anyone anywhere. 

Easy to install:

It is easy to deploy beacons in a short time. On top of that, deploying beacons at scale ain't no hassle with parent beacons.

Not Expensive
Guide Users:

Companies, shopping malls, smart cities, and airports use beacons to navigate clients. Museums and expos often use this for educational purposes, but it has also proven quite effective. Guiding visitors with the artworks and artifacts make their experience more interactive and exciting.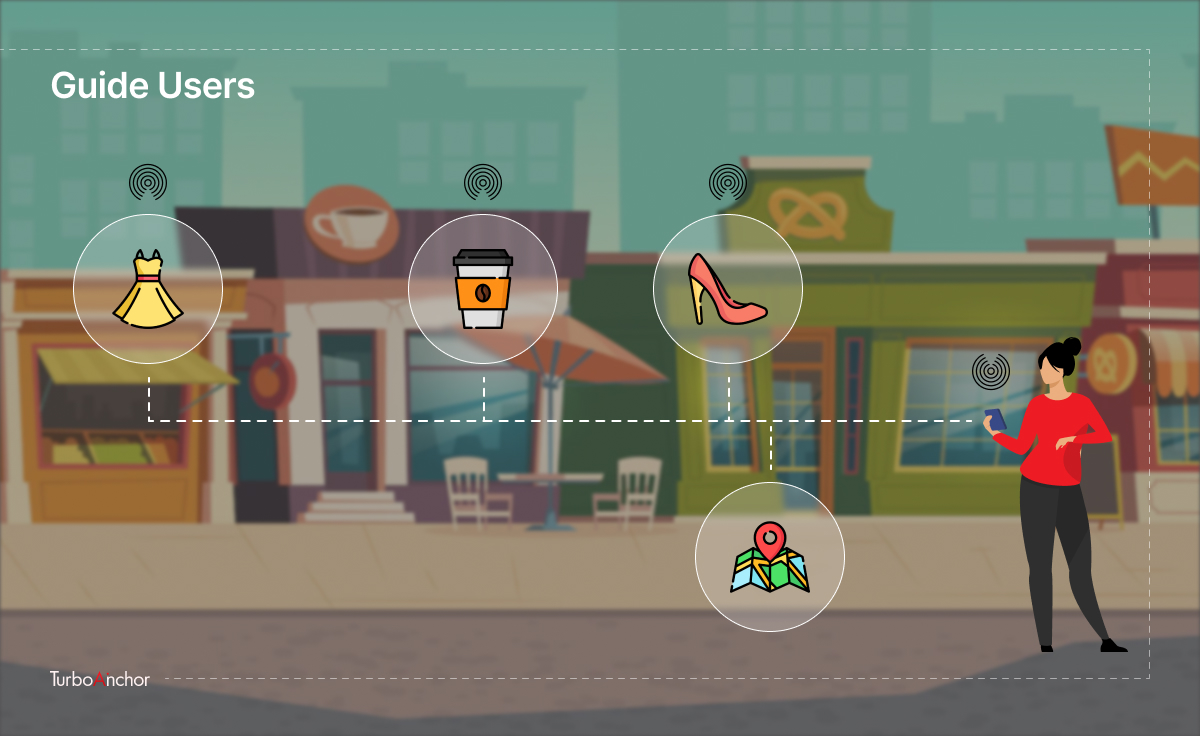 Retarget audience:

Well, you did turn your previous customers into loyal by handing out rewards for purchasing from you back to back. But what about the ones who came & didn't make a purchase? No need to worry cause you can target them again by sending out promotional or sale messages. 
What are the types of proximity marketing beacons? 
A variety of beacon devices are available in the market, ranging in different sizes, prices, usage & battery performance. 
Following are some types of beacon devices: 
Standard beacon:

Small in size, like a wifi router, and most commonly used for indoor stores.

Portable/small beacons:

As the name sounds, these are smaller in size than standard beacons in the form of Id cards or stickers. It works similarly to proximity solutions and can be used for asset tracking.  

AI beacons:

This beacon consists of multiple applications; AI beacons are generally in the form of video interference that either comes with cameras or not. Machine learning algorithms enable it to detect, record, analyze, and store habits and gestures between the screen and the user.

Video beacon:

These small Bluetooth devices connected to the back of screens provide contextual videos and sign-in options for employees or visitors.  

USB beacons:

Like a portable beacon, it's small and shaped like a flash drive. They help track shipments or vehicles that are on route to delivery

Parent beacon:

It works as a hive system as it is connected to multiple smaller beacons. It gathers their data from one another and forwards it to the cloud storage.

FAQs
What is the range of beacons?
Standard beacons have an approximate range of 70 meters compared to long-range ones that can reach up to 450 meters. Beacons, with a range of up to 100 meters, function as a connecting bridge, which helps track and control indoors and outdoors.
Does a beacon work underground?
Yes! Beacons are designed for this that can be installed in underground tunnels where GPS signals get weak or even lost. These beacons are cost-effective, battery-operated, and have low-energy micro-controller hardware that sends a one-way signal to a user's phone or tablet. 
What does a proximity beacon do?
It's a kind of location-based marketing in which a beacon device acts as a transmission that sends data to a mobile device within a specific location.
Conclusion 
Beacons allow us multiple solutions in the context of proximity marketing. The world is advancing daily, and almost all consumers have smartphones, giving beacons an excellent opportunity to connect with them. Brands or companies can track not just the movements of the customers inside the store but. Also, monitor the employees working inside the stores with the help of proximity marketing beacons powered by an employee monitoring tool. 
Also Read:
Reference:
[1] Bluetooth Marketing and its Impact on Beacons – beaconstac
[2] Future of Marketing – Think with Google
Get the TurboAnchor® newsletter
Get smarter with the latest news, tutorials and consultation on technology.
By signing up, you agree to our Terms of Use and acknowledge the data practices in our Privacy Policy.