DIGITAL MARKETING > SEO
How to Optimize Your Google Business Profile Listing for Local SEO
You might have at least once thought of how valuable your business can be if it pops up in front of millions of people searching for a product or service you have to offer. Well, a good thing for you is it's all possible with the help of Google my business. Google my business optimization helps you drive traffic to your site, and your physical store, resulting in boosted sales. 
However, before getting into GMB optimization in detail, let's dive into what Google My Business (GMB) is? 
Google my business is also known as Google business profile. It's a free tool that helps businesses and organizations to keep an online presence across Google. GMB allows customers to find your business when searching for a product or service you offer by improving your local searches. You can create a GMB profile to provide business information to searchers, get your business listed on Google Maps, and get reviews from potential customers.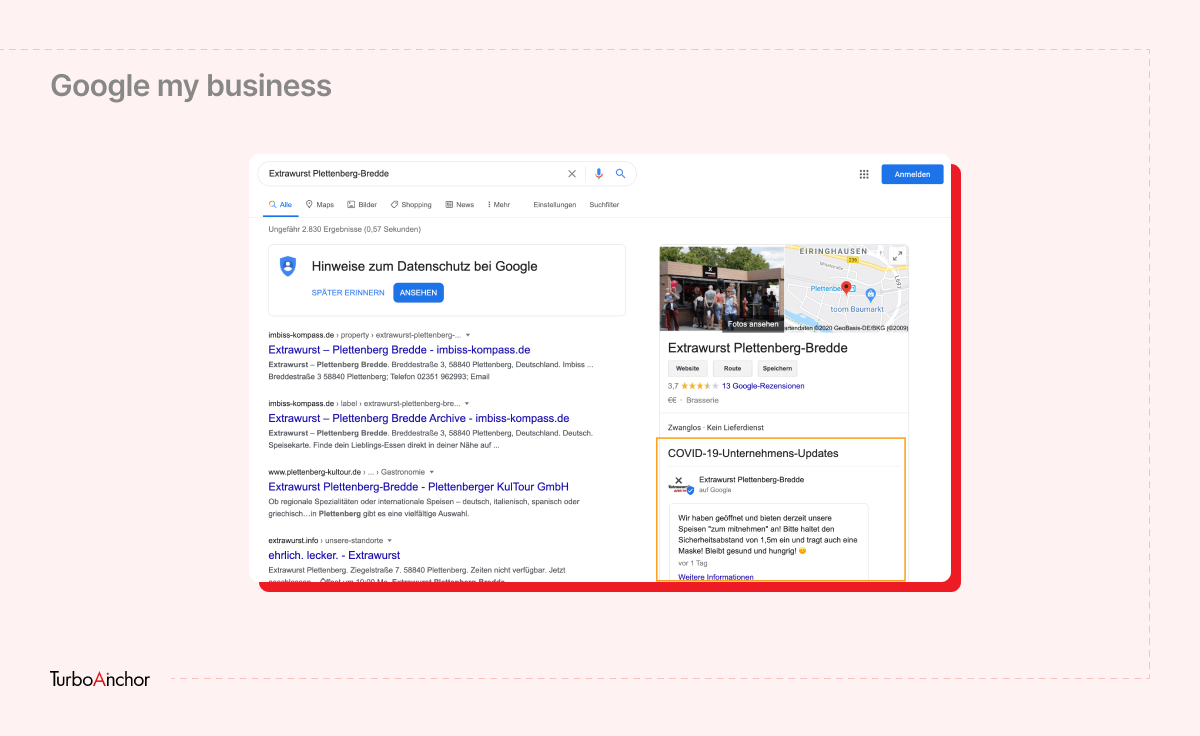 Why Is Getting Your Business on Google My Business So Important?
Well, suppose you don't have a google business profile. In that case, you miss an opportunity to propel yourself to new heights. You may be wondering why? Let's consider an example: you are planning on eating a pizza you once tried at a friend's place you went out. You searched its name on google but nothing shows up in the results & indirectly, that pizza place owner lost a potential customer. 
But other than that, let's say your business does have a GMB profile. Still, the worst-case scenario includes the wrong address or contact information. You haven't updated the status to open after someone closed the business at the exact location. In this case you won't be appearing in the search results as well.
Local search is necessary if you're a local business working in a specific local area. According to research almost 46% of all Google searches are looking for local information [1]. On the other hand, studies show that 76% of people who search for something nearby on their smartphone visit a related business within a day.
So, lets dive into how you can optimize your google my business listing by following these simple steps:
NAP Information
Your Google My Business listing allows your potential and current customers to find you and your business by its  name, address, phone number (NAP).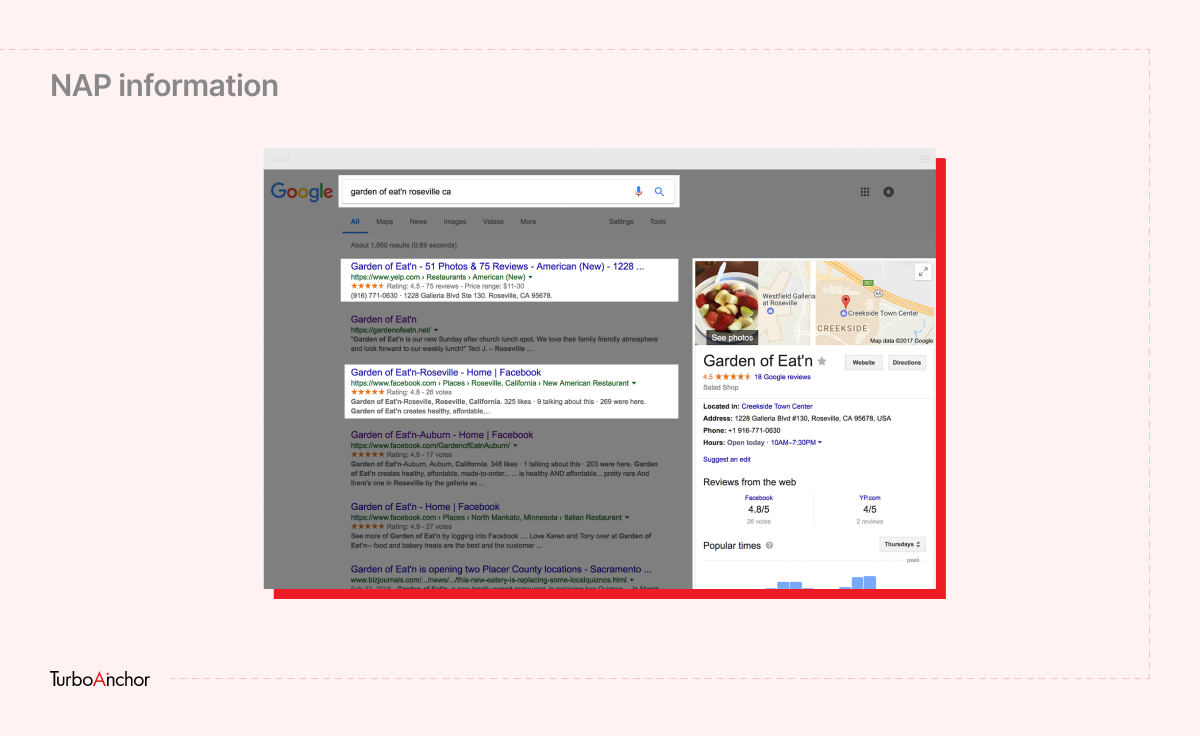 Things to keep in mind are reviewing information like NAP and updating it timely, accurately, and accordingly. 
Business Description & Categories
You should include precise details about your business, products, or services, the areas you operate, and a few keywords to improve your chances of showing up for relevant searches. It's crucial to add the location you work and provide services since it signals Google to rank your business for those terms in that area.
Suggested Read: Understanding Keyword Density & How It Affects SEO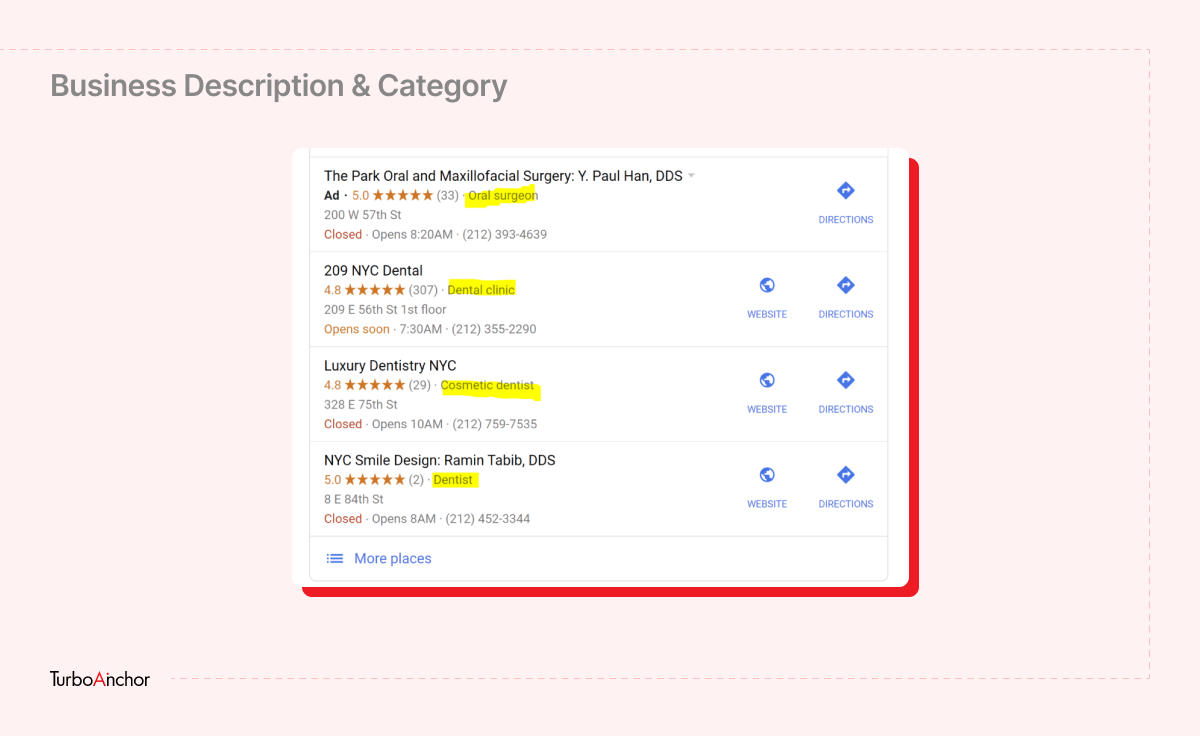 Note: You have 750 characters to describe your business on your google business profile.
Update hours of operation like update open & closing hours.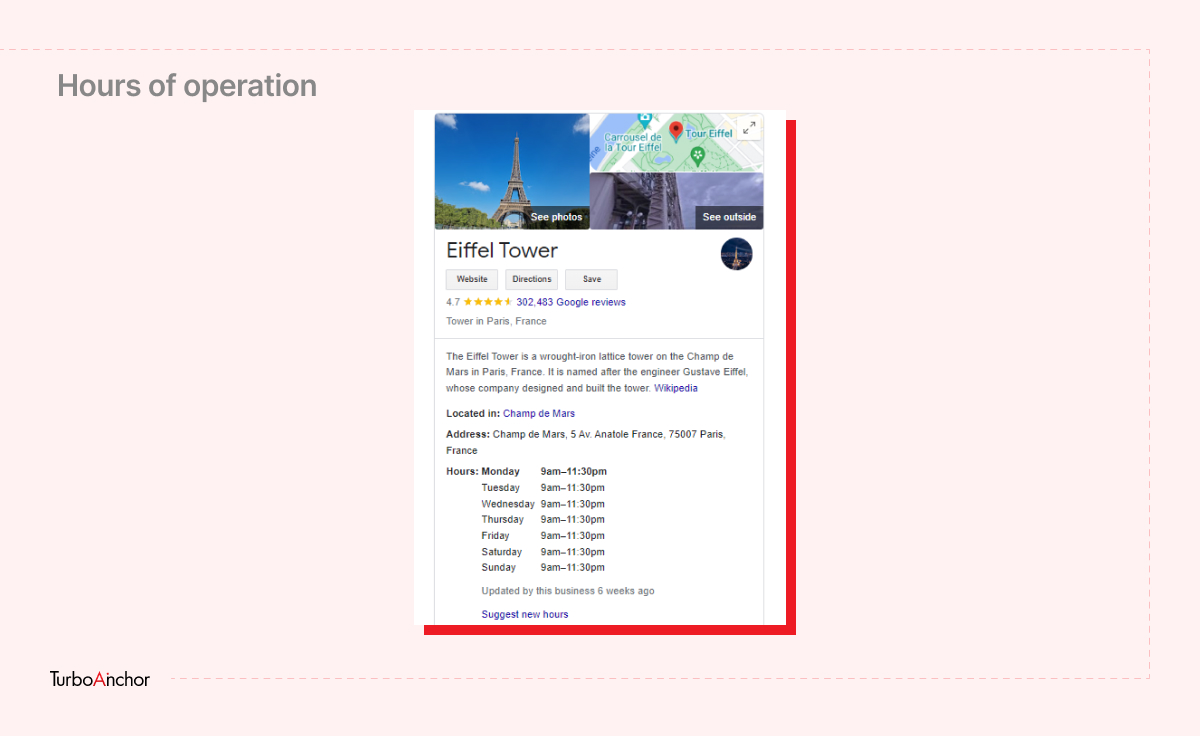 For example, let's say a customer visits your store after checking out your business profile and ends up seeing a closed sign after driving through half the town. Not only didn't you lose a customer, but if they left a bad review on your business profile, you also ended up losing your brand credibility in front of others.   
Get & Respond to  Reviews
Online reviews are crucial to local businesses for many reasons. Foremost, consumers depend on online reviews to help decide which local business to go for regarding products and services. Make sure to respond to customers' or your visitors' inquiries and keep them updated related to your business.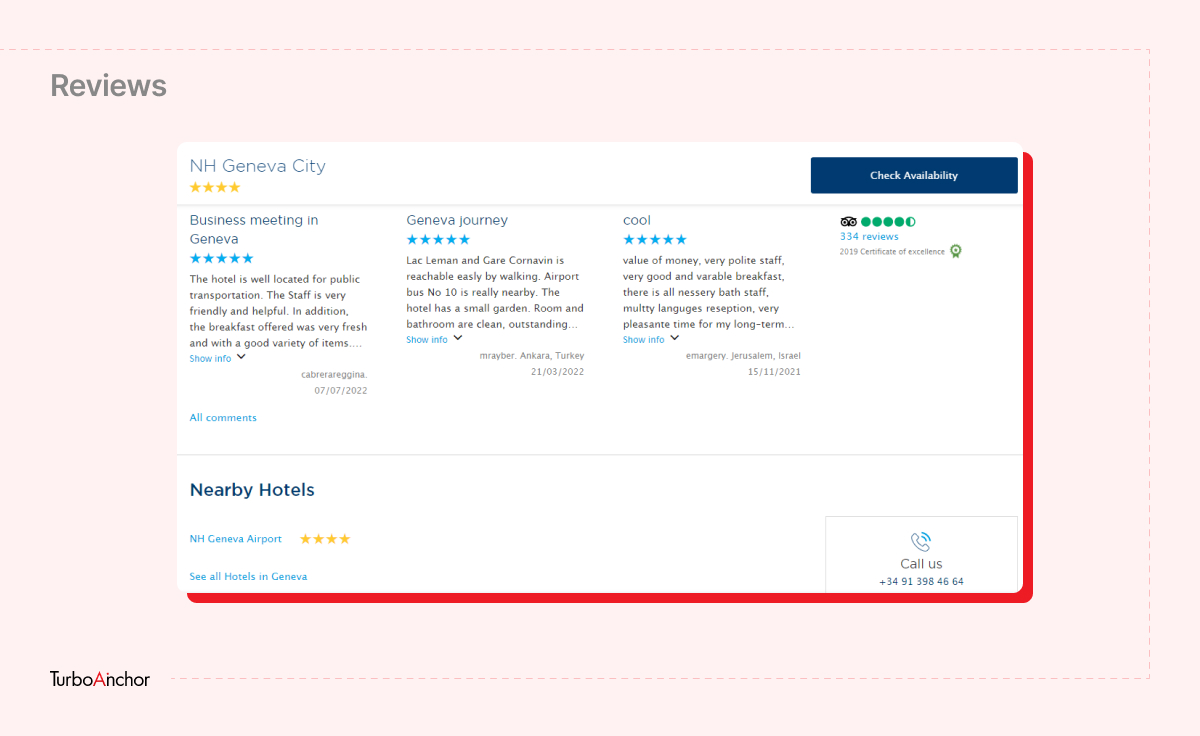 Add Images
Add a variety of photos of your business to ensure your audience has a clear view of you before making contact. Knowing the difference between what kinds of images you can add is vital. You don't want them to display in the wrong places.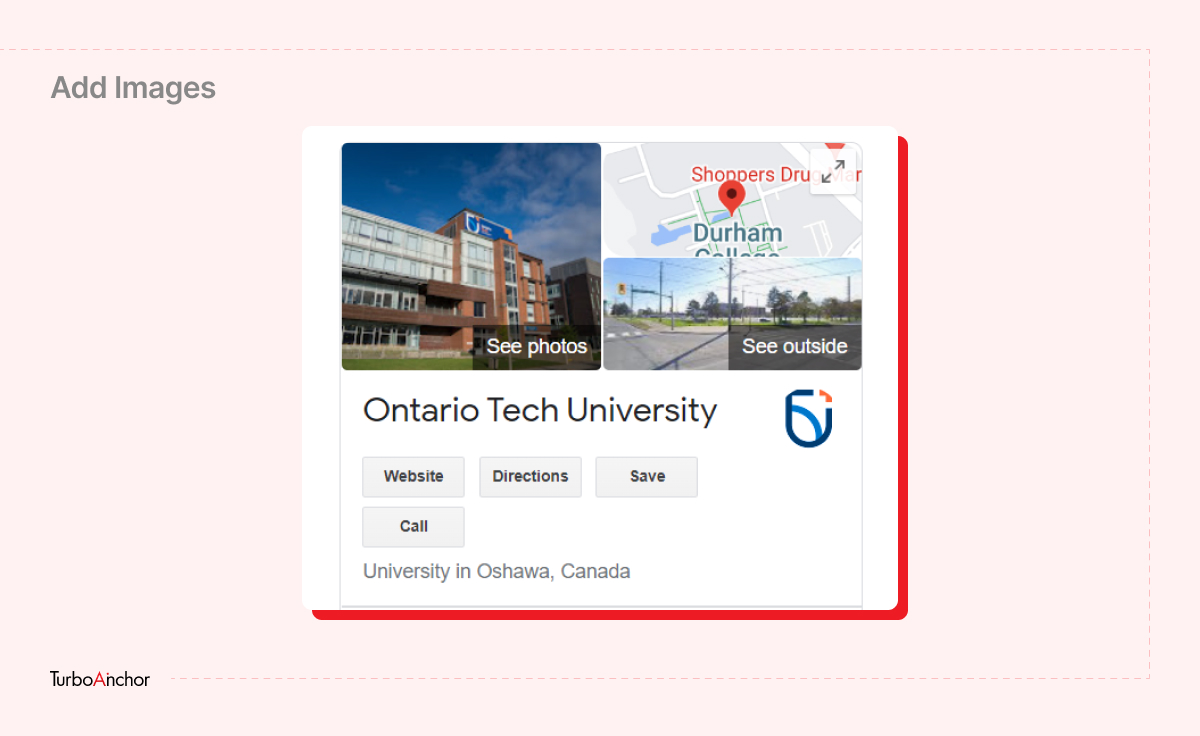 Your logo will display above the catalog of images of your business.
You can set a cover photo for your business that you think best reflects your business. If you perform a service, make sure you highlight this service in action. If you have a physical store, a photo of your building could also be helpful as a cover photo.
Add Call To Action(CTA)
Adding a CTA button helps to increase your visibility across google and helps customers find you through search, maps, and shopping. It helps give consumers a quick picture of your business, such as operating hours, products or services, location, and contact information.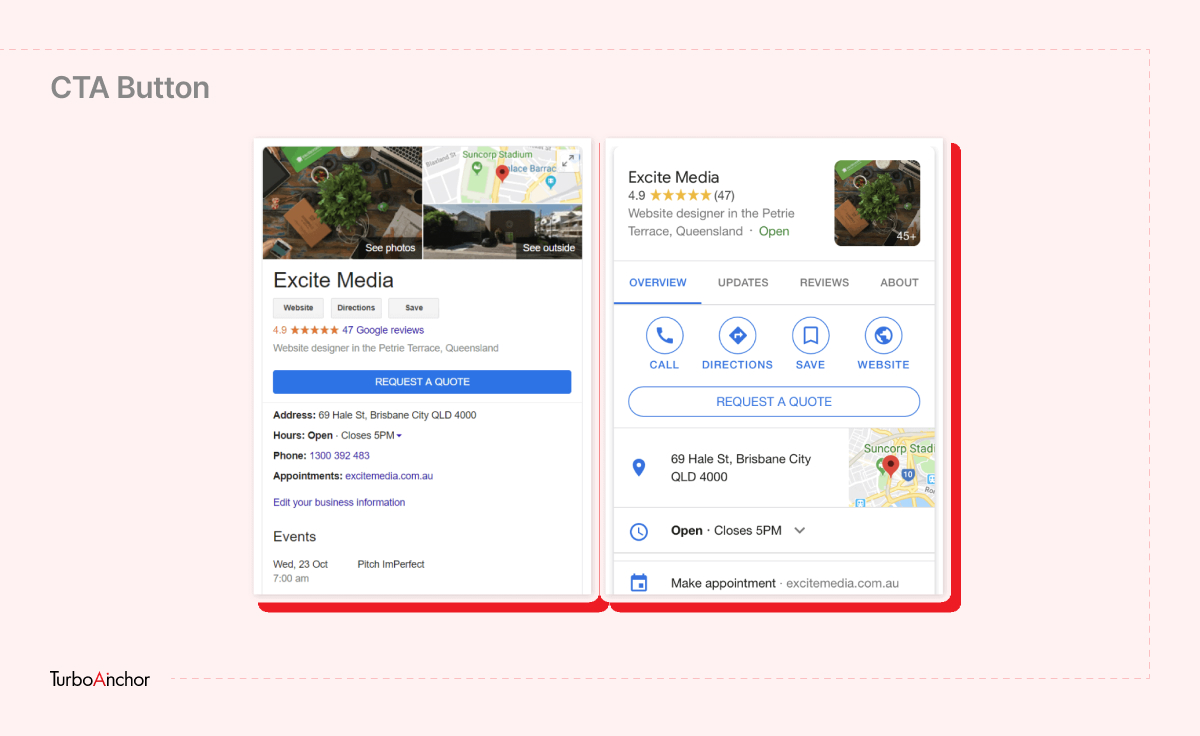 How to Rank in Map Pack?
Following are some measures you can use to rank in the map pack,
Keep Your Google My Business Listing Up-to-Date – Regular updates help us share the most valid information with our potential customers. Sometimes, Google might not accept changes if they believe the information is inaccurate. 

Use online reviews to your advantage – As people mostly make purchases after checking out reviews related to that certain product or service therefore it is suggested that you keep in touch with them. 

Boost your Google Maps Pack ranking with citations – They play a major role in boosting your Google place ranking and local business in Search Engines.

Make your website more local search-friendly – In simple words your website should be fast to load up and shouldn't collapse when it is opened from desktop to mobile screen. 

Get involved with local communities – By community, it means 'users helping users' (this can be a standard agency or business owner)
Use Google Map Citations to Help Local SEO
Google map citations are a must for anyone with a google my business page who desires to appear on local searches and map results.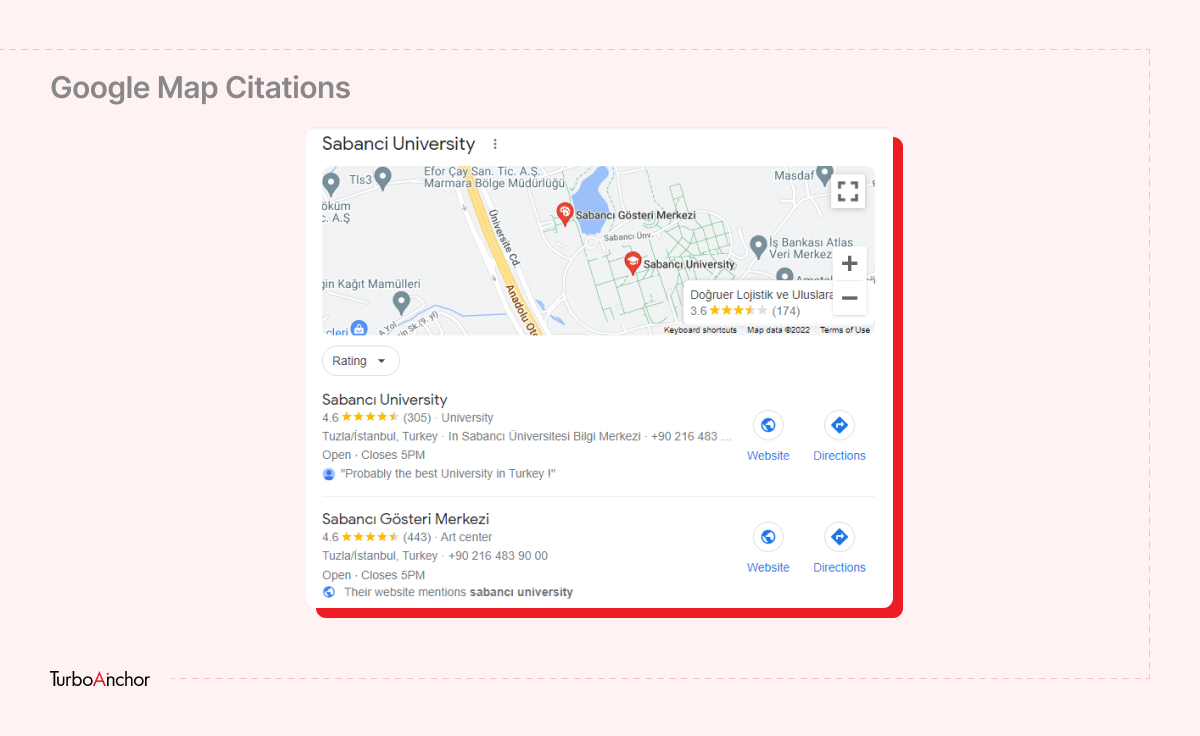 A citation is a mention of your business name on a website. Usually, a citation is powered by other information, frequently referred to as NAP  (Name, Address, Phone). The data included should be on point and accurate; your citations should consist of the exact details across the web – consistent business listings.
How Google Map Citations Improve Ranking? 
Citations help rank your GMB listing by providing the search engine with on-point sources of information regarding your organization. Google can then assure that your business exists and that what you have cited about your business is right by verifying information from multiple sources.
As Google crawls information about your business on websites and directories, it can be more sure that the data is correct if all information it finds is exact. In turn, it assures that Google is more likely to display your business listing when a user searches for the types of products or services you provide. You need more quality citations to appear above your competitors on local searches.
Why is Local SEO an Important Factor for Google?
Your business can benefit from local SEO even if it does not have a website and can drive more traffic to its location. These leads are also likely to convert well since they are from people searching for your business' products or services. 
Google My Business SEO Tips 
How often should I post to Google My Business?
You should post to Google My Business every seven days, at the very least. Numerous businesses post once daily and have noticed good results and improved rankings. Google tends to look favorably on businesses that use Google products frequently.
How do I increase my GMB post views?
Following are some ways you can improve your GMB post views,
Post Often

When Publishing GMB posts, keep in mind to use high-quality photos, go with images without any texts, and add a CTA button to your post. 
How can I get leads on Google My Business?
In short you can get leads on your GMB by following these methods,
If you want to make your GMB profile stay at the top of local business searches. You need to make sure your NAP is on point. According to reports, almost

71%

of consumers faced bad experiences after they came across incorrect local business information they found on the web.

[2]

You might have heard your actions define who you are, similar to that here. Your choice of business category doesn't define you. Still, it plays quite a role in showing your business in local searches. Google My Business categories let your prospects know about your product or service and give a heads-up to Google. 

Well, there isn't any rocket science in this. Still, as a user, you might have observed online that you are more likely to get attracted to those products or services because of their engaging or interactive content. Therefore, Google recommends that businesses upload images to boost the number of searchers. 

People tend to purchase where they feel a sense of trust, and how's that possible online? The answer is plain and simple, all because of Google reviews! According to reports, almost 89% of consumers go for reviews before making a purchase. That's why Google highlights them as a key player in local SEO ranking factors.

[3]

In past events (Covid), we observed that people had to shift towards online shopping. Not only that, but afterward, people also contact a brand through text instead of a call to confirm a related product or service available. Therefore, it is suggested that Google business owners shift towards messaging-related services instead of calling as users are more likely to use them. 
How do I promote my local business on Google?
Following are some ways you can follow to promote your business on Google,
When pulling footfall or website traffic, Google is our number one ticket to go for as search references. Visitors can find your business through your Google My Business listing. Having a Google Business Profile also improves your local SEO. When people search for a closeby business on Google Maps, a listing for a local business is more likely to pop up.

GMB allows you to change your details, like contact numbers and working hours. You can update your business profile according to your scenario. For instance, Reduced working hours in Winters, or closed on new year holidays. As a result of Google Business Profiles' strong local SEO, you can share information that ranks above third-party sites with outdated details.

The secret behind the success of any business is building trust with the customers. Google provides a star rating and review portion for the user to give us every detailed pros and con or query related to our offer. A personal customer experience will motivate your potential customer to shift towards you, depending on the reviews. So make sure to respond to them accordingly. Keep in mind that Google also approves a combination of positive & negative remarks as it makes it look more credible. 
How do I rank higher on google maps ranking?
Following are some ways you can follow to rank higher on Google Maps,
Relevance – The degree to which your business matches the user's search.

Distance – Your proximity to the searcher.

Prominence – Popularity and reputation of the business.
Conclusion
In the end, after you have a well-optimized Business Profile that doesn't consist of the standard optimization mistakes many business owners fall prey to.
Yet, you should still review everything time by time to keep your profile on point. It's also crucial to realize that the purpose of your Google Business Profile is to appear for queries with local intent. In other words, queries in which searchers search for local businesses, products, and services. It involves the misunderstanding that most business owners make. For your business to be found locally, nationwide, or internationally, you need more than Google My Business.
References: 
[1 ] How Long Can Your Google My Business Description Be? – DASH
[2] Local Citation Trust Report – brightlocal 
[3] Consumer Reviews – MACMILLAN DESIGN
Get the TurboAnchor® newsletter
Get smarter with the latest news, tutorials and consultation on technology.
By signing up, you agree to our Terms of Use and acknowledge the data practices in our Privacy Policy.