DIGITAL MARKETING > PPC
How Can Google Ads Help You Achieve Your Marketing Objectives?
What are Google Ads? Google has an advertisement tool based on Google's pay-per-click (PPC) program. It enables businesses to get visibility across Google's sites.
Do you want to achieve your business objectives? 
Google Ads may help you achieve your company objectives by driving online, in-app, in-person, and over-the-phone purchases, as well as building brand awareness.
However, it helps you see your market more clearly so you can communicate with them more effectively. Moreover, it helps you see your market more clearly so you can communicate with them more effectively. This is how google advertisements help you advance your marketing goals.
Why Are Google Ads Important To Your Online Business?
Online company owners face intense competition. Therefore, it's essential to comprehend modern marketing techniques. Continue reading to find out how this digital marketing tool can help your business. This may boost sales and keep you one step ahead of your most ferocious competitors.
5 Ways To Advance Your Business Goals with Google Ads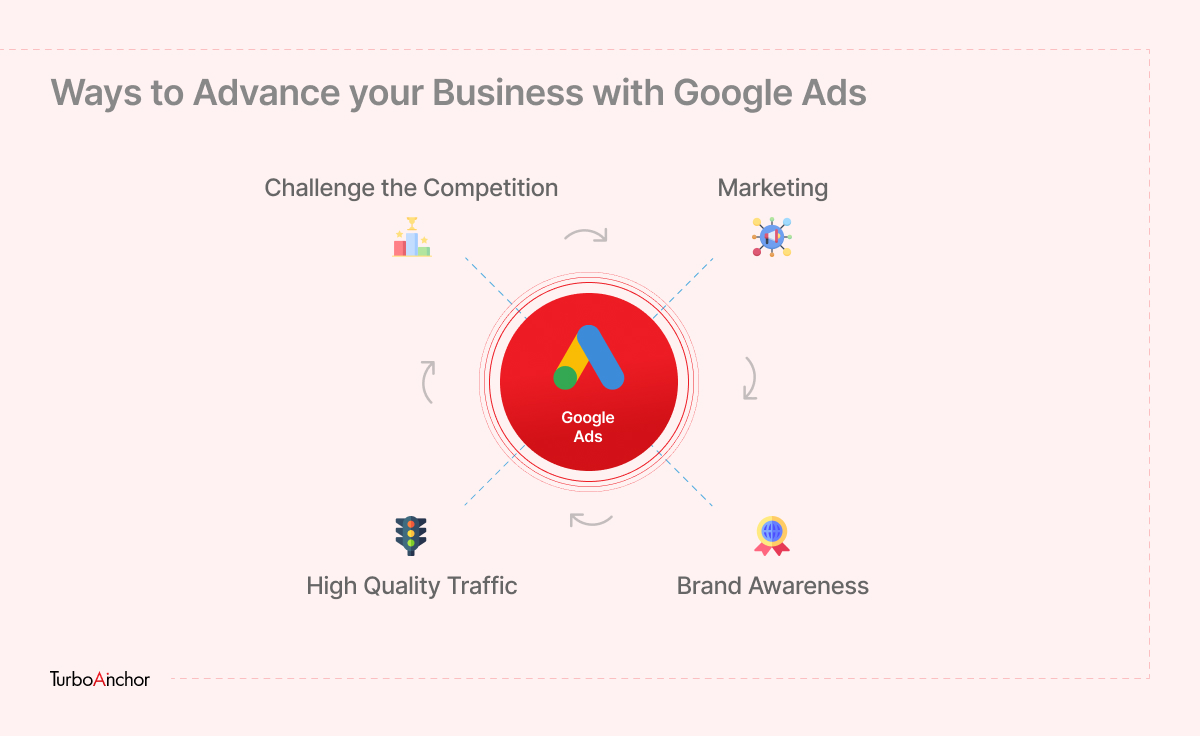 Businesses from a variety of industries have achieved success using Google Ads. You should think about expanding your firm for the following reasons.
Permit Versatile Marketing
For Sites, having a flexible marketing platform is really beneficial. It makes it simpler to maximize your resources and get the necessary marketing outcomes.
And one of the best examples is Google Ads, which works for businesses of any size or style. Additionally, it works well with most software or online marketing platforms.
Furthermore, you can establish spending caps for various campaign components that will help your company the most.
However, there are a number of Ads campaign types accessible to meet your operations, goals, and target audience. They consist of the following:
Your advertising has a chance to appear on the Google SERP alongside organic search results when you use search ads.

Through the Google search engine's mobile interface, shopping adverts allow e-commerce companies to advertise their goods.

You can advertise products or services through the Google display network using banner, video, or image advertising.

You can display ads using app ads on Google Play, YouTube, Ad Mob, and Google Search.
Raise Awareness Of Your Brand
Using Google Ads to connect your brand with your clients is a powerful strategy for expanding your company.
Online customers get more familiar with your brand and message as they see your advertisements on a frequent basis.
Later, familiarity develops into a connection based on trust, which motivates clients to take action.
Gaining more brand recall is essential for making money and attracting new clients. Brand awareness functions somewhat similarly to free advertising.
Get Thorough and Quick Results.
The first observable changes in your ad campaign might not appear for three to six months. Nevertheless, despite the slow development, your campaign's dashboard contains all the necessary information.
You can view the number of clicks on advertisements, their cost, or the search terms people used to find your website. For this purpose, you must know your budget for this also. The average cost per click for Google search advertisements in the US is $2.32 across all industries. [1]
All of these factors make it perfect for expanding your business using Google Ads because you get to use a very transparent and user-friendly system.
Obtain Quality Leads and Traffic
You can rank first on the SERP using Google Ads, increasing user awareness of your company. That's not all, though.
This powerful PPC marketing tool also increases your internet presence with pinpoint accuracy. This means that a very specific audience that is actively looking for your particular product or service type will see your adverts.
You may reach the right customer with your business message by using these tailored advertising. The best aspect is that your investment yields the finest returns possible in the form of qualified leads, traffic, and income.
But exactly how does this operate? There are many options available in Google Advertisements to specify your target market. Additionally, you are free to make changes whenever you see it appropriate.
Challenge The Competition
Before the pandemic, having a company website was sufficient. But as the online market becomes more competitive, you need tactics that give you an advantage, like Google Ads.
Remember that online viewers are also more discriminating. So, while you're about it, check to verify if your website complies with the requirements.
Having a user-friendly website and a G-Ads campaign together should help you increase sales and outperform the competition.
Conclusion 
Without a doubt, using Google Ads is a successful strategy for expanding your company.
Despite having a high upfront cost, it can provide useful information, increase leads and conversion rates, and outperform your most formidable rivals.
But keep in mind that you can only receive these advantages if you completely comprehend your company's objectives and how Google Ads may support them.
Furthermore, the majority of business owners are too busy to learn, put this sponsored search strategy into practice, and oversee it.
References 
[1] what are google ads and how do they work?–WordStream
Get the TurboAnchor® newsletter
Get smarter with the latest news, tutorials and consultation on technology.
By signing up, you agree to our Terms of Use and acknowledge the data practices in our Privacy Policy.