DIGITAL MARKETING > PPC
What is a Digital Marketing RoadMap and Why Does Your Organization Need it?
Digital marketing has helped businesses grow exponentially, especially in the last 2 years. With the help of the internet, businesses are flourishing with very little investment. However, for a business to grow, you must understand the digital marketing roadmap. 
Many businesses do not know what they want from their marketing agencies or experts. This is where a digital marketing roadmap comes in. Read on to know more about the digital marketing roadmap for 2022.
What is a Digital Marketing Road Map?
Digital marketing roadmaps show how marketers use various platforms to advertise their brand or business. SEO and SEM, social media, email, display and banner advertising, and website conversion rate optimization are all examples of digital marketing channels (CRO).
 With so many channels available, digital marketing roadmaps help simplify complex goals and draw attention to the most crucial activities. It is another tool necessary for user experience.It is used by marketing executives to target audiences across the entire company. It's a potent instrument for garnering support, passion, and buy-in for marketing activities.
How to Create a Digital Marketing RoadMap?
Different roadmap types offer varying levels of detail and information. Think about the target audience you are building the roadmap for and how they will consume it. What information do they need? How often do they want to be updated? The answers will help you decide the roadmap's structure and the information you should include.
Once you have established your high-level goals and initiatives as well as the activities that will support them, detail the work that will be done in each channel. Include time frames for when the work will start and finish, with important milestones along the way. Assign work out to the team based on those deadlines for a better digital marketing roadmap.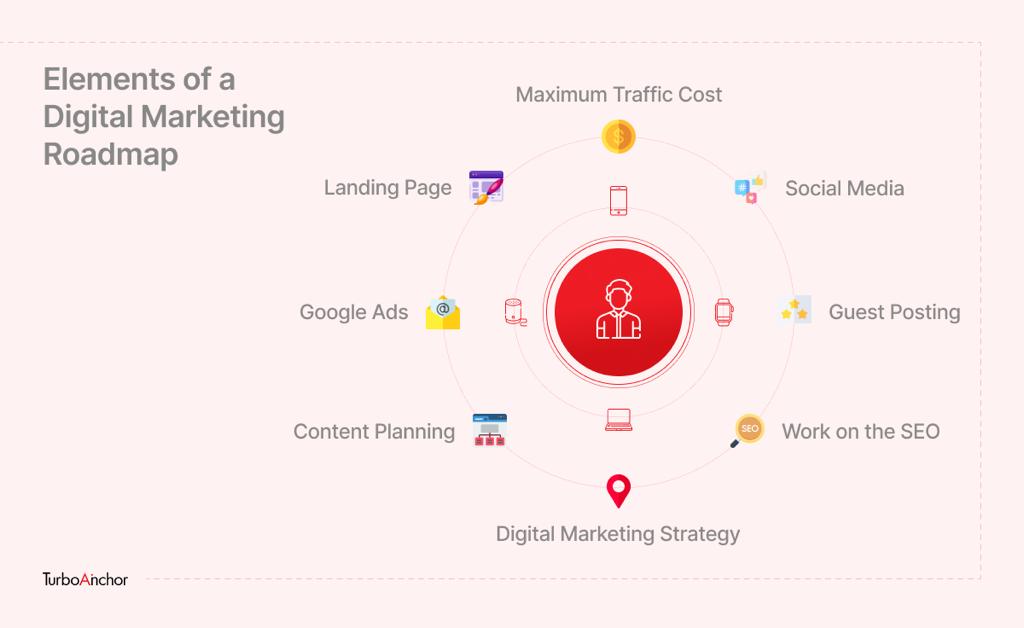 Key Elements Of a Digital Marketing Roadmap
A digital marketing roadmap example serves as the framework for all other digital marketing activities. To help you reach your goals, the digital marketing roadmap starts with a strategy and is backed by a number of methods.
Your success depends on two key factors:
Generating sufficient traffic

Converting it into money
Digital Marketing Strategy 
Even if you are able to successfully drive traffic to a current website, it won't matter if it doesn't convert visitors into customers. A strategic roadmap for digital marketing is essential for your company and any user experience.
To attract clients to your business, your website must be slashing, mobile-friendly, and have an excellent UI and UX. 
Read More: How to Optimize Your Digital Marketing Strategy
Maximum Traffic Cost (MTC)
Determine your MTC before you begin directing traffic (Maximum Traffic Cost). The highest you can spend on traffic generation and still turn a profit is this amount.  This is the first and foremost step toward success towards your digital marketing roadmap.
Consider selling a product for $100 each and making $50 in profit. If it costs $250 to attract 1,000 visitors to your website and you convert one in ten (10%) of those visitors into customers, you would make 100 sales and earn $5,000. That represents a 20-fold return on your investment. 
Approach The SEO!
Search Engine Optimization(SEO) is among the most often used marketing tactics. Although it has been there for a while, it has undergone significant alteration. You may have heard that "keyword stuffing" is the basis of SEO and digital marketing roadmap. This was a common approach for many years, but Google's algorithms have improved and now it's an outdated approach.
Read More: How are Web Pages ranked: Important Ranking Factors
Guest posting
Don't underestimate the influence of guest posts. To do this, all you have to do is create an article or blog post and collaborate with a non-competitive company in a related industry to connect to your website.
Prepare The Landing Page!
Once you've decided on one of the above traffic sources, it's time to get your landing page ready. Simply put, this is the website to which your traffic is being sent. Your landing page must accomplish various tasks to direct visitors through the sales process.
Here are the 4 stages of a great landing page
Get attention 

Inspire desire

Take actions

Bulding interest
Read More: Tips To Improve Your Google Ads Landing Page Experience
Social Media 
Building social media interest and trust are both necessary in every field of digital marketing. A strategic game can never neglect the importance of current situations. So, generating traffic on fb,insta and other social media platforms must also be included in B2B digital marketing roadmap.
Also Read: Why Is Social Media An Important Part Of Inbound Marketing?
Google Ads
With Google Ads, customers are seeing paid ads that are instantly displayed and exactly connected to whatever they are searching for. If someone views a sponsored advertisement for "baseball caps," they are further along in the sales cycle and already wanted the product.
Use Google Ads for more urgent goods or services: car repairs, household services, and childcare are a few examples of industries that can benefit from relevant traffic from Google.
Read More: What is a Good CTR for Google Ads to Get More Clicks?
Content Planning
Content creation delivers three times as many leads per dollar invested as traditional forms of marketing.  It should still be included in your digital marketing roadmap.
Your content must generate interest and engagement in order to facilitate conversions in the future. 72% of marketers said that content marketing has helped their company generate more leads. [1]
Conclusion 
It might be difficult to increase web traffic and conversions when it comes to digital marketing. The strategies mentioned above will help you attract more customers and increase sales. Nevertheless, put these suggestions into practice. Put yourself one step ahead of the competition to gain a larger market share and experience fewer headaches.
Digital Marketing Roadmap — Frequently Asked Questions
Why is the digital roadmap important?
The main advantage of road mapping is that it helps you communicate with all of your stakeholders by visualizing your business strategy.
What should a marketing roadmap include?
A marketing road plan needs to include a distinct start date, waypoints, and an endpoint (deadline).
What is the future of digital marketing?
Organizations and corporations need to start working on their digital marketing strategies right away if they want to be ready to serve these future customers.
Also Read:
References:
[1] Fascinating Content Marketing Statistics To Make You A Marketing Genius – OptionMonster
Get the TurboAnchor® newsletter
Get smarter with the latest news, tutorials and consultation on technology.
By signing up, you agree to our Terms of Use and acknowledge the data practices in our Privacy Policy.