DIGITAL MARKETING > PPC
Why Is Social Media An Important Part Of Inbound Marketing?
Before we get into detail, let's first put some questions aside to guide us in this endeavour. For someone new to inbound marketing, you might be thinking about why social media is an important part of inbound marketing? Why shouldn't you be concerned about just social media since there are various marketing channels available?
Well, as we know, traditional old-school marketing methods are not as helpful as they were in the past. Consumers are more likely to be annoyed by pop-up ads and hard sells than they are to be interested. Nowadays, people like to choose when, how, and whether they receive marketing communications. The importance of social media is for connecting businesses with customers. But when it comes to its considerable advantages, employing the prospect to present yourself as a customer-focused brand is the most significant one. According to research, almost 62% of companies use YouTube to post video content, and 90% of people say YouTube is where they find new brands or products. [1]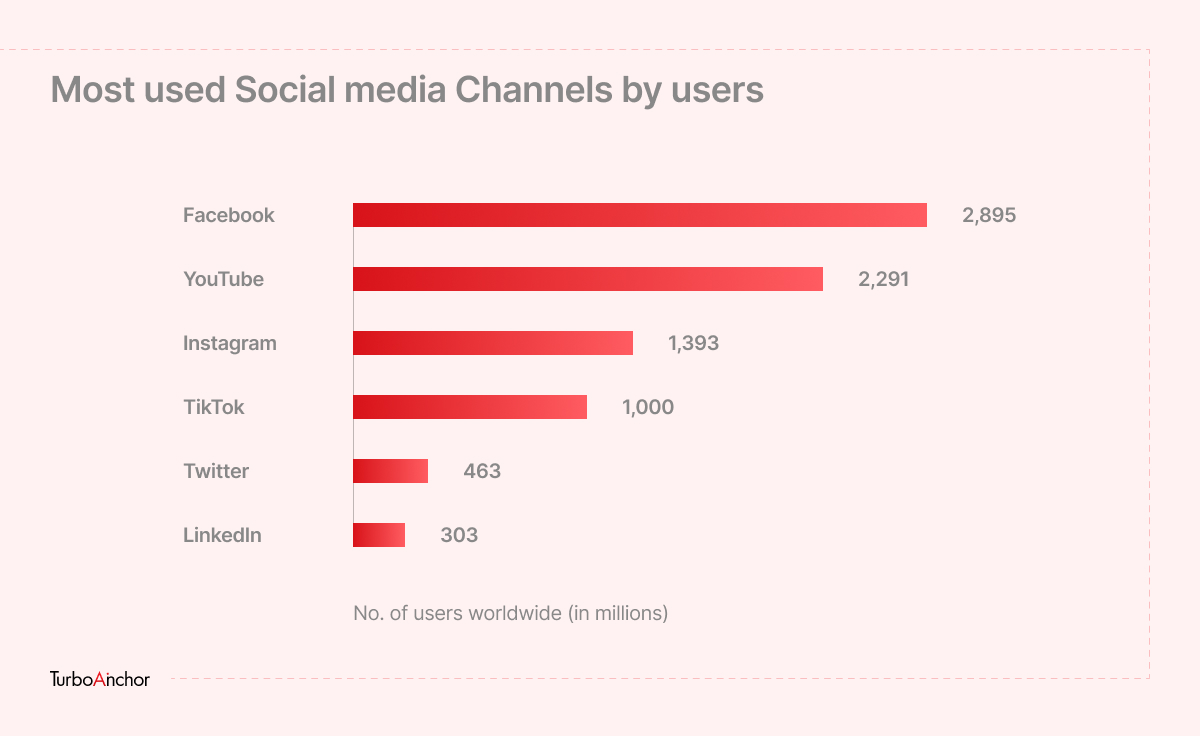 Therefore, a solid social media marketing strategy always falls under the category of inbound marketing. Why may you ask? Because it is focused on utilizing the power of social media to connect with your target audience.
Suggested Read: How to Optimize Your Digital Marketing Strategy?
What is Inbound marketing?
Simply put, inbound marketing offers your business a way to attract more high-quality leads by allowing the consumer to decide. This procedure in business is based on creating one-of-a-kind content ideas (like keywords, blog, SEO) that can draw your target audience.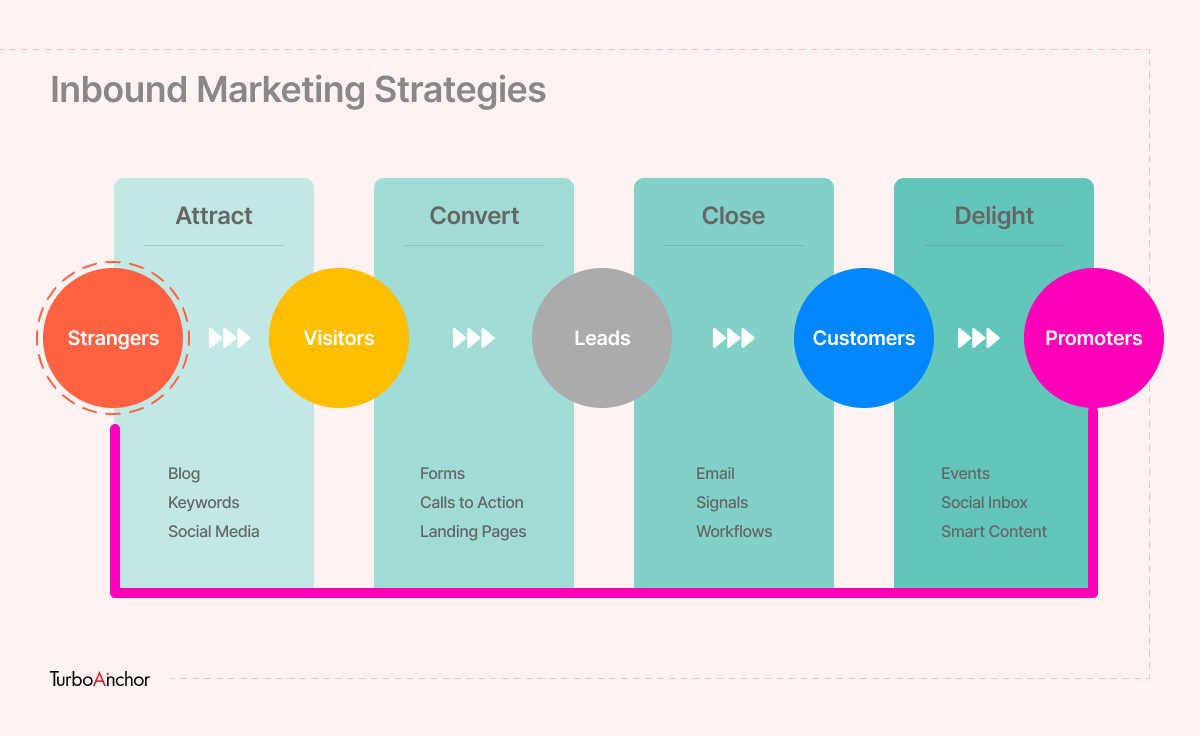 Getting in contact with the visitors before the buying cycle can make you a brand preference, & further on, leading them to convert into leads. 
Following are the reason why social media is an important part of Inbound marketing,
Connect With Your Target Audience & Drive Content Creation
Social media makes it easier for customers to contact you. Where do you turn for information when you have a question or a problem with customer service? Likely, you turn to the internet, and so do your customers.
Today's audience expects value from businesses that use social media to build customer relationships. Relevant and informative content will attract your target audience. They will shift toward someone they can relate to and understand their needs. Social media allows you to build a connection with your audience by letting you interact with your audience through comments or replying to their positive & negative reviews.  
But top of that, one of the pros of integrating social media into your inbound marketing strategy is the information and feedback you obtain from customers that you want to draw. Executing social media in such a method can get us a variety of creative content ideas straight from the audiences. For example, Review forms or Q&A, Surveys can help users to let us know precisely what type of content they want or like precisely. 
Create Brand Awareness
The level of awareness the audience will have related to you is the number of audiences you will influence to turn them towards your brand. Social media is one the best, easiest, & most cost-effective ways to grow your brand awareness. 
Besides, that social media will get you direct traffic to your website by boosting search engine ranks and brand value over the different search engines. As we know, in today's world of smartphones, everything is just a simple click away which is the opportunity for you to engage with your audience. Social media platforms like Facebook and Twitter showcase your brand or product in front of your target audience. 
Also Read: How to Find Facebook Ad Target Audience?
The images you use and the topics you talk about will help you engage with people online and help build your brand. Remember that you need to share content relevant to your ideal customers and ensure your topic posting is consistent with keeping your readers interested.
Makes your brand relevant & helps establish authority 
If people are aware of your brand, congrats, you passed the phase of influencing them of your business. But how will you reach higher-brand authority over the SERP, you might wonder? It's simple when more & more audience talks & start sharing your business info, giving recommendations. The website traffic will increase as well. Also, most consumers likely go for the recommendations and opinions of others. So, when a satisfied client shares a positive review about your brand/business, your brand's authority elevates instantly.
According to research, more than 86% of consumers go for a brand personality that is genuine and authentic. [2]
Improve Customer Engagement & Inspire New Business Ideas 
Social media mainly focuses on attracting, converting, and engaging audiences to bring in promoters, leads, and visitors. Engaging with your audience will get you plenty of new ideas and suggestions for your brand. You can ask them questions or figure out how to promote your service. With such insight, you can know what your business lacks or what needs to improve.
That's why they say to keep your eyes open and listen closely to what your customers are saying & boom! You will never run out of ideas. 
Improve SEO 
Utilizing social media to interact with and promote content will boost the exposure level of your business. Moreover, experts and influencers will link to your content when your brand's social media marketing gains authority and credibility. As a result, your overall SEO will improve.
Suggested Read: How To Create Search-optimized Content With SEO Content Writing?
FAQs
What is inbound traffic in social media?
Potential customers searching for solutions are considered inbound when they visit your website or your advertising web.
What are the benefits of social media?
Following are the benefits of using social media,
Reach out to more audience 

It helps you gain direct feedback 

Keeps updated related to your competitors each move

Increase brand loyalty 

Partnering up or collaborating with Influencers
How is social media used for marketing?
Social media allows marketers to reach out to counterparts, customers, and potential consumers. It personalizes your brand and helps you to distribute your message in the most compelling way possible.
Conclusion 
So, someone who wants their business to be available to the target audience when & where they are looking. Then you need to go for social media as a tool to boost your inbound marketing performance. Your content must be so compelling that people want to consume it, not forced to view it by aggressive outbound marketing tactics. 
Also Read:
References: 
[1] 10 Youtube statistics – OBERLO
[2] The Ultimate List of Marketing Statistics for 2022 – HubSpot
Get the TurboAnchor® newsletter
Get smarter with the latest news, tutorials and consultation on technology.
By signing up, you agree to our Terms of Use and acknowledge the data practices in our Privacy Policy.