DIGITAL MARKETING > PPC
How Does Google Display Ads Grow Marketing Results For Advertisers?
Before we get started with the question, how do Google display ads grow marketing results for advertisers? Let's get to know what Google display advertising is? 
Google display ads allow businesses and digital marketers to promote their products and services over 2 million websites, videos, and applications where your ad can appear. These display ads are generally in graphical visuals or text-based.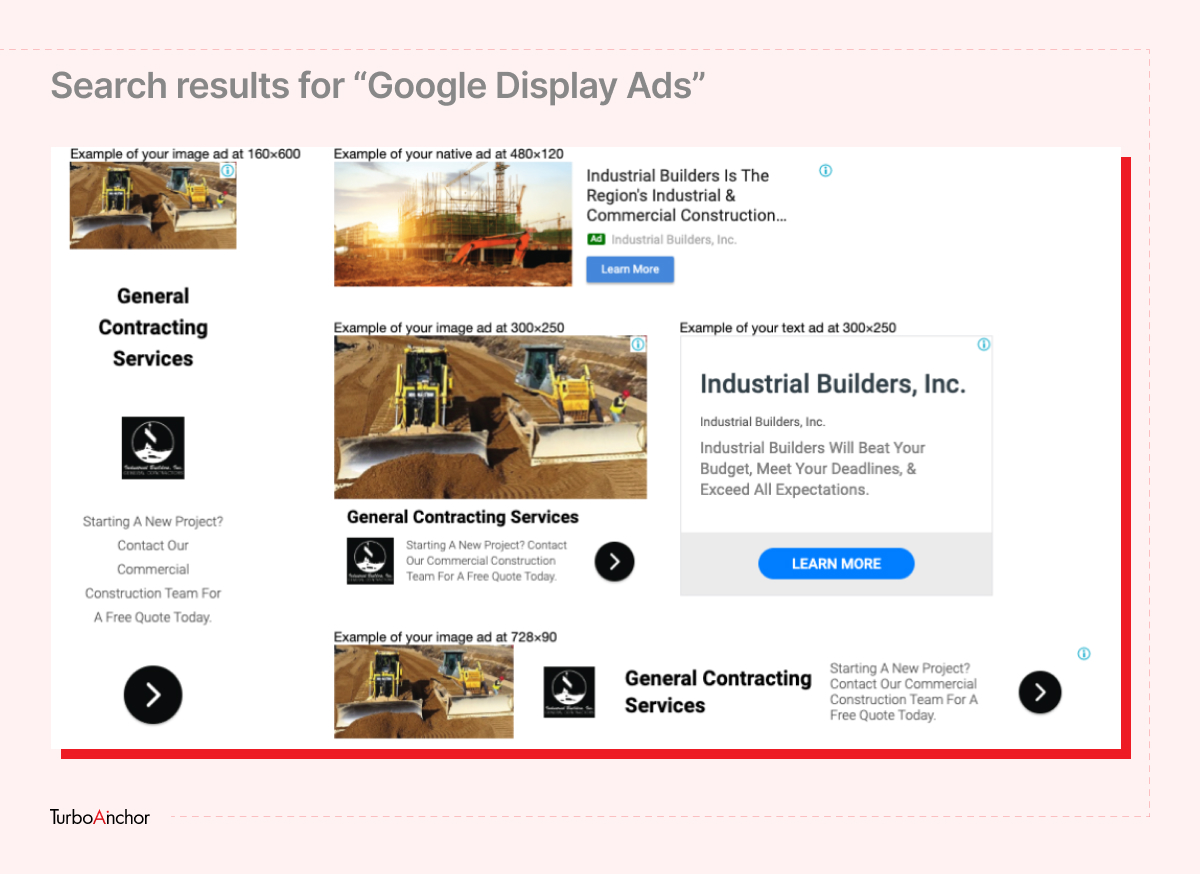 Google display ads are displayed in front of potential customers at the right time and place to increase brand awareness or trigger a purchase intention. These ads target customers who aren't actively looking to buy the product directly but may end up converting into potential customers. The brands create a market through display ads across the web and drive traffic to their website.
So, you might be thinking about: how Google display ads grow marketing results for advertisers. 
Following are some of the ways to grow marketing results for advertisers,
Targeting with Google ads 
Optimizing Bidding strategy 
Different formats of display ads 
Targeting with Google ads 
When generating traffic or making a user take action with your website, targeting the right audience is the utmost priority. When generating traffic or making a user take action with your website, targeting the right audience is the utmost priority. 
Google Display Ads ensures the ad is displayed to the right audience by observing the in-market & similar audiences. A large portion of the in-market audience is actively looking to purchase something. By looking at product reviews, landing pages, and other online actions, Google Ads can figure out whether a user is looking for information before purchasing.
Audiences that are similar to those on your remarketing list have similar demographics. These ads target people who have already visited the same site. Through automatic targeting, Google Display Ads find similar audiences and in-market audiences. They learn which audiences are most effective for you. Google Ads automatically adds people who have visited your website to your remarketing list.
Another way to answer how Google displays ads grows digital marketing results for advertisers is Dynamic remarketing.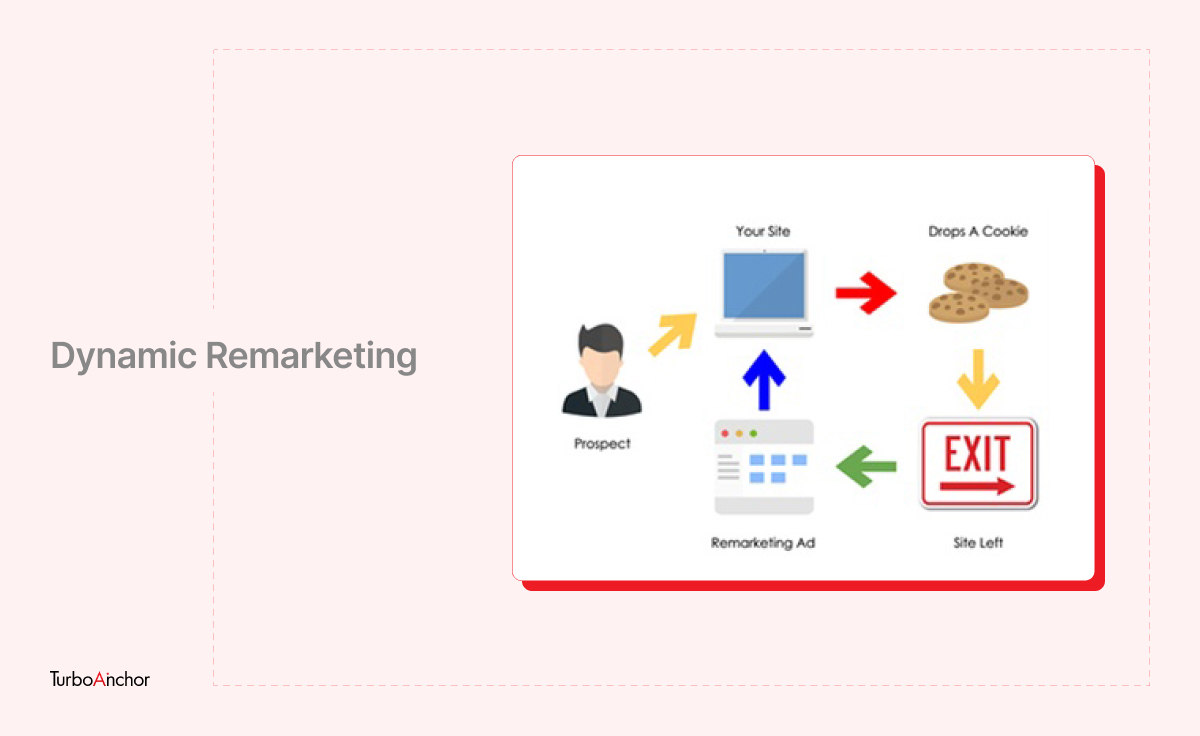 Such campaigns serve personalized ads based on the products or services your previous website visitors viewed. 
Suggested read: 8 Best! Types of Paid Ads Which You Can Go For
Optimizing Bidding Strategy 
Another effective way how Google Display Ads grow marketing results for advertisers? Is by tailoring your PPC campaigns toward performance metrics with automated bidding strategies.
Automated bidding strategies let you;
Target Clicks
Visibility 
Conversions & Conversion Value 
Through automated bidding strategies, you will have your bid reset at every auction using machine learning. 
Maximize clicks is an automated bidding strategy that drives the maximum number of clicks it could with the daily budget regardless of the result. Context clues will be used by Google AdWords to automatically determine bids based on the most clicks you are likely to get at the chosen cost per click.
In addition to targeting reach and brand awareness, you can use Viewable cost per thousand impressions (CPM). BY using this strategy in your campaign, users only pay when the ad is viewed by the user instead of paying them every time the ad is shown on the page. This bidding model aims to set the maximum number of viewable impressions. It's considered viewable impressions after the display ad shows up or the video is played on Youtube.
Each type of automated bid strategy is designed to help you achieve a specific goal for your business. Target CPA, Maximize Conversions, Maximize Conversion Value, and Target ROAS are all forms of automated bidding strategy that use conversion tracking to optimize conversions or conversion values.
Suggested read: What are Google Ads Bids Strategies & How Can We Use Them?
Different Formats of Display Ads
You can grow marketing results for advertisers by offering a variety of ad formats to grab your audience's attention online. 
Following are some of the most common display formats,
Responsive Display Ads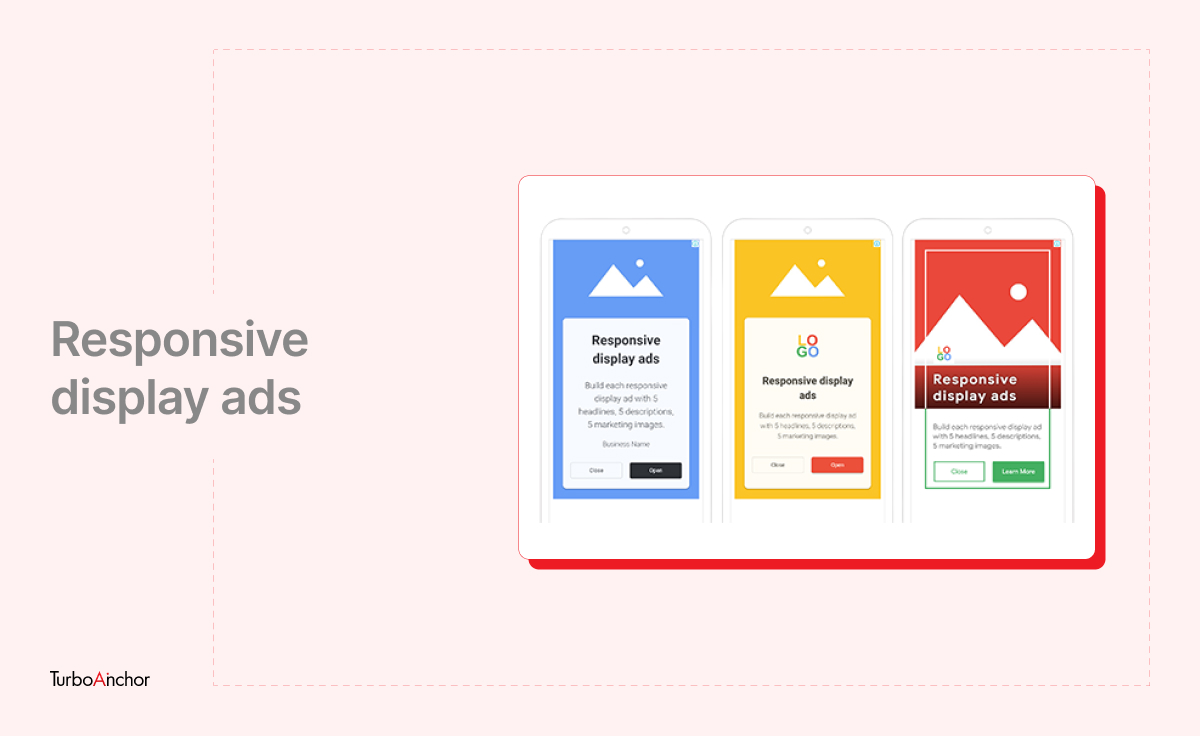 These ads are user-friendly, interactive designs that automatically adjust the size, appearance & format of the device on which they are viewed. They help you reach out to your consumers with timely, relevant, and easily consumable messages on any screen. Google displays ads employ machine learning to gather your assets into advertisements, testing them on other audiences to see which performs. These ads feel like websites as native ads and are highly effective.  
Video Ads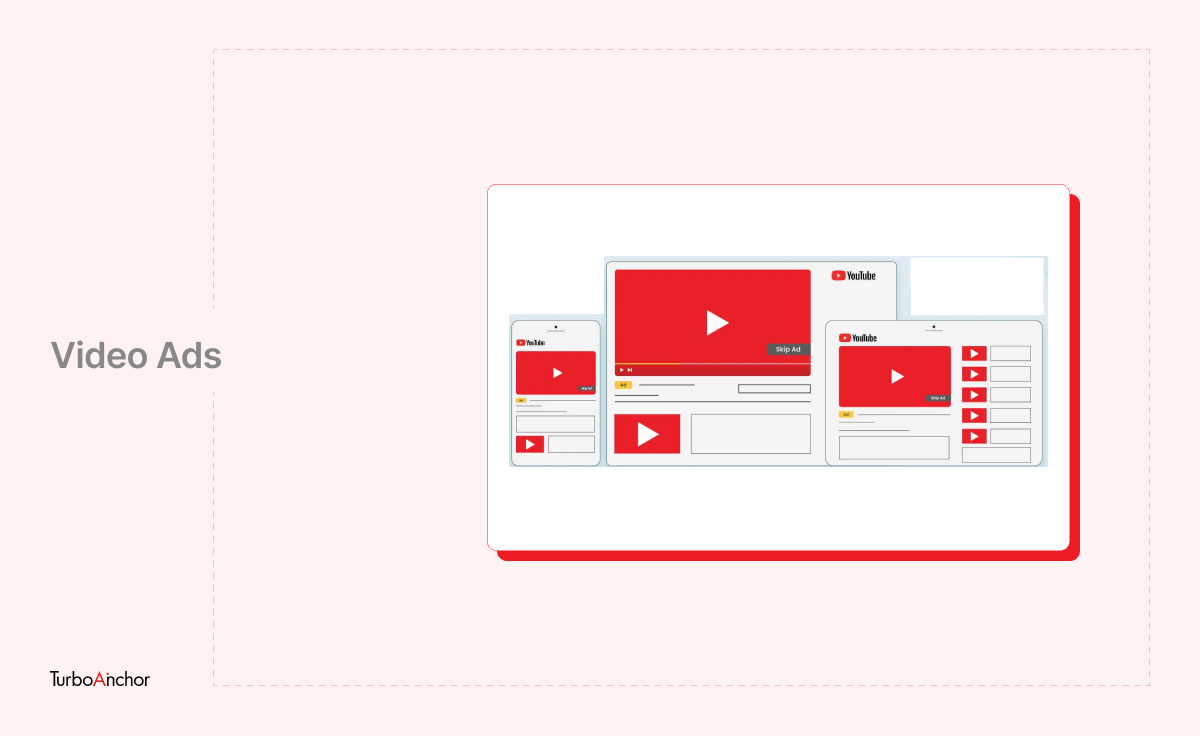 There are a variety of video ad formats in the display network. You can create compelling video campaigns with various video ad formats to engage customers in different ways on YouTube and across video partner sites. 
Following are some of the video formats you probably have heard off,
Skippable in-stream ads

Non-skippable in-stream ads

In-feed video ads
Gmail Ads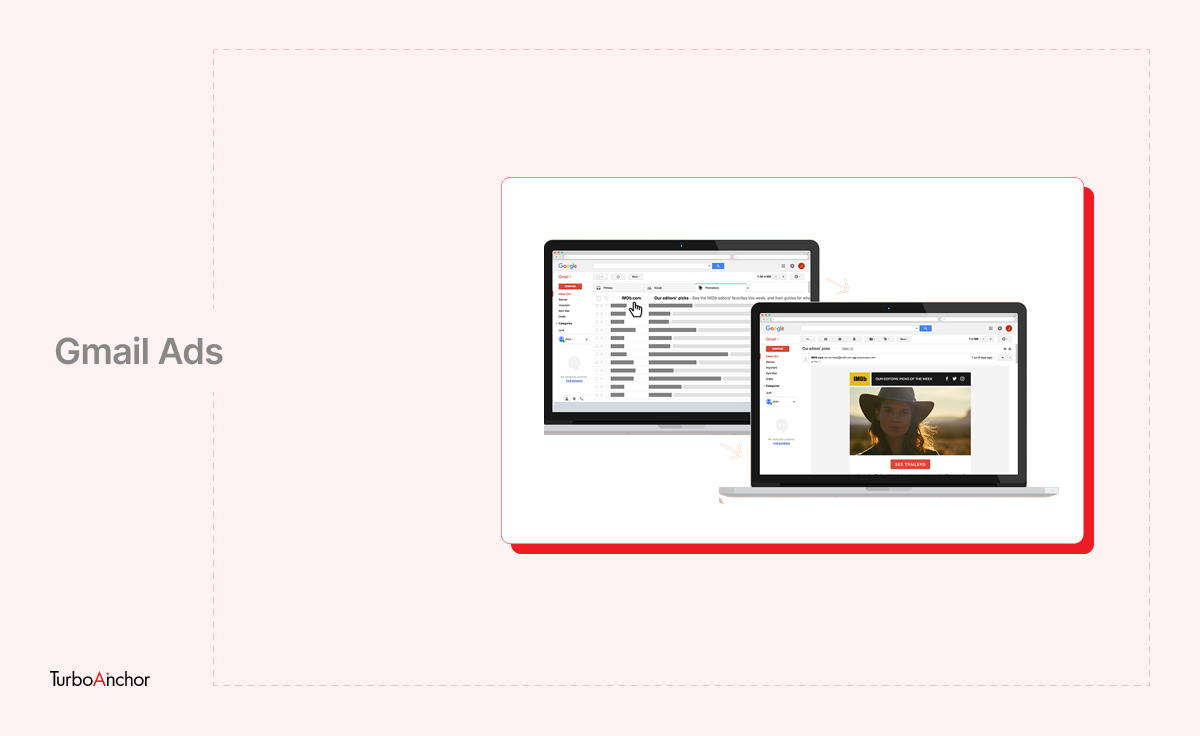 Gmail ads appear like regular emails with a click; these interactive ads expand into email-sized ads that include videos and images and can be used to fulfill various advertising goals. They appear with a little green "Ad" tag but look like new unread messages at the top of a user's inbox.
FAQs
What are the benefits of Google display ads?
Following are the benefits of using google display ads,
Help boost sales

Boost traffic to your website

Influence consumer purchasing decisions

Build brand awareness
Are Google display ads effective?
We can say display advertising is more effective than it costs. The number of clicks on them produces a positive return on investment for most investors.
Read More: Amazing! Tips to Measure Your PPC ROI
What are Google Display Network examples?
The Display Network is a collection of websites that show ads. The following are examples of specific websites, 
Google Finance

Gmail 

Blogger

YouTube
Conclusion:
In the end, it's clear to anyone that google display ads can play a significant role in the marketing strategy. They help you create brand awareness, make a market presence, boost sales, and convert potential customers into actual buyers. Understanding which marketing goals you are trying to reach will make it easy to use these strategies. 
Also Read:
Get the TurboAnchor® newsletter
Get smarter with the latest news, tutorials and consultation on technology.
By signing up, you agree to our Terms of Use and acknowledge the data practices in our Privacy Policy.