DIGITAL MARKETING > SEO
What is SEO ROI And How to Calculate It?
Before we get into the return on investment SEO brings it is important to know what SEO is. Search engine optimization or SEO is a way to allow your business to pop up at the top of the search engine results page. Search engine optimization (SEO) can be done both in-house or via an agency. While SEO is based on increasing web traffic, Lead generation focuses on improving the number of clients or potential customers for your business.
Read More: What is the Difference Between On-Site, Off-Site, and Technical SEO?
They may have different functions, but they can still complement each other and drive awareness for the business via organic traffic to the site. Just like any other return on investment, the SEO ROI is also defined as what you are getting in return for having paid for SEO. It is only of value when the return you get is higher than the cost you incurred for the service.
Is the SEO ROI Usually High?
When looking for data on the ROI of SEOs not a lot of statistics will pop up. Mainly because it is not studied. However, companies use their own data and assess the trends for ROI for SEOs and what is considered good. According to the estimates of Profitworks, the average ROI of an SEO is $2.75 for every dollar spent. In other words, an ROI of 275%. According to FirstPageSage, it comes up to an average of 748%. Tarakeet shows ROIs of clients scaling up to 500% and even 1220%. [1]
How to measure the SEO ROI?
The ROI of SEO can be measured by using a simple formula:
(Gain from Investment – Cost of Investment) /Cost of Investment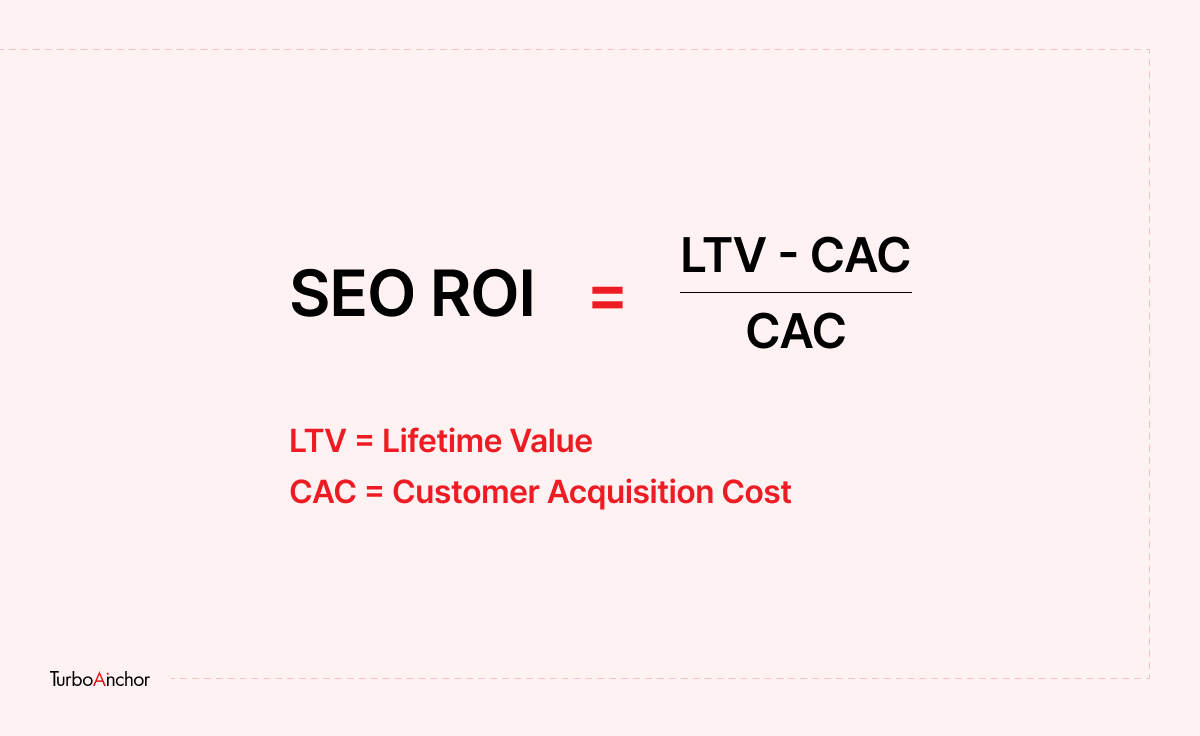 Despite the fact that the formula exists there are still other ways to determine if the SEO campaign is worth the time and effort. One way is to compare the return with the returns that you have gained thanks to the other channels in place for marketing.
While this doesn't give true statistics about the ROI of SEO it is still a good way to measure if the campaign was worth the while. Another way to understand the ROI is to see its trends over time.
Cost of Investing in SEO
While display advertisement or paid search has a set payment, you know what you are paying for what. Regarding SEO, the costs that are incurred vary in regard to the following factors.
 

If you are working with SEO in-house that means that you have a team for which you need to allocate funds. These funds include their salaries and other payments such as utility, equipment costs, and so on. However, if your team does more than just SEO tasks then you need to portion out the time dedicated to SEO and calculate cost accordingly.

If you are not doing SEO in-house, then you have hired an outside agency. In this case, what you pay the agency is the cost you incur. Here similar to the in-house allocation if you have hired an agency to perform various tasks then you need to ask for their billable hours to calculate the total cost for SEO-related work

 

Lastly, you have to pay subscription fees to use the SEO tools.
How long does it take to get a Good SEO ROI?
When are we going to see the fruits of our hard work? That is a question we always ask ourselves. It is no different when it comes to business. So when we will see the results of SEO is also an important question that is asked a lot. 
The simple answer is 3-6 months. This is how long it takes to gain traction, once you have that it only grows. The SEO ROI is more important since updates get better over time the longer they are left in place. Gaining momentum in the SERP makes it simpler to rank for keywords with more traffic and higher value, which translates into more sales and income.
Let us take an example of the breakdown of this time.
The first 1-3 month saw the least growth. During those months the SEO team understood the business and grew a strategy to implement

Within months 4-6, the growth became higher, these servers are initial results that are used to identify areas of improvement.

The months 7-12 brought exponential growth. This is when the organic search traffic is the highest
How to measure the SEO ROI of a Keyword?
While calculating ROI for a keyword there are a few simple steps
First, you need to gather all your estimates from keyword analysis. For this, you can take the help of google if you have a google ad account. If not there are other paid tools that can help. What you need are all the words you want to target and their estimated search volume data.

Next, you need to download the data and compare your current performance with your estimated lift. In doing so you want to see clicks, current impression CTR, and so on.

After that, you want to calculate the current CTR per average ranking position.

Once you have identified the keyword opportunities from the analysis you need to see: which of the keywords you rank for, what is your rank, what is the CTR, and how many clicks you get.

Next, you need to summarize your keywords

And lastly, calculate the estimated impressions
All of this work can be done using Microsoft excel while the analysis data can be downloaded from Google keyword planner.
SEO ROI in Google Analytics
The cost of your existing SEO initiatives and KPIs (key performance indicators) are two aspects that go into calculating SEO return on investment (ROI). Making informed business decisions and adjusting and optimizing your plan are both made possible by tracking these crucial indicators on a regular basis. 
Utilizing the ROI Analysis report and the Cost Analysis report, ROI analyses may be performed in Google Analytics. You may determine the ROAS of various marketing initiatives using various attribution models by using these reports. The easiest way however is to set up conversion values in Google analytics. The ROI analysis in Google Analytics is carried out using ROAS (i.e. Return on Advertising Spend). 
Suggested Read: How to Optimize Your Digital Marketing Strategy?
Boost Your SEO ROI with TurboAnchor
If you are looking for getting a good SEO ROI, Connect with TurboAnchor's SEO Experts and see excellent results!
Conclusion
While calculating the ROI of an SEO is difficult, it is still not impossible. The main reason that makes the calculation hard is the data and unsure of how much will be earned over what time period. While the cost associated with it also varies based on how you run your business and what you outsource. 
Regardless, we looked over some ways to assess the effectiveness of your SEO as well as how to calculate the ROI of a keyword in your SEO. Not only that but google analytics also makes it easy to get an overview of how the SEO is performing.
Also Read:
References
[1] Marketing ROI – ProfitWorks
Get the TurboAnchor® newsletter
Get smarter with the latest news, tutorials and consultation on technology.
By signing up, you agree to our Terms of Use and acknowledge the data practices in our Privacy Policy.