DIGITAL MARKETING > PPC
Benefits Of Video Marketing
In today's digital age world, it's nothing out of the ordinary that you stumble into driving more traffic and put on a competition. But thanks to technological advancements and strategies, those challenges are passed. Employing the right technology at the right time makes it easy for the business to attract, engage, and satisfy the customers and beat its goals.
But when it comes to video marketing, it stands at the top of them all. It's one of the fastest-growing technologies helping businesses grab the visitor's interest and push sales. A survey uncovered that almost 86% of consumers want to see more videos from businesses in 2020. [1]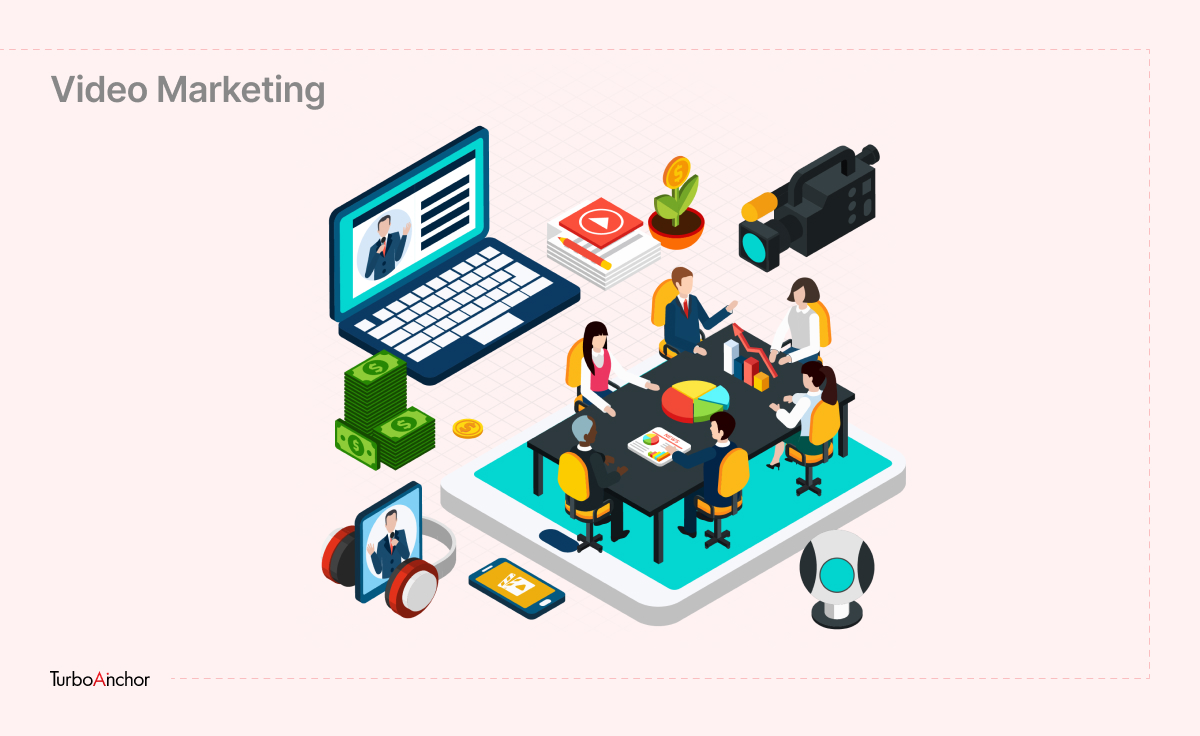 Still, for someone unaware of what video marketing is all about? We can say…Video marketing is the way to create brand awareness, promote products, and increase engagement, boost sales through video-related content. Brands can display video content through multiple digital channels and formats, including the web, social media, app-based advertising, and many others.
You can read more about them on our blog post What Is Video Marketing & How Can It Be Used?
What are Benefits of video marketing in growing your business?
Ok, with no further due, let's dive into what kind of benefits video marketing offers. Day after day, we observe an increase in the number of businesses thriving on the advantages offered by video marketing. 
Here are some reasons why you should invest in video marketing: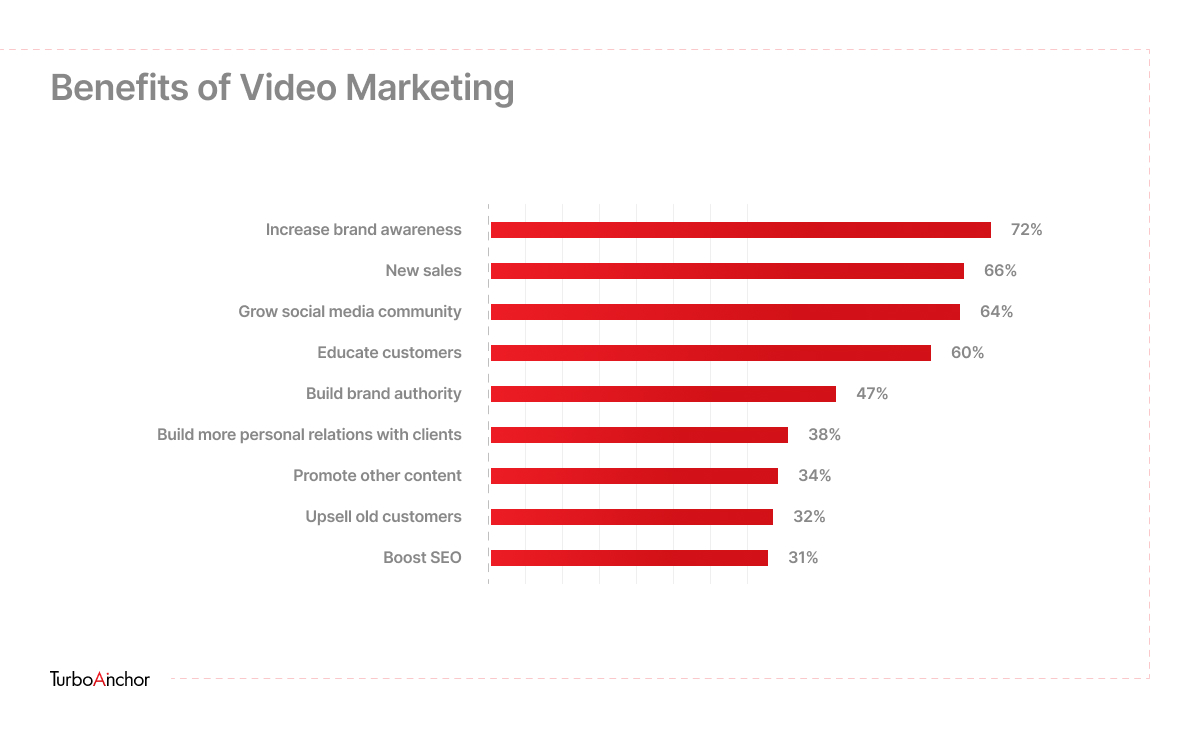 Firstly the benefit of creating a video is to gain brand credibility. With the help of online videos, you can easily give your product or service appeal. Moreover, videos also develop an emotional connection with the audience, which can help turn potential customers into buyers.
For instance, let's consider a more practical approach in understanding this scenario. If we hear the sound of an ice cream commercial brand with the same jingle sound or graphics from the past, it will send that adult into a state of nostalgia. 
Keep in mind that the more the website traffic and better the understanding of the product, the easier it becomes to increase brand awareness. Statistics show that Facebook generates 8 billion video views daily, meaning people respond to video content. [2]
So, by leveraging the right video content and marketing strategy, your brand can spread like wildfire.
Also Read: What's Audience Targeting & Strategies You Need To Go For
Boost Conversion Rates 
The effectiveness of videos is not surprising as it's human nature if we see any visual representation, which can be moving images and telling a story. It will leave a mark in our minds which will cause us to recall those events. Therefore going for video results in leaving a larger impact on customers' buying patterns. That's where video content comes into play. Using videos in your marketing strategy helps you see a drastic change in the number of leads, conversions, and sales.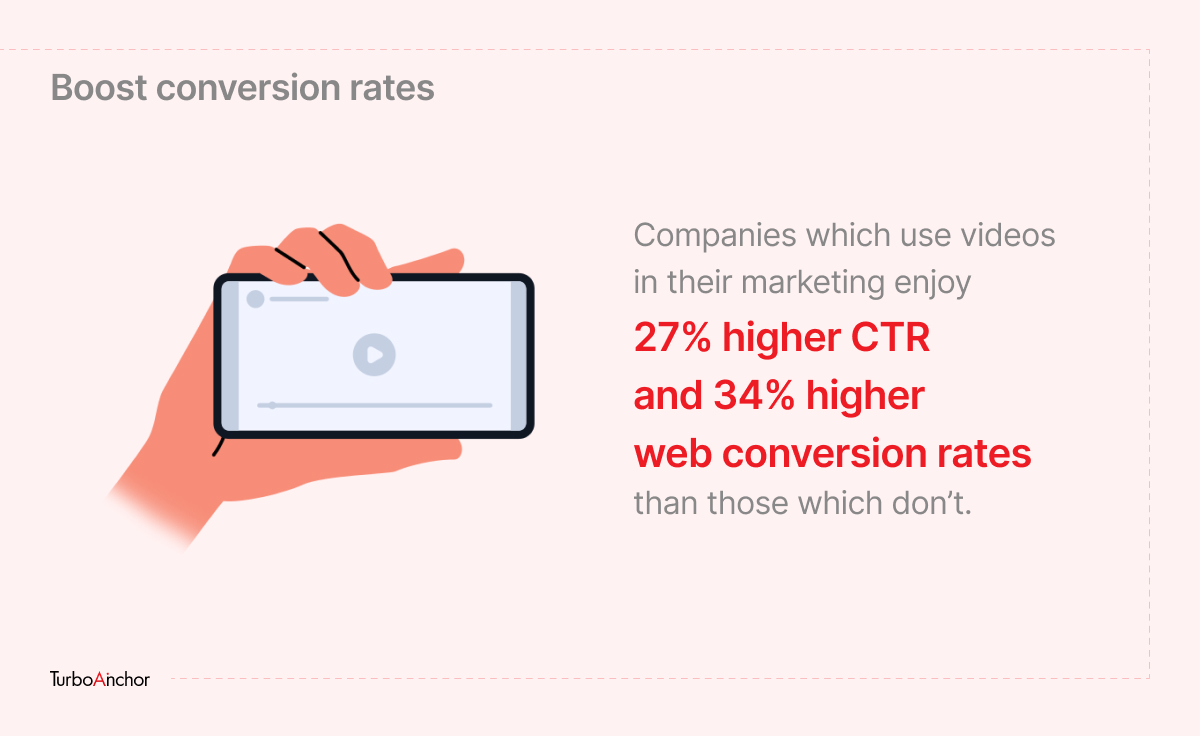 Studies have shown that adding a product video on your landing page can boost up to 80% of conversions. According to research, most social media users prefer watching an explainer video and eventually buy the product. Because better understand the concept and learn more about the services by watching explainer videos. 
As a way to increase traffic to your website, you can always use explainer videos on the homepage. This is because most organizations believe that videos on the homepage are effective. Videos help you explain complex concepts easily and make boring content more appealing and educational. 
It's nothing out of the blue that people go for a business that knows what they're doing & who they can trust in some way, feel like they know them. The sole purpose of marketing is based on trust and building a long-lasting brand & consumer relationship. 
After you get a customer at bay, what will you do to make them buy a certain product? If they see a video related to that product, they'll buy it. Suppose you have developed a sense of trust. In that case, videos connect you and your audience more personally than other forms of content. Video allows people to get to know and trust you.
 Improved SEO
Video marketing can help build your website backlinks and increase likes and shares. Not only does embedding a video into a web page improve its search engine rankings, but it also offers other SEO benefits by becoming a link magnet. 
But besides that, these are all metrics that search engines keep track of to determine the quality of a web page for a given search term. 
For example, when a user visits your website they click on a quick tour video & start watching it and even start acting accordingly to the video, which means it positively impacts specific SEO-related metrics. 
Drive Sales
Videos promote brand awareness, enhance online presence, personalize a brand, increase engagement, build trust, and can be cheap and easy to produce. According to research, brands that use video marketing grow their revenue 49 % faster every year. Video content increases sales for 80% of consumers. Most marketers said they planned to increase their video marketing budget in 2020.  
Yet, the ultimate benefit of video marketing for small businesses is creating sales.
Improve Your Email Marketing Performance
Users tend to get irritated from receiving back-to-back spam emails, promotional or sales emails from brands we never heard of. 
So what do you do? Smash the unsubscribe button.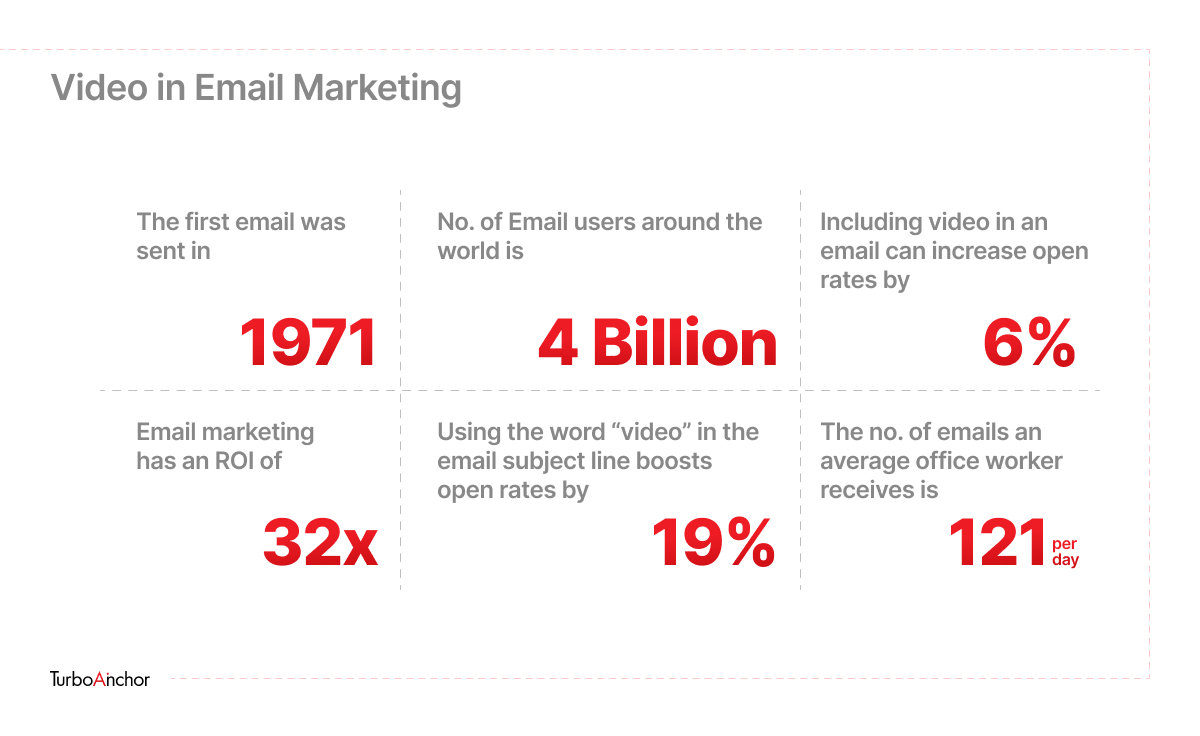 Or you can go for "video" in your subject line and increase open rates and reduce unsubscribe rates. People unsubscribe for many reasons, including cluttered inbox, repetitive or boring content, and marketing frequency. According to studies, simply using "video" in the subject line helps lower unsubscribes by 26% and boosts click-through rates by 65 % and open rates by 19 %. [3]
Social media is one of the most talked about platforms for sharing video content in today's digital world.  Almost everyone posts images or writes articles on social media, but how do you stand out from everyone else? By creating engaging videos.
Content without engagement won't produce traffic or conversions. Videos promote social media engagement. You can demonstrate relevance by creating educational, relevant content for your ideal clients. Moreover, you'll experience an increase in your social media engagement if you do that. Upcoming video trends include Live Videos, 360-degree videos and 1:1 videos.
FAQs
Why is Video Marketing important on social media?
Video marketing on social media is essential because it helps grab users' attention, allows for remarketing based on previous viewing points, and is easier on the pocket.
Suggested Read: Why Is Social Media An Important Part Of Inbound Marketing?
What are the pros and cons of video marketing?
For someone running a business who is considering going for video marketing, here are some pros & cons that you should know first:
Pros
As video-related content is more entertaining and attention-grabbing, users tend to engage more. 

High Engagement and Conversion Rates

Unending Creative Possibilities
Cons 
Production Can Be Time-Consuming

Costly Overhead

User can just simply skip your ads
How can video help your business?
Videos can help businesses display their products and services, drawing new customers. Still, they can help companies attract new employees and make workers more effective. 
Conclusion 
Ultimately, we can say without a doubt that employing video marketing play's an exceptional role in growing your business, from building trust and growing online visibility to developing an increased ROI and more sales. Video can be a powerful tool to share a message and display your point clearly and quickly using sound, movement, graphics, storytelling, and emotion. The ability to describe feelings visually allows brands to connect with consumers more personally and not just through words.
Also Read:
References:
[1] Video Marketing Statistics 2022 – wyzowI
[2] Top 5 Facebook Video Statistics for 2016 – SocialMediaToday 
[3] Reduce Unsubscribers – BRAINSHARK
Get the TurboAnchor® newsletter
Get smarter with the latest news, tutorials and consultation on technology.
By signing up, you agree to our Terms of Use and acknowledge the data practices in our Privacy Policy.