BUSINESS MANAGEMENT > (IoT)
What Is IoT In the Retail Industry?
The Internet of Things technology implementation is spreading like wildfire, especially in the retail industry. With businesses worldwide trying to capitalize on technology scalability in their respective operations, the investment in IoT solutions is destined for growth. 
Consumer habits, high pressure on delivery services, buyers' doubts about online shopping, and the lack of information related to technology all contribute to retail shoppers' challenges. From increased sales, reduced costs, and business process optimizations, smart retail assures us to overcome these challenges to provide retailers and their customers with outstanding benefits. According to research, the IoT in the retail market is expected to reach $182.04 billion by 2028. [1]
IoT in retail can help retailers in: 
Prevent Human errors 

Create direct customer journeys

Improve the process of product maintenance

 Decrease labor costs

 Build long-lasting customer relationships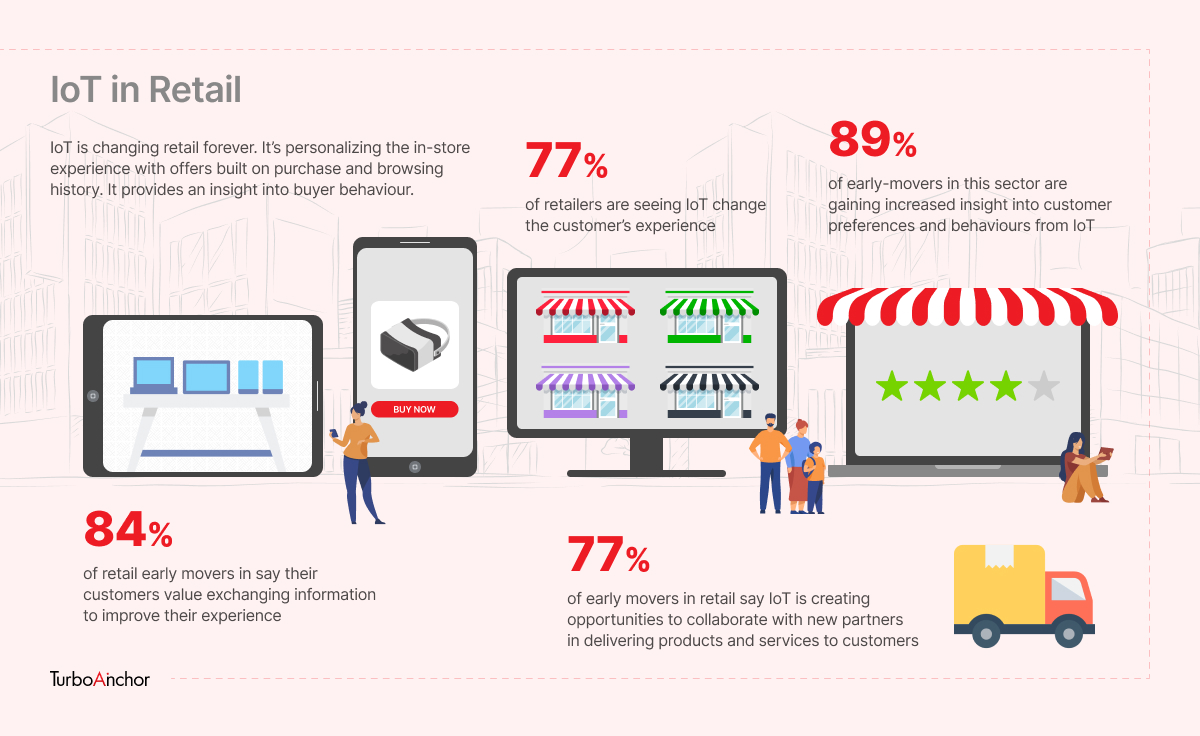 How is IoT Transforming the Retail Industry? 
Following are some IoT applications that are transforming the retail industry,
Inventory Management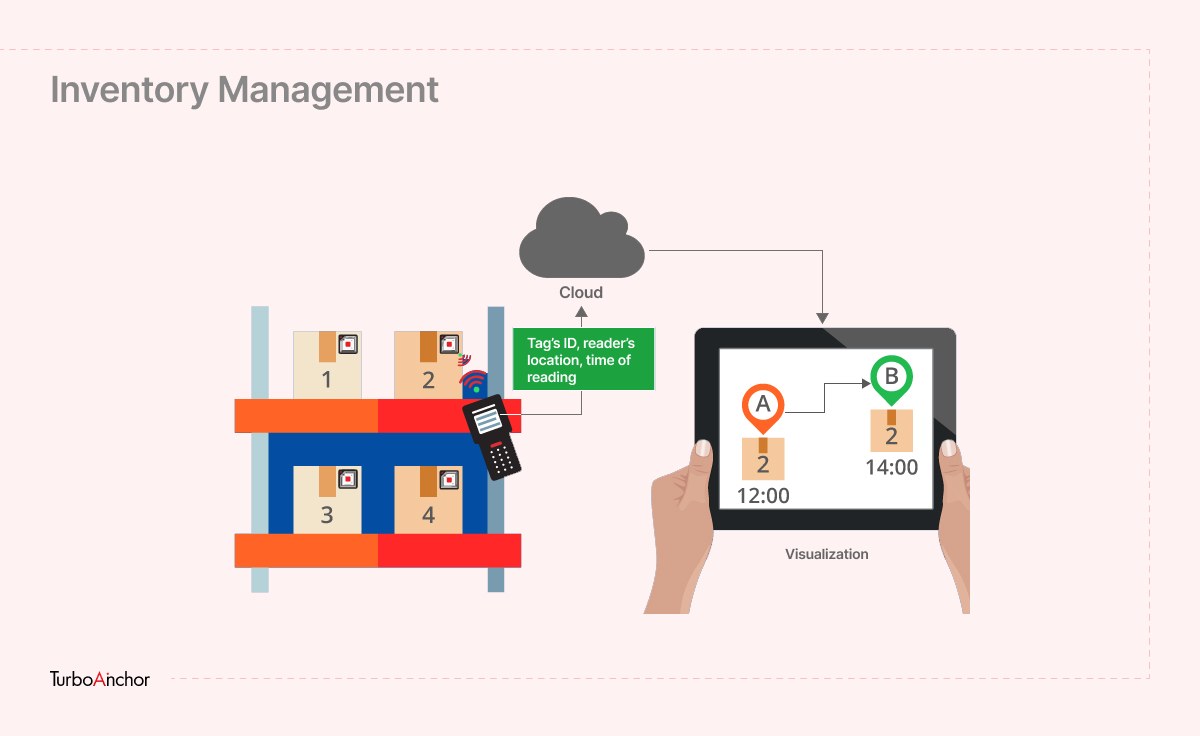 Using IoT technologies for smart retail can enable automated inventory management. IoT allows shop managers to automate product orders, is capable of notifying when a specific product needs to be reordered, inventory gathers information and analyzes data, and keeps an eye on employees' activities.
The IoT will automate functions that are currently performed manually. 
Some use cases are as follows:
Smart price tags will adjust prices in real-time based on the item's popularity, expiry date, and other aspects.

RFID tags

allow you to track products, while the RFID antenna scans the variety of units on the sales floor and notifies a shop manager in case it's running low. The platform looks like a plug-and-play device.

An IoT-based drone keeps an eye on supply in

real-time

and informs in case no available systems are left.

Using smart packaging, we can monitor the conditions of our products.

Shoppers can create digital shopping lists and navigate the store using their devices.
Enhanced Customer Purchase Experiences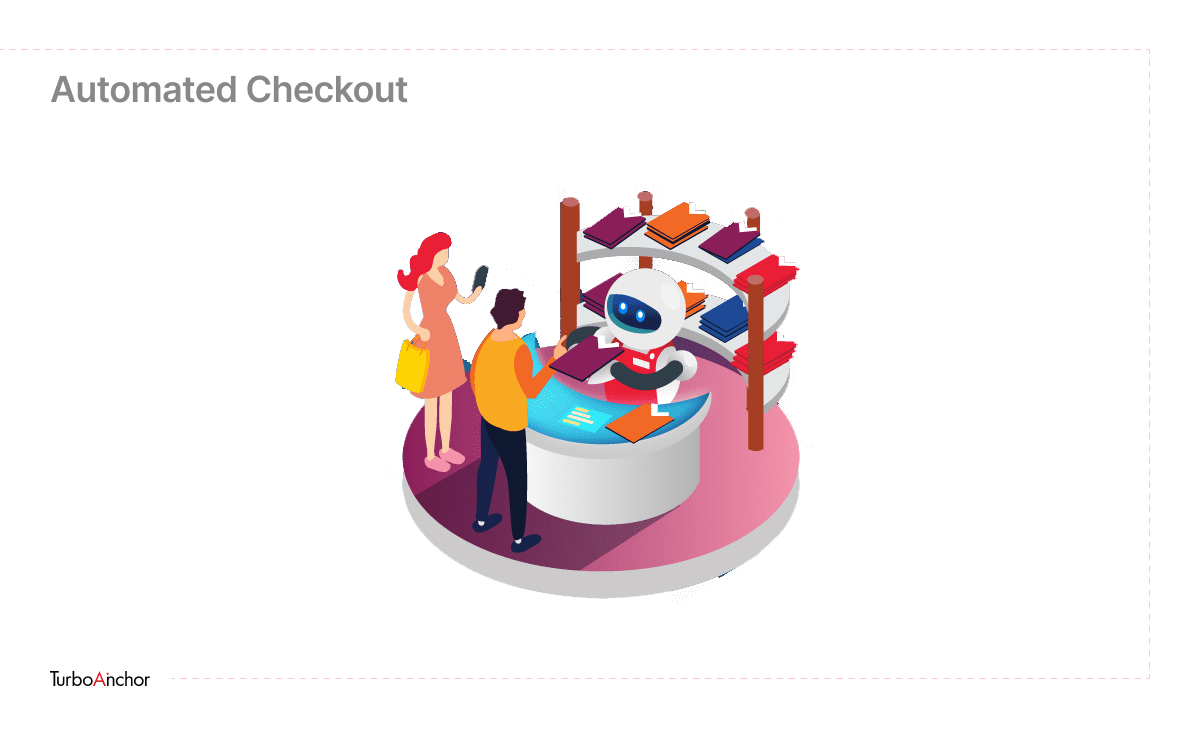 Well, it's expected that people tend to avoid making a purchase or entering such stores when they have to wait in long queues to pay for the product. Supposedly for a store manager, paying a cashier extra on more active shopping hours seems like a quiet loss.
For that, you don't need to worry cause of IoT. Today, customers can also pay through mobile apps. It offers more safety than caring around a physical wallet and bank cards. Touch on checkout, calculate the products and automatically deduce that cost from the customers' mobile payment app. You can set up a system to read tags on each product when a customer exits the store. They can also send smart notifications and update customers when purchased products have expired. According to an observation, automated checkout can reduce staff requirements by up to 75%, resulting in savings of $150 billion to $380 billion a year in 2025. [2]
Smart Shelves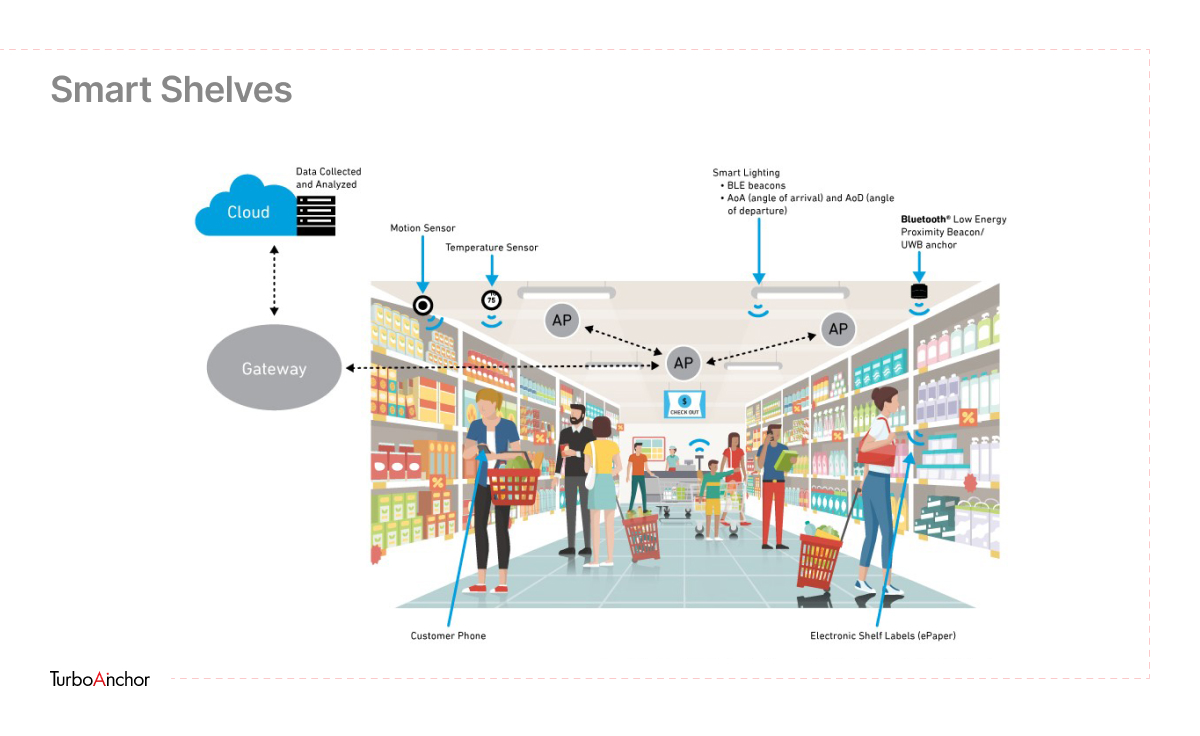 When a person walks down the aisles of a store, a digital display will present you with an advertisement tailored to your previous purchase history at the store. If a store manager wants to provide a special price offer or discounts, or sales, they won't need to replace the printed sale sticker. Instead, they'll update a digital display in real-time.
Smart shelves consist of 3 components: 
RFID Tag

RFID Reader

RFID Antenna 
A smart shelf uses sensors embedded within or beneath it to detect weight. The sensors track the number of products available on the shelves. They help retailers to check inventory levels and know when a product is out of stock.
Suggested Read: What is Proximity Marketing & How Can It Be Used?
Personalized approach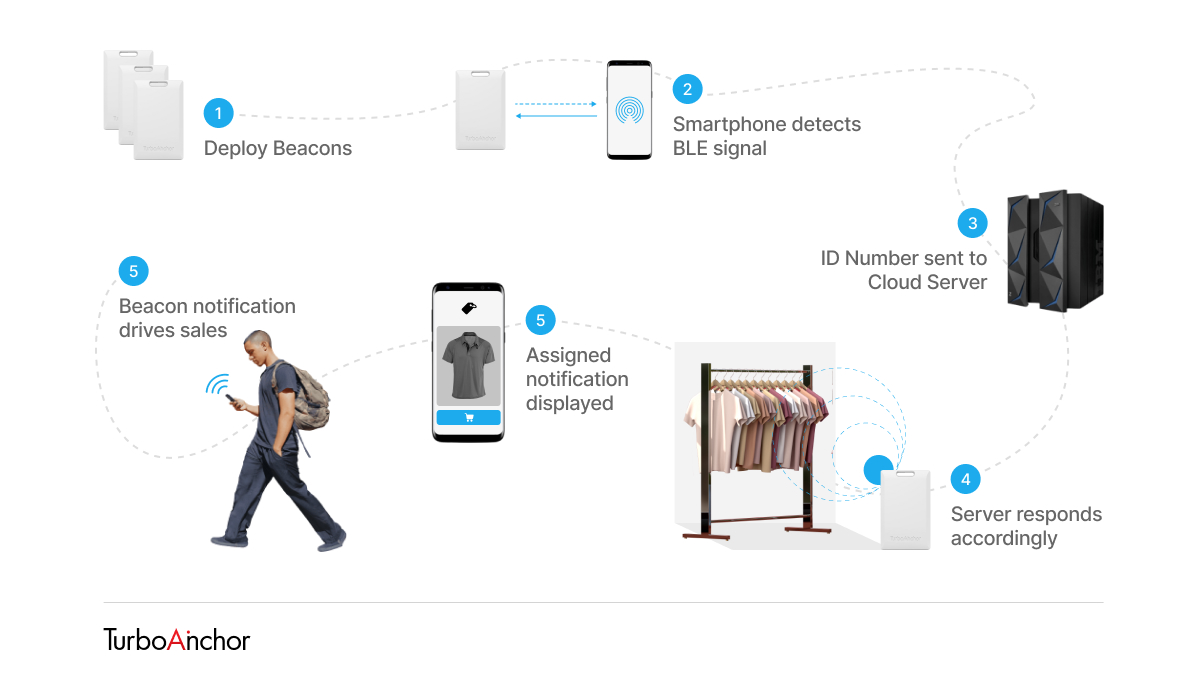 One of the best ways to get consumers' attention is by offering them promotional offers, discounts, or coupons on their cell phones. Almost everyone around the globe carries a phone with them anywhere they go. You can target these audiences by installing beacons around the stores.
For example, when someone is passing by your store or inside it, you can locate and engage with them simply by an application installed on their cell phones. They will receive a pop-up or push notification or text on their cell phone related to sales or discounts. And besides that, as mentioned earlier, all you have to do is to install BLE beacons at your store or outlet. Here BLE provides you the highest accuracy via proximity detection and doesn't drain your device battery as it consumes less power. 
Suggested Read: What Are Proximity Marketing Beacons?
Food Safety Monitoring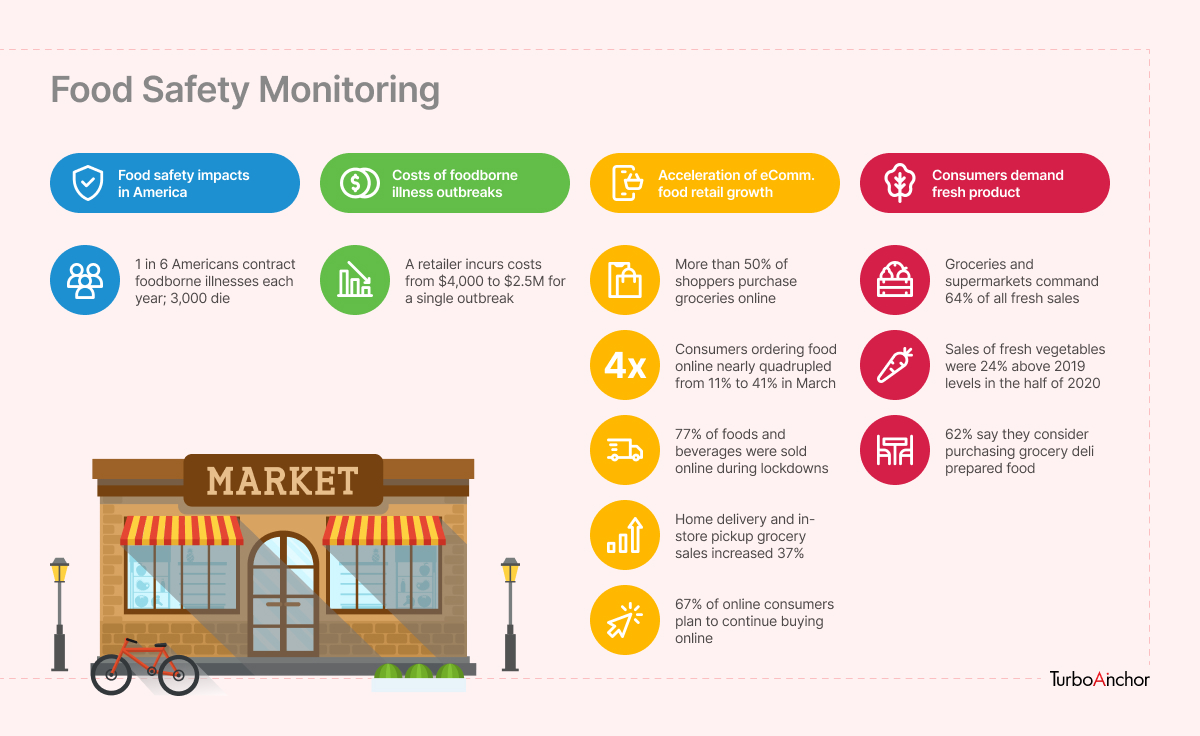 Throughout history, food has been spoiling and being lost during transportation at high rates. Yet, how fast a product can be dispatched still does not prevent the significant challenge of spoilage from occurring due to temperature changes. A misjudgment by employees or an electrical shortcut is just a few situations that can lead to supply contamination and loss.
But Retail stores are shifting towards wireless sensors that can monitor, control, plan and optimize operational management processes in real-time. These sensors can detect temperature changes and alert when temperatures break specific points.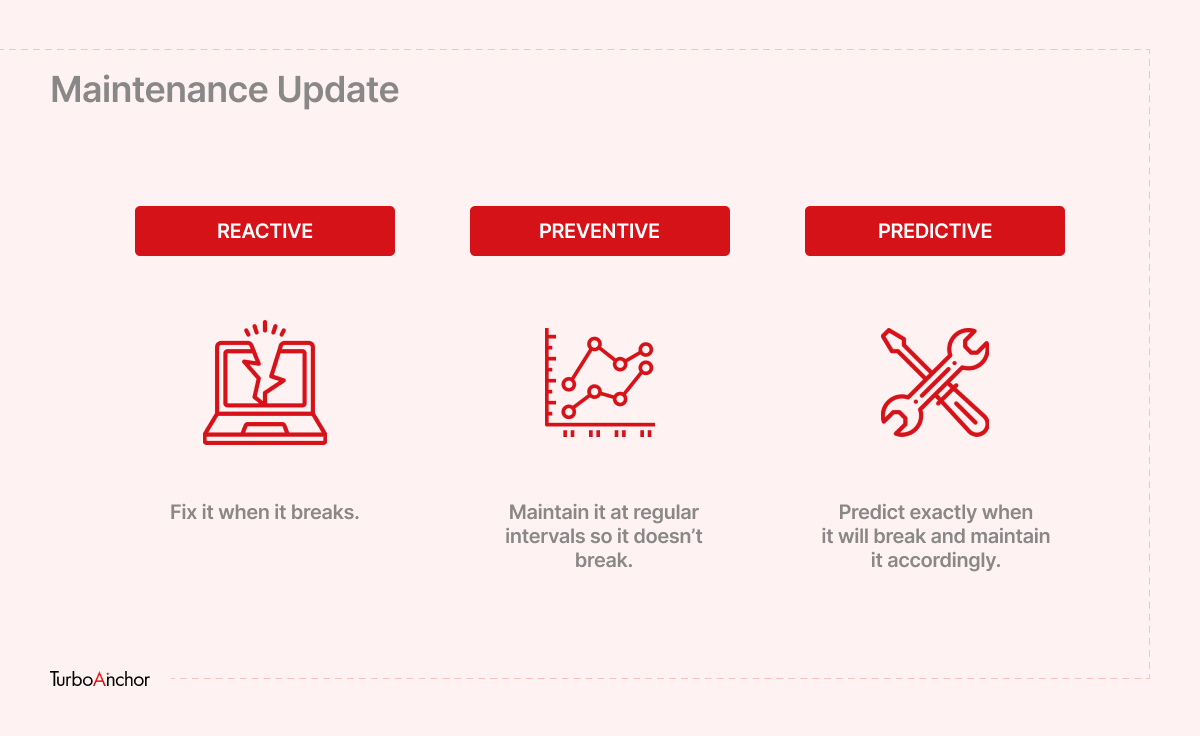 Equipment failure can cause chaos in any operation. Stock and income losses can result from shipping, stocking, and storage failures in retail. 
To be upgraded on store maintenance, store managers can use sensors to be alerted of changes in equipment behavior such as sudden vibrations, shifts in temperature, when devices have been moved from their location, and more. Smart software and connected devices can help retailers improve customer loyalty, gain an edge over their competitors, and offer a better shopping experience.
FAQ
What is the purpose of a smart refrigerator?
Smart refrigerators are highly-programmed units that detect and track essential details such as expiration dates and usage patterns of the items they store. These refrigerators work on a barcode or RFID system whereby they collect the data and manufacture detail directly from the Internet.
How does IoT play a role in smart stores?
A smart store consists of IoT-based technology like,
Smart Shelves

Smart Carts

Smart Cards

Real-time monitoring applications

Automated or Self-service 
How can IoT help small businesses?
IoT gives your business many opportunities to grow, especially if you're a startup. Going for IoT technology can help you monitor not just your employee's activities but also help you to track and gather information related to your customer just by using IoT sensors. It's not that expensive and makes your business run more safely & securely. 
Conclusion
So for someone planning a startup as a retail store or already running a business. Until now, it should be pretty clear how IoT technology plays a colossal role in transforming the world. A shop manager can save unnecessary costs, drive more customers, get updates related to the maintenance required before it breaks down,  monitor staff and manages inventory all with the help of smart IoT technology. 
Also Read:
References
[1]  IoT In Retail Market To Evolve With Adoption Of Connected Devices – CISION
[2]  Checkout can reduce staff requirements – McKinsey & Company
Get the TurboAnchor® newsletter
Get smarter with the latest news, tutorials and consultation on technology.
By signing up, you agree to our Terms of Use and acknowledge the data practices in our Privacy Policy.