Internet of Things(IoT)
All You Need To Know About IoT Solutions
What is an IoT Solution?
IoT solutions prove to be an ace card for most industries as they facilitate new businesses and boost efficiency. IoT solutions include technologies that help connect devices, manage tasks, analyze possibilities, and securely transfer information. They help provide a safe & secure environment to work in and help fulfill business growth in both the physical and digital world. 
Moreover, IoT solutions are just bundles of devices or technologies that enable IoT in an organization. Sensors are electronic devices that notice various data parameters from the information sources and then communicate them to the relevant networks. Sensors assist in compiling data, whereas IoT devices enable us to understand and work upon data.
Applications of IoT Solutions
So for a more clear picture related to IoT solutions and services, and how they're changing the way we live, let's take a look at these applications:
1- Smart Cities
This industry is evolving day by day, and it is challenging to get the extent of applications in this industry. "Smart cities" could be considered a collection of sectors that include city lighting, city transit, wastewater management, emergency services, traffic management, etc. New IoT smart city projects will probably appear as available technologies become more widely adopted and targeted at specific requirements of specific use cases.

2- Health Care
Speaking IoT plays a significant part in the digitization of healthcare, helping improve clinics' procedures and patients' results. The data gathered from IoT devices can help doctors determine the most suitable treatment process for patients and get the expected results.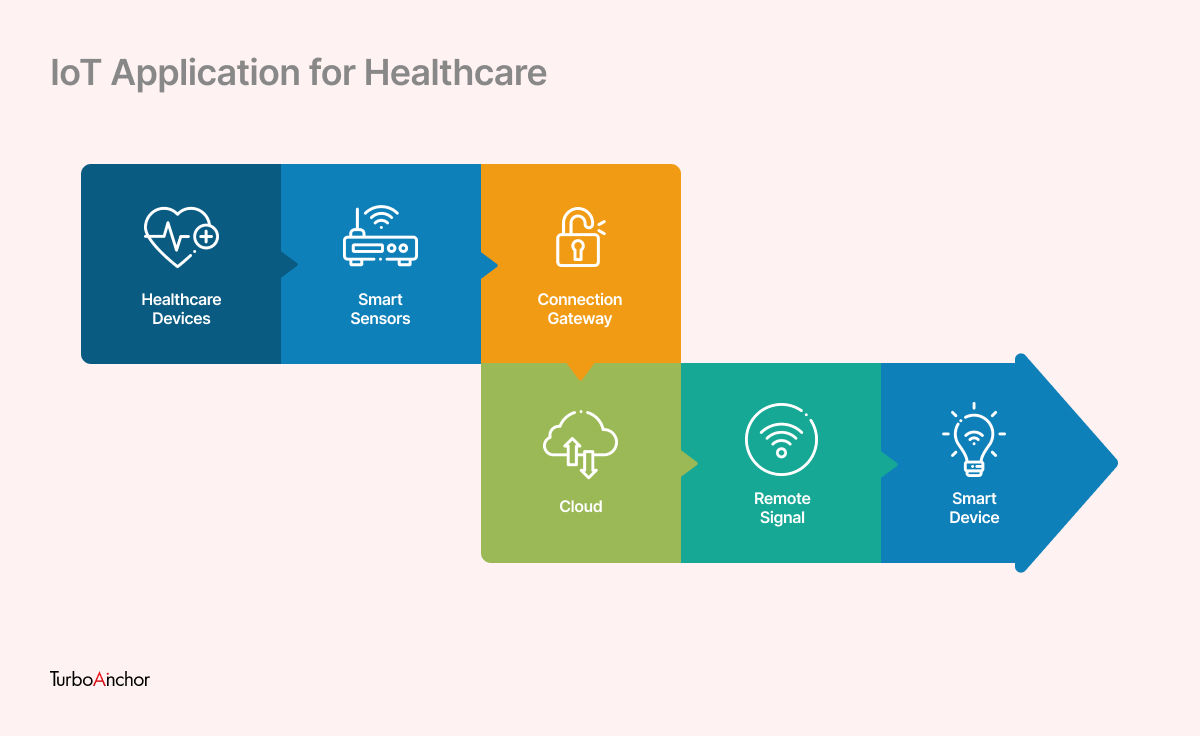 An example of IoT in healthcare is remote patient monitoring IoT devices that collect patient data such as heart rate and body temperature.
3- Smart Home
It is not possible to ignore IoT technologies' influence on our homes. Smart appliances, lighting, security, and environmental controls (Air conditioners) make our life easier and more convenient. You can control smart devices remotely and connect them to a single network. Like when you enter your home, the lights automatically turn on the cause of the sensors. But IoT gets you the leverage you want by letting all devices connect through the internet. You can easily check out your home through your mobile or computer. So, when we talk about IoT Applications, Smart Homes are probably the first thing that crosses our mind.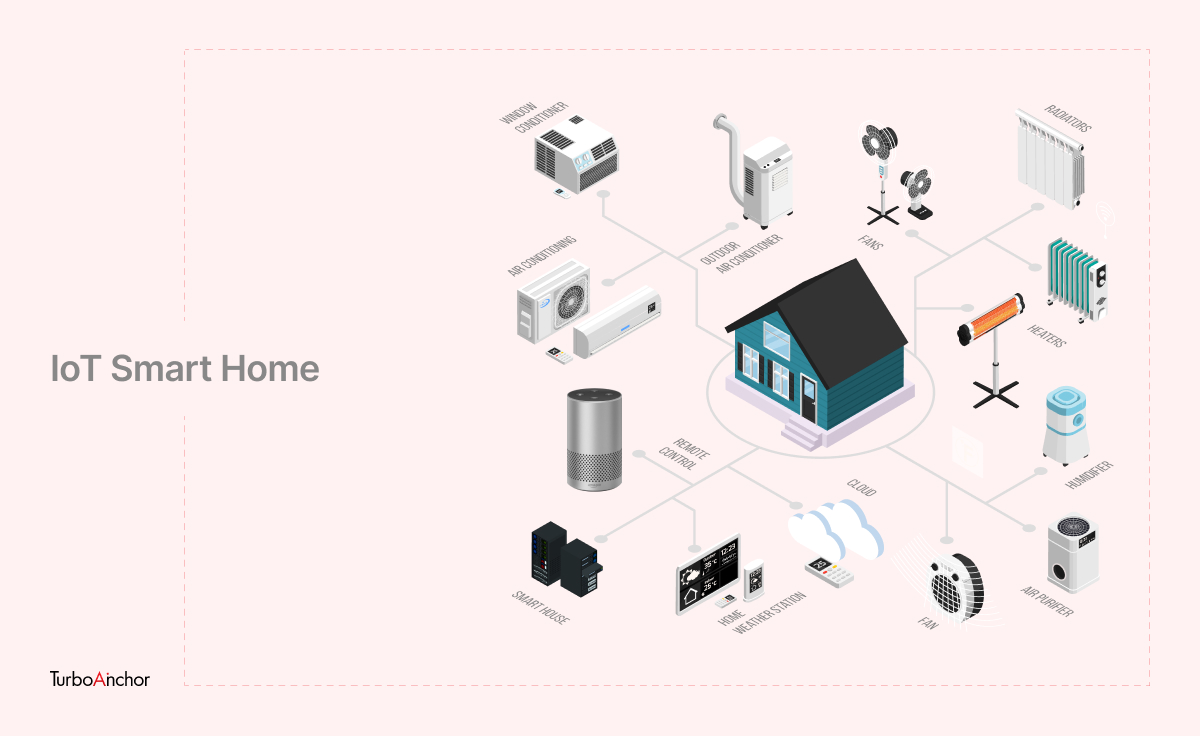 Following are the examples of IoT Smart applications, 
For someone who's maybe wondering about is Alexa an IoT?
The answer is yes, Alexa is an IoT service as it can control multiple smart home devices, unlike Siri or Google assistant. 
4- Wearables
Wearable technologies are electronic devices that people physically wear to track, analyze and share personal data. "Smart" IoT devices can track heart rate, sleep pattern, and calorie intake. Some wearables even let you connect with third-party apps and devices.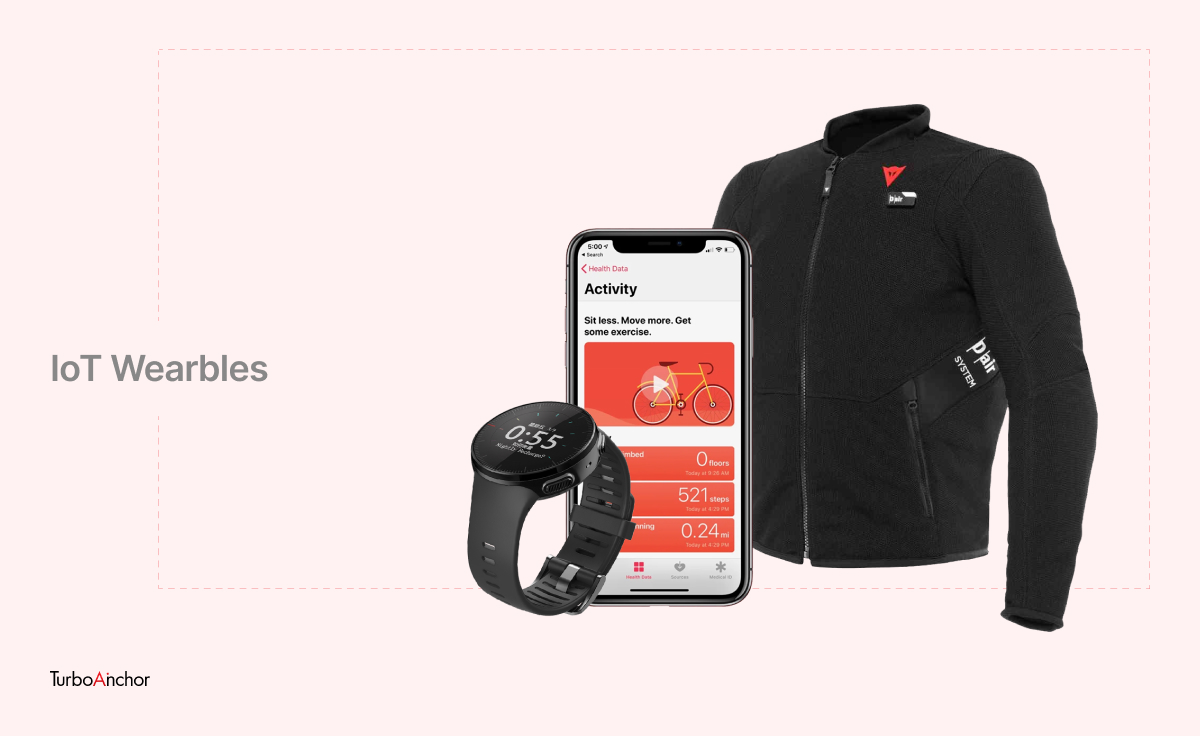 The most common examples of such technologies are Apple or Samsung smartwatches. 
5- Agriculture
As the population is stacking up day by day, there might be a point where we face overpopulation. So in order to confront such adversity head-on, you have to opt for IoT smart farming or greenhouse technology. The IoT-enabled smart technology uses sensors and gateways to collect and analyze data.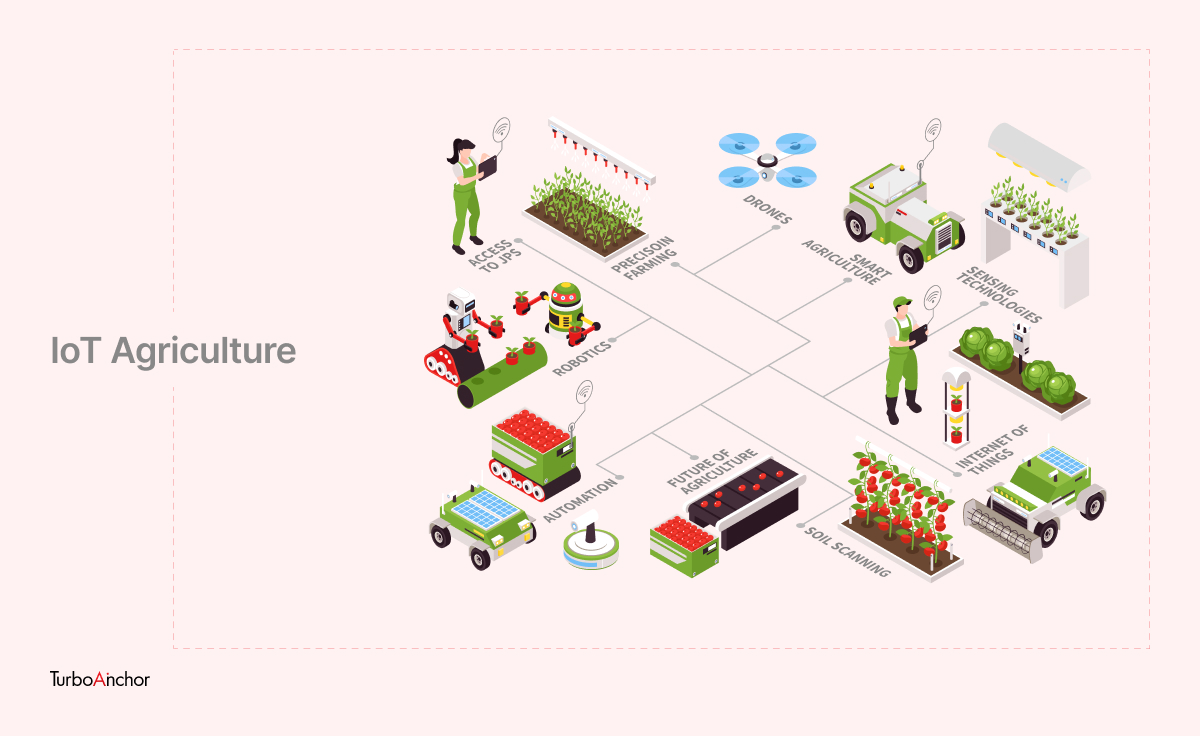 IoT smart farming observes the crop field with the help of sensors for light, humidity, temperature, soil moisture, and crop health and automates the irrigation system. The farmers can monitor the field situations from anywhere. It's comparatively a better option than manual labor as it's pretty stressful and expensive (labor cost).
6- Automotive
As we enter the digital frontier, technology like automobiles is also transforming from time to time. Smart cars with advanced electronics powered by AI give you features like auto-pilot, Blind-spot monitors, lane-keep assist, and cross-traffic alerts, a big move in integrating the Internet of Things and the automotive industry. Smart cars use IoT devices like GPS, cellular devices, satellites, and geofencing for tracking, and IoT protocols use servers like cloud storage.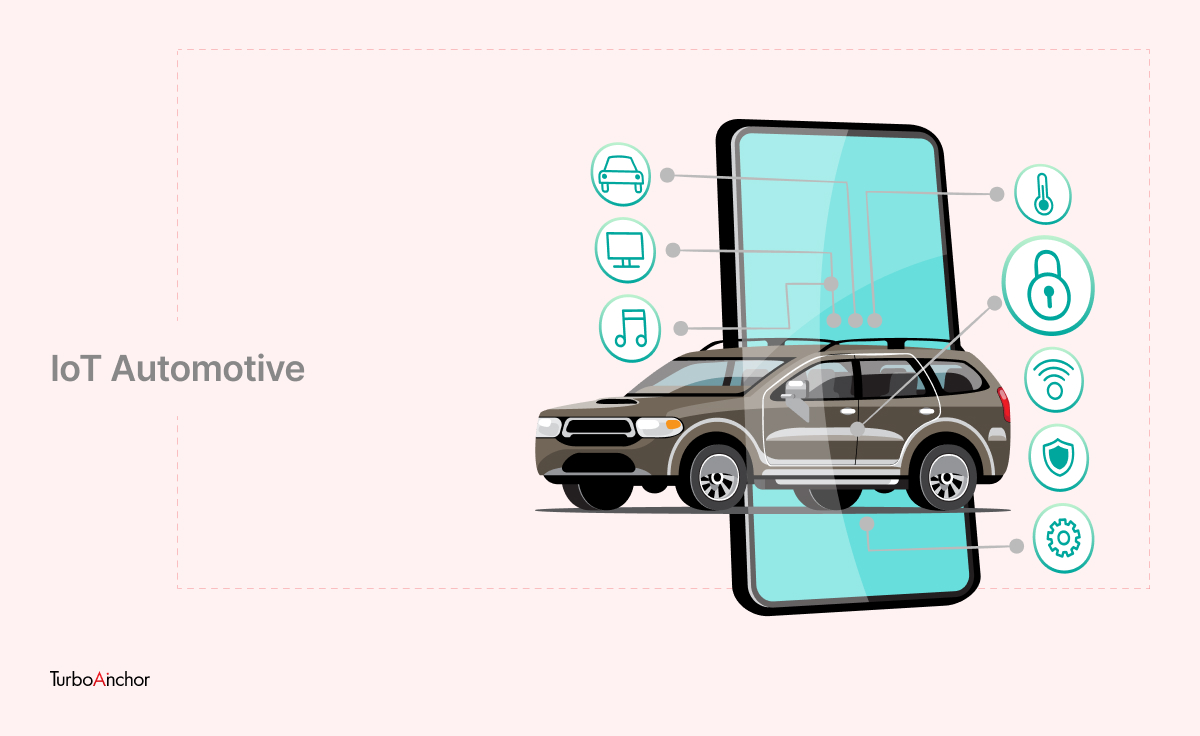 7- Smart office
A smart office is a hi-tech workplace that uses analytics and connected technology to help people work more efficiently and productively.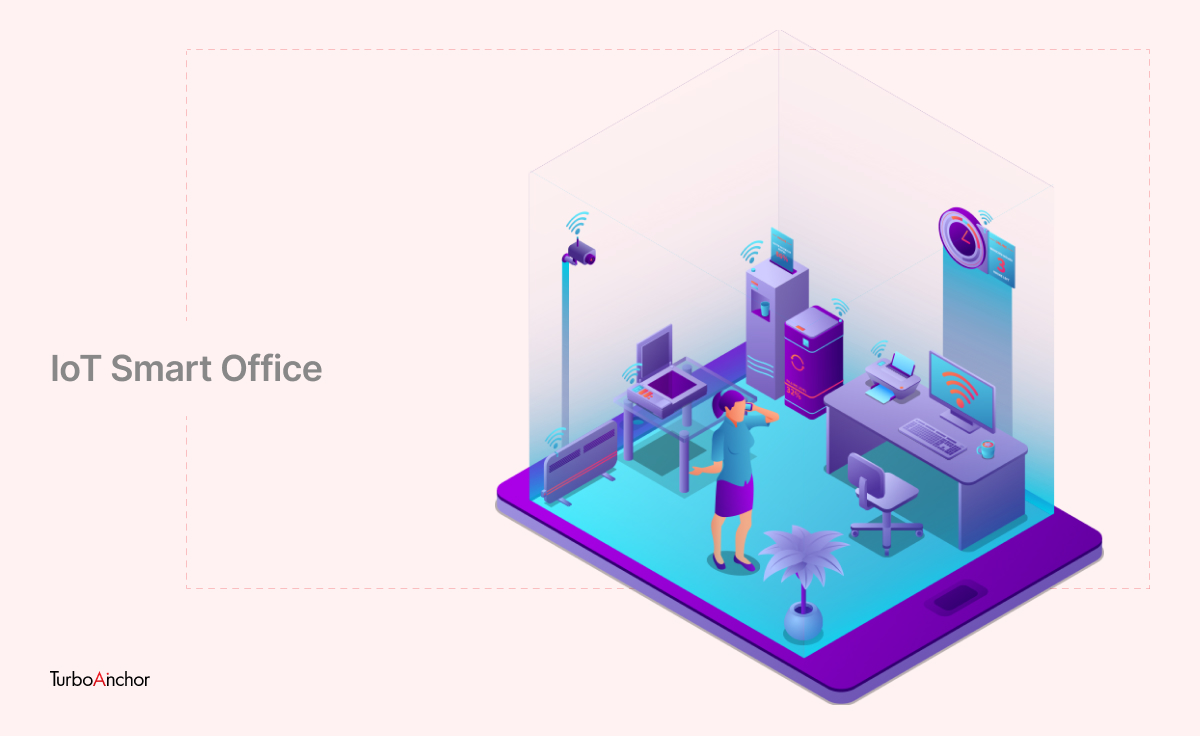 Someone running a smart office often faces questions like how to understand and improve employees' performance? People tackling such questions can go for employee monitoring tools, which use real-time monitoring. Thus, it lets you know employees' execution processes and work patterns. You can study your employees' productivity efficiently by accessing these details. 
Top of that, it is easily accessible just by employing beacons (in the form of employee cards) within your premises. Not only does it track and monitor employees' activities. But also forward data related to them straight to the cloud storage. That not only secures data but is much more cost-efficient, rather than paying for each server to store your data. Besides, you learn about strengths and weaknesses within your company.
For example, you may get to know that your team members have more time on their hands or are more useful in some other areas. With the proper insight of each team member, you can execute more informed decision-making. You get to know about issues like poor customer management or workers' nature who slack off. 
End Result 
As discussed above, you can clearly understand that the Internet of Things (IoT) solutions help build massive networks of IoT devices, lower complexity, assure device efficiency, and drive innovation across industries looking for growth opportunities and working efficiencies. IoT has merged hardware and software to the internet to create a more innovative world. So, for anyone who is thinking of exploring IoT, then now is the time.
Suggested Reads:
Get the TurboAnchor® newsletter
Get smarter with the latest news, tutorials and consultation on technology.
By signing up, you agree to our Terms of Use and acknowledge the data practices in our Privacy Policy.