DIGITAL MARKETING > LOCAL SEO
Local Link Building Strategies and Tips for Local Businesses
Did you know that the more backlinks the page has, the more organic traffic it drives from Google? [1] Consider implementing a local link-building strategy to boost your Local SEO, because backlink is one of the ranking factors that can make a noticeable difference.   
Are you wondering whether link building is relevant to SEO or is it worth investing in building links? Read this blog post to learn more about link building for local businesses, and the realistic and practical strategies and tactics to get local backlinks. 
What is Local Backlink?
Before understanding Local Backlinks, it is important to clarify the concept of backlinks. A backlink is a link from another website to your website. Backlinks help you to drive traffic to your website and boost your ranking in search engines. So now that you know what is a backlink, let's focus on local backlinks. Local backlinks slightly differ from backlinks, as they tend to come from sources in your area or local target market. 
Why Local Backlinks are Important? 
One of the obvious reasons to build local backlinks is to drive relevant, referral, and local audiences to your website. The Local Backlinks are an important part of local SEO as they send signals to the search engines that the content on your site is valued by other websites. When multiple websites link to the same webpage it reassures platforms like Google and Bing that the website content is helpful and valuable, that automatically translates to a high ranking on the search engines. Backlinks and content pieces are the top two most important local SEO ranking factors on Google.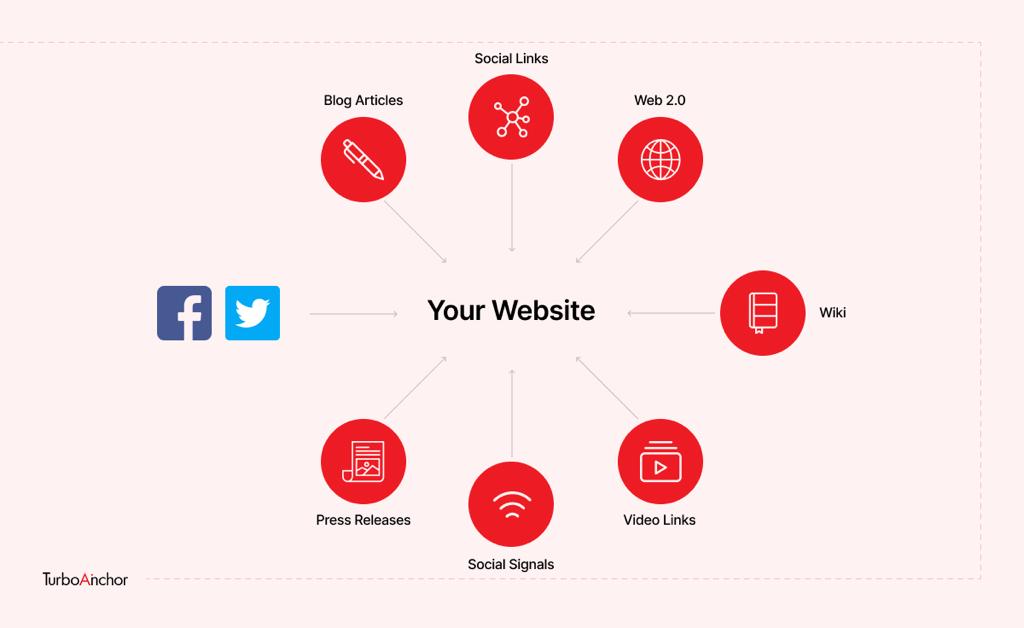 How to Build Local Links? 
Local links are vital to effective local SEO and here are some of the local link-building strategies that will help you to improve your local SEO.  
Create Local Content: 
It is essential to create local content that answers the local search queries. You can do this by adding local content to your web pages or starting your blogging strategy. Build blog posts around the queries and any doubts of the local audience to spread awareness. 
Social Media Presence
It is a great local link-building strategy to create social media profiles. Platforms like Twitter, Facebook, Instagram, and Google Business Profile will give your audience a chance to connect with your business outside your website as well. It will also help you to create backlinks easily by connecting with your social media profiles. For instance, your Instagram Bio can contain your website URL, thus easily creating a backlink to your website. 
Local Bloggers and Influencers
Compliment your social media presence with the help of local bloggers and influencers. The bloggers and influencers have a strong following, if the influencers feature your business it will lead to a good local link-building tactic that will help your business's visibility. 
Guest Post on Blogs
You can also build local inbound links by guest posts on local blogs from influencers. Brainstorm topics that the blogs' target audience would like to know more about. It is important to make the guest blog a linking opportunity. You can ask the blog owner to add a link back to your website that will serve as a local linking opportunity. Guest blogging helps you boost your overall branding in your local community. As potential clients see your name popping on several blog posts frequently, they start to trust your business. 
Sponsor Local Businesses and/or Charities
You can build local links by sponsoring local events, businesses, or charities by giving donations, it is a great way to give back to your local community. Are you wondering how this CSR activity will help you create a backlink? It's quite simple actually. Such local start-up businesses or charitable organizations upload appreciation posts on their web pages and social media platforms with a link to your website. 
Industry Specific Directories
Although the industry-specific directories feature your competitors' information also, however, it is a good tactic to create local backlinks. A backlink from a niche directory can lead to relevant referral traffic to your website. 
Local Press-Local Newspaper, Forums, News Sites: 
Although it is a manual outreach and takes up more time, still it is a worthwhile tactic to build local backlinks. Reach out to your local newspapers, forums, and online news sites to promote your business by writing about it. This will help you to raise local awareness and establish your business as a trustworthy go-to resource in your specific niche and location.   
Claim your GMB Listing
Google My Business Listing is also known as Google Business Profile. The listing gets you a backlink with Google, there is no reason to ignore it because you already have an idea that how important it is for your overall SEO strategy. Sign in to your Google account on Google Maps, search for your business address and click on "Add your business". Follow the given instructions and add all the relevant information like photos of your product/service and storefront. 
Read More: How to Optimize Your Google Business Profile Listing for Local SEO
What are the Advantages of Local Link Building?
Local link building is one of the most important digital marketing strategies used around the world. Fortunately, you can see the benefits of link building quickly for your business. Here are some of the benefits of local link building in SEO. 
It helps improve overall website traffic.

It leads to better local search rankings about our traffic.

The potential leads turn into increased sales and revenue generation opportunities.

Connecting with like-minded business owners will help your business enhance relationships and networking in your niche. And you know by now how important it is to build and maintain the right relations when it comes to business.

Local Link Building helps you to able to generate continual and sustained referral traffic to your website. You can get this benefit without having to continuously check in with that particular backlink.   

It also helps your business to attract better visibility and exposure. The two main factors that can make or break the digital marketing strategy are.

Local Link building can also prove to be helpful as it keeps the bounce rate low, which is another important

factor in search engine ranking

.  
Final Thoughts
Undoubtedly, local link building is important for your local SEO strategy. The above-mentioned local link-building tips for your local business will help increase traffic, conversion, and click-through rates, and rank better in search engines. As well as, help in building better B2B and customer relationships. 
Local Link Building Strategies and Tips for Local Businesses – Frequently Asked Questions
How does local SEO work?
Local Search Engine Optimization (SEO) is an SEO tactic that helps the business to be more visible, attract a local audience and rank higher in local search results on search engines. To improve your search visibility you need to work on the following:
Optimizing your Google Business Profile

Make your website mobile friendly

Create social media presence

Build local links and Internal links
Are local backlinks still relevant in 2022?
Yes, local backlinks are absolutely important for the long-term success of your business and your SEO strategy. The more backlinks a page has, the more it will drive traffic to your website from Google.
Also Read:
Reference:
[1] 63 SEO Statistics – Ahrefs
Get the TurboAnchor® newsletter
Get smarter with the latest news, tutorials and consultation on technology.
By signing up, you agree to our Terms of Use and acknowledge the data practices in our Privacy Policy.