DIGITAL MARKETING > SAAS MARKETING
SaaS Marketing – Guide for Better Software As A Service ROI
No doubt that marketing is more than a game. But What about the SaaS marketing that is even more challenging? So, are you thinking about selling? No worries! I will let you know about the 'More Unique' marketing strategy known as SaaS marketing.
SaaS marketing is referred as a "most effective marketing strategy" that attract prospective customers. SaaS marketing strategies put an emphasis on using digital channels and content to sell SaaS solutions in an environment that is (mainly) digital.
What is SaaS Marketing?
SaaS marketing is a specific way to sell software. SaaS marketing aids in the introduction of a product to the market, positioning a product, and raising awareness of a SaaS company. Compared to other industries, including other B2B industries, digital marketing for SAAS is particularly distinctive.
How is SaaS Marketing Different?
The SaaS market is expanding quickly and will be worth $145.5 billion in 2021. Free items are offered to customers as part of SaaS marketing strategies. In contrast to physical products, where you can only offer free samples or promotions, SaaS companies frequently agree to give away their software without charge to attract new clients.
Best Marketing Strategic Guide For Your SaaS Company
Marketing that is primarily targeted at generating leads. It is promoting subscription-based SaaS goods referred to as SaaS marketing. You can succeed in the SaaS marketing experience if you back your product with a clever and effective marketing plan. 
Also Read: 5 Simple Ways To Get More Leads In Google Local Services Ads
The quantity of SaaS goods and companies increases together with the industry. How can you differentiate your company from the competition and outperform the best SaaS marketing plan? This article can serve as a helping pad for more extensive plans for SaaS marketing organizations. Look over this one because each point will cover the fundamentals.
Practice 1: Grow Initial Product Market Fit for SaaS Page
Expanding quickly on tried-and-true combinations of the channel,

buyer personas

, and message.

Exploring additional channels to increase reach while minimizing acquisition expenses is known as SaaS marketing expansion.

We are identifying and lowering acquisition expenses by using data on traffic, conversion, and lead quality.

Improve the on-site experience on chat and landing pages through conversion funnel optimization to boost lead conversion rates.

Utilizing PR that is specifically targeted will help your brand stay in the minds of your target market.
Practice 2: Content Marketing Strategy For SaaS Company
While doing marketing for SaaS, It's crucial to keep in mind that you're providing services to a certain industry as marketing for a SaaS company. Although the individuals in this sector may not yet be aware of the need for your software, they are likely to have inquiries about your business and its products.
These kinds of inquiries are a terrific approach to draw people to your website and introduce them to your software. This will help you a lot during SaaS Marketing.
Practice 3: The SaaS Carrot 
Always provide a Free Trial, a Freemium product, or at the very least a demo if you are truly doing SaaS digital marketing. Every model has advantages and disadvantages, and one can be a better fit for your business than the others.
Offer them free trials
A sample of your goods holds the key to winning over your clients' hearts. Visitors to your website will be able to assess whether your product satisfies their demands or not.
Free trials are most effective in niche markets and for solutions to particular issues. By combining a free trial with other choices such as a demo, you can ensure that prospects aren't discouraged during the SaaS marketing.
Freemium Model
When using a product under the freemium business model, there is no cost or time restriction. This enables customers to experience your product for free or at a modest cost, understand its advantages, and grow accustomed to it before spending more money. It provides you access to user data, gives your items a lot of exposure, and cultivates a devoted following.
You are selling to the general public, and while 95-98% of users would never pay. Your product is so addictive that certain customers are prepared to pay extra for improved benefits.  These benefits are more storage space, customer service, or extra features in SaaS Marketing.
Demo Offers
By offering a demo, you may give potential customers a chance to interact with you. It's a setting where you can build trust, address any worries they may have, and see if your product is a good fit for them.
Ranking for competitive keywords is impossible for new websites (or websites with low domain authority). Simply look over the SERPs. You'll notice that the first page is overrun with well-known websites that have an absurd amount of backlinks.
Read More: What are keywords & how to do effective keyword research?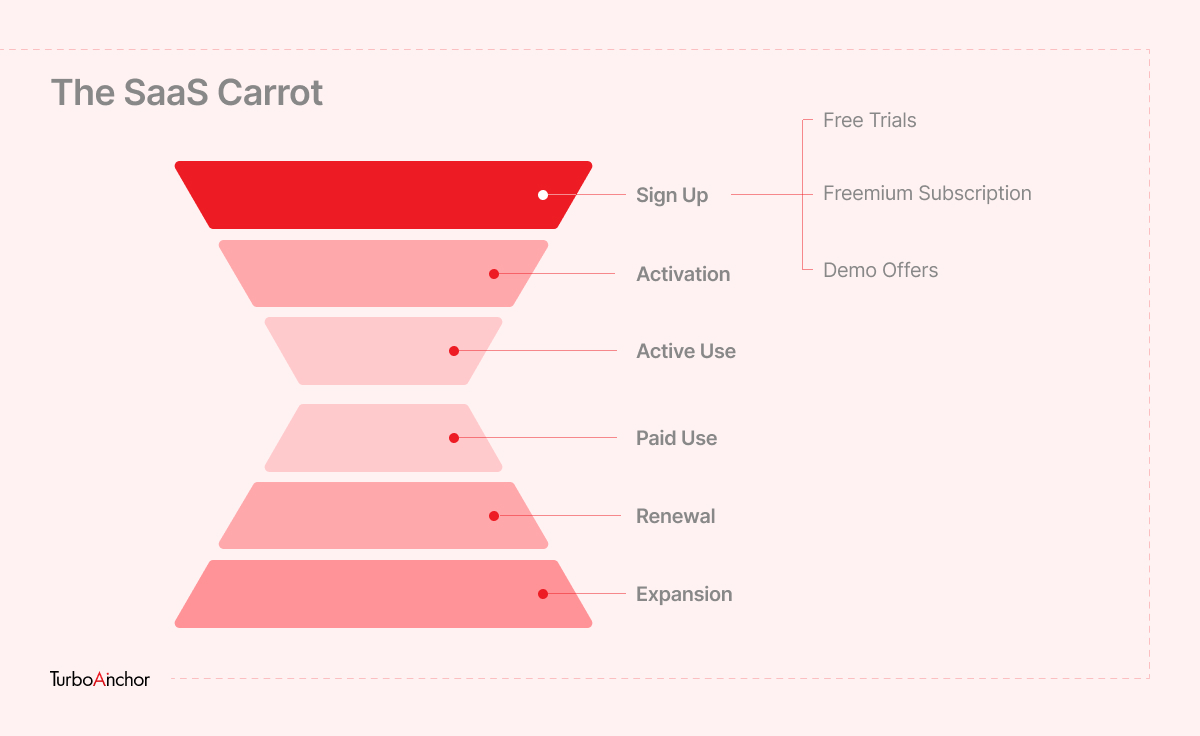 Practice 3: Compare Your SaaS Tools With Competitors
Fortunately, comparison postings are helpful in this situation.
Long tail keywords with less competition are generally used in blogs that examine the alternatives to a competing product, either a direct competitor or an indirect competitor. Best of all, they have a strong desire to purchase.
Practice 4: SEO Strategy For Your SaaS Company
A great SEO strategy is the best way to increase website traffic. SEO is a complicated process that works hand in hand with content marketing. The core concept is straightforward in SaaS marketing. 
A website needs to be customized and improved to rank as highly as possible in search engine results. The main aspects of this point are
Key research 

Technical structure

Informational assets

Using engagement metrics
Read More: SaaS SEO: What is it and How to Optimize for it?
Practice 5: Generate More Traffic for SaaS Page
There are five tried-and-true strategies for increasing traffic to SaaS marketing websites. Most of them will be covered in more detail.
Pay Per Click Investment
The best option is paid search, also known as pay-per-click (PPC) advertising. You shouldn't consider it to be a replacement for SEO and content marketing as a SaaS marketing approach. It can, however, be a wonderful addition to those two procedures. especially if you want to see some immediate traffic gains.
Read More: All You Need To Know About PPC Campaigns
Exposure To Positive Reviews
People give ratings and endorsements a lot of weight. It's crucial to gain visibility for your SaaS company on one of the several SaaS review websites out there. Getting a positive review on a review site will help to increase your website's traffic. 
It's worth trying to get a listing on as many review sites as possible. All of them may not feature you, but it's worth a try. Having a presence across multiple sites helps in providing you social proof and convince potential customers of the viability of your business.
Practice 6: Referral marketing SaaS Company Promotion
Referral marketing can be thought of as the online version of word-of-mouth promotion. It entails encouraging current clients to endorse your product to their contacts in private emails or publicly on social media sites like LinkedIn.
 It's a successful SaaS marketing tactic since it raises the likelihood of attracting qualified leads. Referral marketing helps you reach out to new potential clients and makes sure you have the endorsement of a reliable source. B2B SaaS companies may easily benefit from this.
Practice 7: Analyze your overall performance
Track the Traffic
Put your attention on distinct visitors, quality leads, conversions, and repeat customers. Although not simple, it is possible to measure these metrics in Google Analytics. This is one of the simplest metrics to monitor, but because the buyer's journey involves several touches, it may not be accurate. A specific individual statistic is therefore more important than just total traffic.
Lead calibre:
Are you able to connect with your personas despite having already defined them? Only by keeping tabs on your lead quality can you provide an answer. Without tracking this, you can be wasting a lot of time on leads that aren't the right fit for your SaaS. This can be monitored via lead scoring or a variety of characteristics of your ideal client (geography, company size, number of forms submitted, etc.)
Cost Per Lead (CPL): 
It can be challenging to determine the precise cost per lead, especially in B2B industries where the buying cycle might span several channels and last for weeks or even months. However, you can begin by simply assessing the last channel's attribution and then gradually add additional complexity as you gather more data.
Practice 8: Measure Your SaaS Customer Success
Your saas company is directly responsible for your customer success. Here are some basic tactics to define, measure, and how to achieve your customer success objectives.
Customer Churn Rate
The rate at which clients discontinue doing business with you is sometimes referred to as customer attrition. Because it is substantially less expensive to keep clients than to recruit them, this measure is crucial in the SaaS sector. Therefore, a crucial aspect of what makes a SaaS provider successful is reducing client churn.
Customer Lifetime Value
This statistic determines the total earnings that can be linked to a certain customer during their engagement with the SaaS supplier. This is important since it focuses on identifying qualified leads and gaining them at the lowest prices. SaaS marketing in determining how much they should spend to acquire consumers.
Customer Acquisition Cost
Simply put, this metric measures the entire cost of gaining a customer over a specific time frame. Your CAC is $1,000 if you spend $10,000 on sales and marketing this year and add 10 clients. While you might have a high CAC during the launch phase, you want to see this value drop with time. 
Suggested Read: Amazing! Tips to Measure Your PPC ROI
Practice 9: Email Marketing For Your Saas Page
You have a fantastic opportunity as a SaaS provider because you can share regular observations and advice on the market your product serves.
As a result, you can regularly send email campaigns to your email list subscribers about subjects related to your sector. More individuals will want to join your email list if it provides value.
Some potential clients won't be prepared for a free trial just yet, but we already discussed how you can gather emails by offering a free trial of your program.
You can nudge people to sign up for your mailing list, but don't call it a mailing list. Inform them of what they'll receive. Make it apparent right away if your newsletter is a weekly five-minute read about productivity tips.
The goal of this email list is to keep your business name in people's minds and inboxes so that you can encourage them to make a purchase. You can tell them about your software and how it can simplify their lives and solve their pain points in your emails. Just be careful not to go overboard; this is a helpful newsletter, not a sales pitch.
To provide a more individualized experience for your subscribers, you can automate your email marketing. Sending subscribers information on areas they're interested in is possible with email automation.
Conclusion 
You now have got doable actions and a tonne of more material to assist you to accomplish your SaaS marketing objectives
 It's your SaaS marketing plan, so use all of these suggestions or just the ones that stand out to you the most. It should represent your brand and your company.
SaaS Marketing – Frequently Asked Questions
What is SaaS model?
In the software as a service (saas) concept, a piece of software is hosted on a cloud infrastructure and accessed via a web browser for a monthly subscription.
What is SaaS B2B marketing?
A type of marketing targeted specifically at SaaS (or software-as-a-service) solutions is known as B2B SaaS marketing. The primary distinction between B2B SaaS marketing and other types of marketing is that SaaS goods are typically subscription-based 
What are the main benefits of SaaS Marketing?
Accessibility

: The capacity to function continuously on any device via an internet browser. No installation, equipment upgrades, or conventional licensing management is required for operational management. 

Cost-effective

: upfront hardware costs are not required.
Also Read:
Get the TurboAnchor® newsletter
Get smarter with the latest news, tutorials and consultation on technology.
By signing up, you agree to our Terms of Use and acknowledge the data practices in our Privacy Policy.