DIGITAL MARKETING > SEO
SEO
vs
.
P
PC
:
How
to
Choose
the
Right
Strategy
for
Your
Business
You might be thinking about which course of action is better to go with SEO or PPC regarding digital marketing. You can reach the top of search engines through a pay-per-click (PPC) campaign or create a more natural search engine marketing strategy through search engine optimization (SEO).
When we talk about the difference between SEO & PPC, traffic coming from SEO (organic) is free, while traffic generated from PPC is not free (as the name suggests, pay a cost per click).
So which is better for your business, SEO vs PPC? Well, they're actually both rather crucial. But they also support the effectiveness of each other. Nevertheless, when you're starting up or have major development plans, budget and resources usually suggest that you may have to focus on one more than the other.
Let's get a clear picture by digging deep, discovering the differences between SEO and PPC, and helping you decide which should take up your investment and time.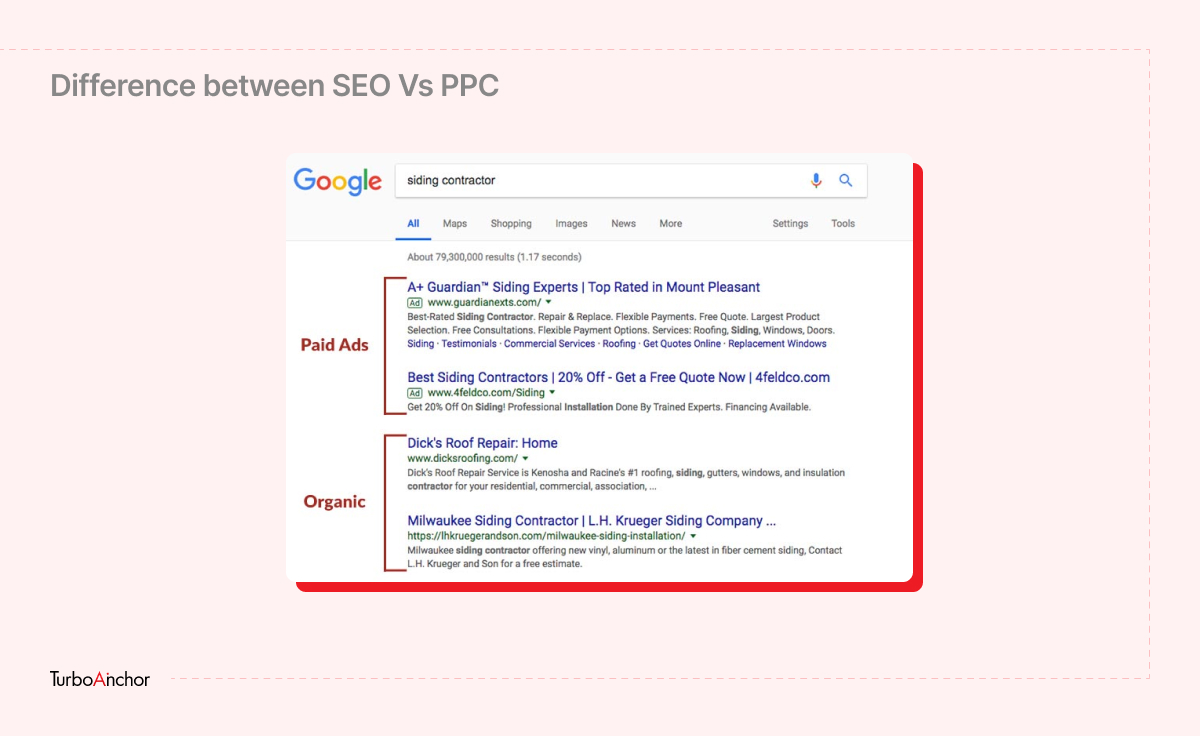 What is SEO? 
Search engine optimization is optimizing your web pages to rank higher in search engine results. Organic SEO ensures the search engine spiders understand what is on your web pages so that, ideally, they'll rank your site higher than your competitors.
Google's algorithms may change, affecting your ranking. Still, SEO always comes down to providing helpful content for visitors and Google search crawlers on your website. It can involve ensuring the website is in good shape by utilizing clean codes and search engine-friendly content that appeals to human readers and spiders.
Composing inbound links from other sites can dictate your "link authority" and improve your ranking. Including Blogs, Social media marketing & Video content can also help provide quality links.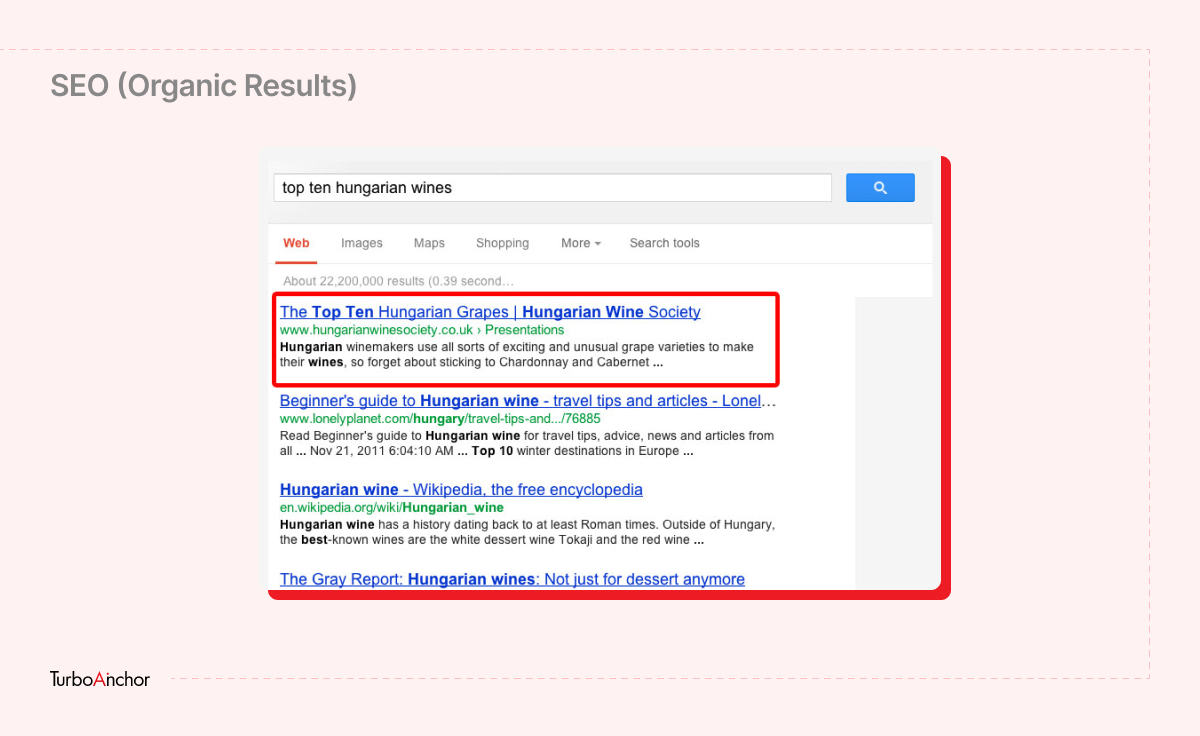 There's a challenge with SEO: You can't buy ad space here. Search engines rank you based on the quality and relevance of your page.
Read More: How are Web Pages ranked: Important Ranking Factors
As such, a big part of SEO is figuring out what the search engines consider essential and then optimizing your website and web pages accordingly.
What is PPC? 
The Pay Per Click advertising model is essentially buying visitors to your website. Each time someone clicks on an advertisement, advertisers pay a fee. You can quickly leverage search engine traffic by paying or bidding on keywords related to what you sell or provide.
PPC ads appear at the top and bottom of search engine results pages. Listed above and below the organic search results. You can also display and remarket your ads on other relevant websites.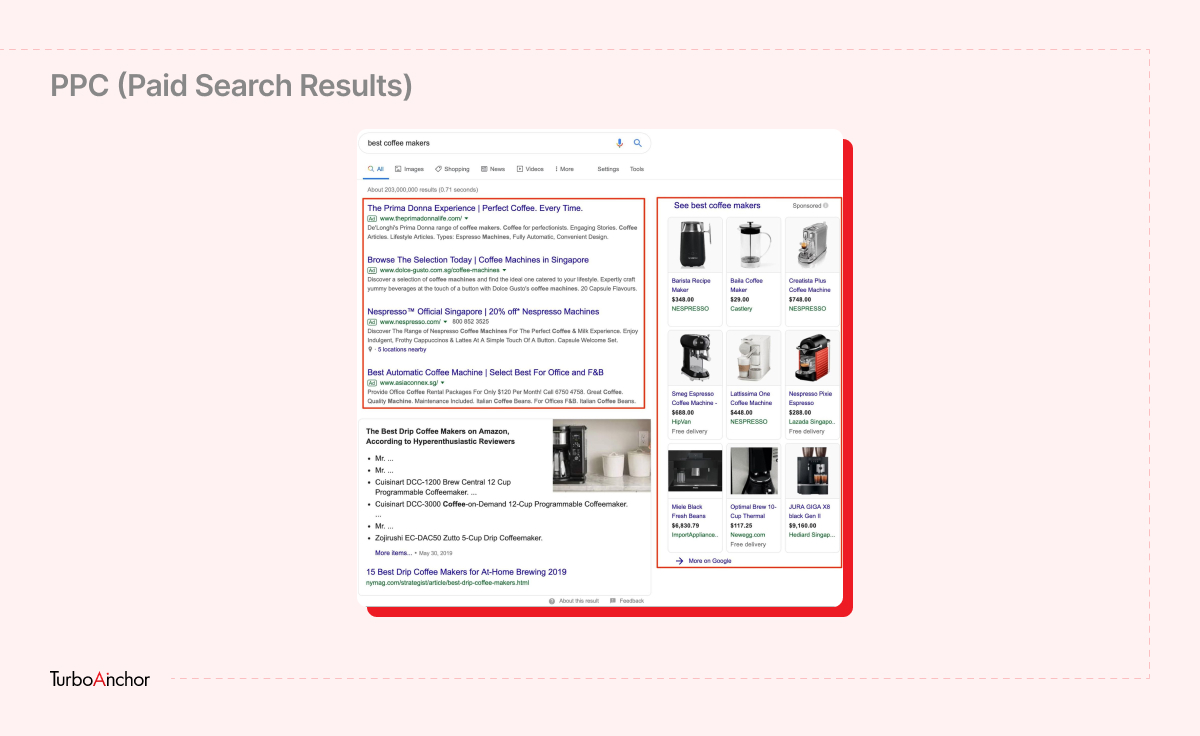 You can notice that the top search results are tagged with an "Ad" marker.  
In cases where you don't have the domain authority to rank organically on search engines, PPC advertising can help you stay in the race.
Read More: What is Paid Digital Marketing and How It is Important for Business
SEO Vs PPC Statistics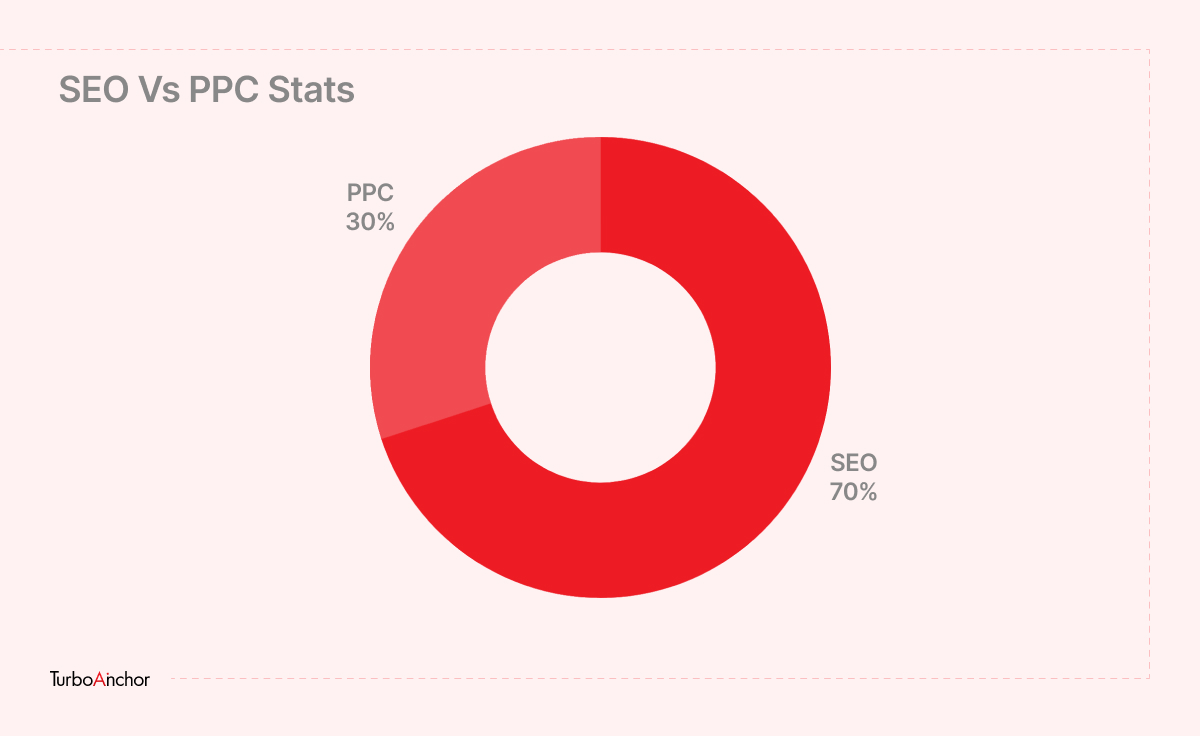 Research shows that organic listings captured

64%

of all clicks in the SERPs. In comparison, paid ads accounted for merely

6%

of clicks.

[1]

 

HubSpot discovered that up to

80%

of people ignore PPC ads.

[2]

WordStream reported that the average CTR for PPC ads across all industries is

3.17%

.

[3]
SEO vs PPC ROI
Well, it works out in one way or another if we think about it. Since SEO click-through rates are higher than PPC, it can drive significantly more organic traffic your way than PPC. Furthermore, SEO will result in a lower cost per acquisition (CPA) than PPC.
For Example, if you are spending a million dollars monthly on paid search, it's realistic that you could reduce your CPA by 60%, 70%, or even more than 80% by dominating in organic search while reducing your PPC spend.
If you are not vital in SEO today, you can still plan to shift to a heavier reliance on SEO gradually. As you perform better organically, it will be more profitable for you to focus increasingly on SEO and rely less and less on paid searches. 
Also Read: Amazing! Tips to Measure Your PPC ROI
How can SEO and PPC work together?
Studies show many businesses are torn between search engine optimization (SEO) and pay-per-click advertising. [4] Rather than debate whether to invest in organic or paid search, why not take advantage of both?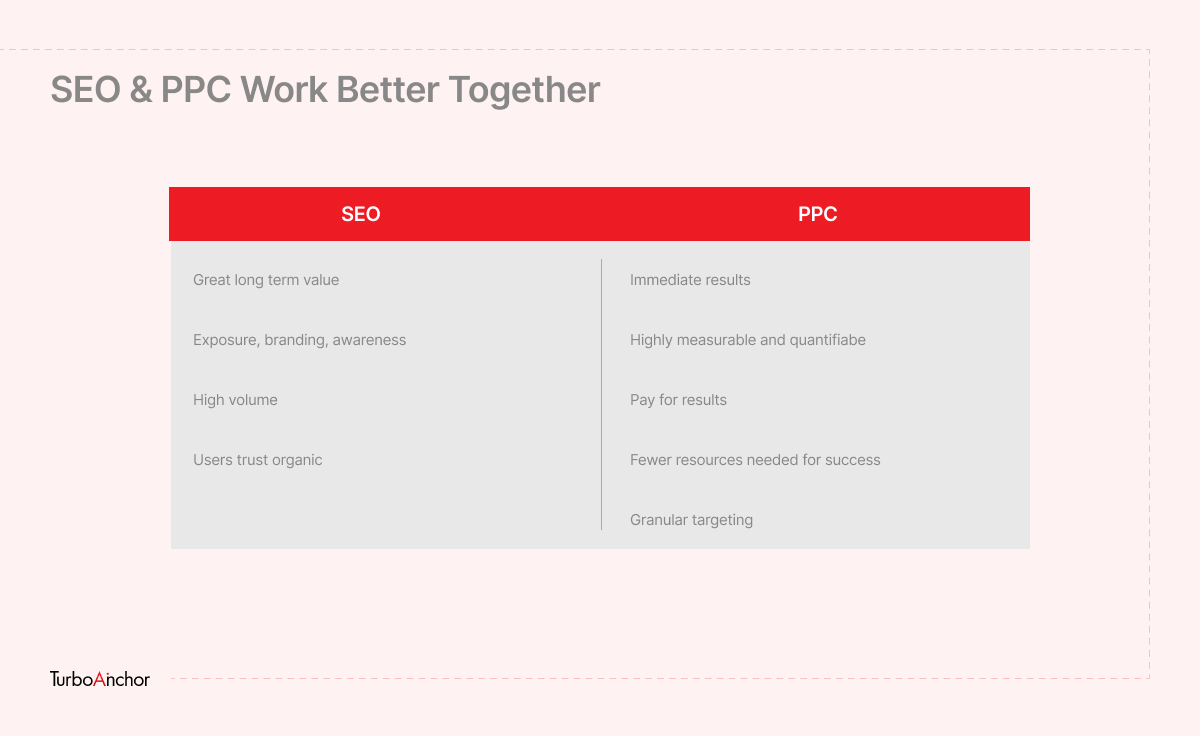 Following are the benefits of having PPC and SEO teams together:
Implementing a

PPC campaign

can help you create the perfect SEO strategy. If tracked properly, you can determine which keywords generate the most conversions and have the lowest cost per acquisition by creating different PPC campaigns for specific

keywords

.

The Paid Search team should be aware of URLs' significance in SEO. Suppose the PPC team decides to implement tracking URLs for specific pages or wants a new page to be created as a landing page. In that case, this could backfire on SEO efforts on two bases. First, generating duplicate pages for tracking purposes can cause a decrease in organic rankings for both. Secondly, new pages for similar topics, while not being duplicated, may still restrict search gains. 

You can create

retargeting ads

to target visitors who visited your site but didn't make a purchase or so.

PPC campaigns allow you to collect data from ads to improve your SEO strategy.  
Suggested Read: How to Optimize Your Digital Marketing Strategy for 2022
FAQs
Why is SEO better than paid ads? 
Well, it's safe to say that when it comes to generating quick sales, paid search is your ticket. As you are aware, consumers are quick to change their minds, so it's crucial that brands get in front of them when they possess strong purchase intent. PPC advertising is the fastest way to reach customers ready to buy online.
While on the other hand, SEO takes time to implement and return positive results, PPC gets you more instant results. SEO is free, and PPC is paid. Simply put, paid search is a great short-term solution for promoting your products and services. So, in the end, the choice is yours. If you want to deliver fast clicks & gain organic traffic then  SEO is a better option.  
Which is cheaper, SEO or PPC?
Simply put, SEO might cost time and money when paying freelancers or agencies and for SEO tools, but in the end, it's still cheaper than PPC. When you create content that ranks and drives traffic to your website, you no longer have to keep spending money to make your target customers see it. 
Which is Better: SEO or Facebook ads?
SEO works better than any other traffic source because it explicitly targets customers searching for what you offer and has the lowest bounce rate. Unlike Facebook ads that are to the point, reaching out to the audience quickly and ready to help you to get noticed, organic SEO is a slow yet effective builder for your website.
Can you Pay Google for SEO?
Well, hate to say it, but the answer is no, it doesn't. Remember that Google is a search engine, and they have created its algorithm to rank websites. If Google offered SEO services, you'd just be paying to be at the top of the search results. 
Conclusion 
In the end, should you go for SEO or PPC if this question arises? Well, the choice is all yours. If you have the budget and need to see instant results, then employing a PPC campaign is a better option. But it can still take time and trial and error to get suitable ads that convert without overpaying for results. Suppose you have a longer timeline in mind and don't need to see instant results. In that case, SEO efforts can offer some of the best results and returns. You don't need to pay back to back for website traffic and new ads to attract more visitors.
Also Read: 
References:
[1] Organic listings captured – Conductor 
[2] People & PPC ads – HubSpot
[3] CTR for PPC ads across all industries – WordStream
Get the TurboAnchor® newsletter
Get smarter with the latest news, tutorials and consultation on technology.
By signing up, you agree to our Terms of Use and acknowledge the data practices in our Privacy Policy.