DIGITAL MARKETING > SEO
NAP SEO – How to Optimize Your Name, Address and Phone Number
Correct NAP is important for your local business listings and Local SEO. Google Algorithms scan all the listings when searching for your business. According to a study by Wesley Young, if a business's NAP information is not available on its website, it has a negative impact on the local ranking. [1] 
In this blog post, you will learn about NAP in SEO, the importance of NAP in SEO, and how to optimize it.
What is NAP in SEO?
NAP stands for Name, Address, and Phone Number. These items tell the fundamental information regarding your business that the customers need to know before getting to know you better. Your audience needs to know who you are, where is your business located, and how to get in touch with you.
NAP SEO means merging the two concepts, and it helps the business to optimize its name, address, and phone number in search engines. NAP is important for businesses to rank high in the local organic search results.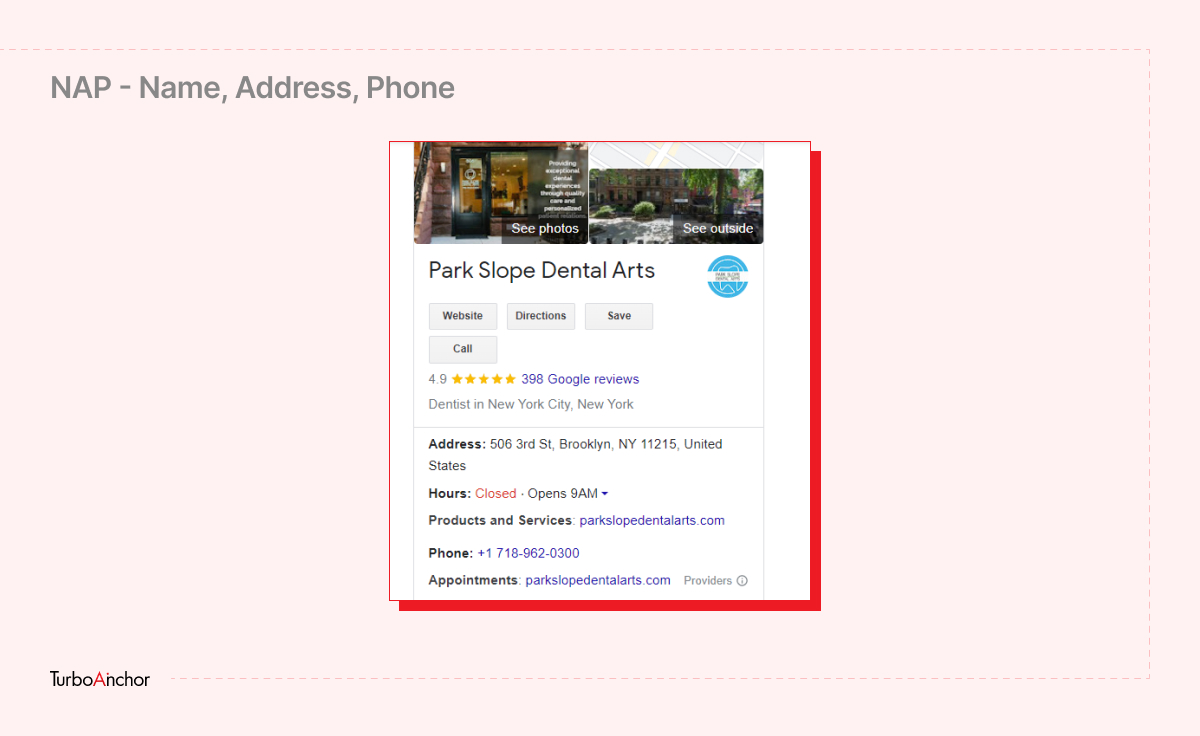 Why is NAP important for SEO?
Search engines use NAP to decide which listings to show in a local search. If this information is missing on your website and other online platforms, search engines will not display your business when people conduct a local search for a product or service related to your business. Hence, NAP is important and one of the factors that cause your business to appear in targeted searches. Google validates the legitimacy of your business by checking the business's NAP that appears on websites and social media platforms. 
Matching NAPs confirms and signals the legitimacy of the business and a potential increase in the local search ranks as well. Accurate and consistent NAPs also help the business to find more leads and drive more traffic to the website for local searches.
Suggested Read: 5 Simple Ways To Get More Leads In Google Local Services Ads
What is NAP Consistency?
Nap consistency is all about uniformity across all the platforms with your NAP information listed, the name, address, and phone number of your business must be correct and uniform in terms of style, spelling, and format to achieve NAP consistency.
If your NAP is inconsistent it leaves a bad impression on the audience and results in issues like fewer potential leads will be able to find your location or contact you when needed. Additionally, Google questions whether your business is legitimate and reliable enough to appear in local search rankings. According to research 80% of customers get confused and do not trust businesses with inconsistent names or contact details available online.
Read More: All You Need to Know About Local SEO Ranking Factors
Tips for Optimizing NAP Strategy
Once you understand the significance of NAP, these practical tips will be useful for you:
Avoid Abbreviations
Do not use Abbreviations, even if your business is well-known locally. It is better to use complete information (NAP) across all online platforms to make it easy for your customers and new leads. For instance, do not use St. for street.   
Use NAP Consistently
The golden rule is to put the correct information (NAP) on every online platform and keep everything consistent, so it looks legitimate and gains the trust of the customers.
Constant Updates
Constantly update your NAP, so your existing customers and prospects can contact you or visit your current location when they want to.
Include Links
It is important to include your website link on other social media platforms to make it easy for the customers to visit your website.
Google Business Profile
Set up your Google Business Profile and add your NAP information. It helps your Google Algorithms to display your NAP listings when people search for relevant local searches.
Beginner's Guide to NAP SEO – Frequently Asked Questions
Why is local citation important?
The local citation refers to mentions or listings of the information regarding your business online. Local citations help you build a reputation for your business. It has a direct impact on the local search rankings. Citations help Google's Local Search and Local Pack algorithms verify the legitimacy of your business. That leads to helping the audience to discover your business faster and drives more traffic to your business.  
Is NAP a ranking factor?
NAP is considered a direct and major ranking factor for Google. It helps you to highlight your business and make it stand out from the competition. Setting up your Google Business Profile with accurate NAP information will help you to attract potential customers and rank high in local searches. Search engines like Google collect and store the information and display it to the local visitors on relevant searches.
What is NAP syndication?
NAP stands for name, address, and phone number. NAP syndication helps your business to endure local search ranks in the competitive market. 
More Suggested Reads:
References: 
[1] Best & Worst Ways To Influence Local SEO Rankings – Search Engine Land
Get the TurboAnchor® newsletter
Get smarter with the latest news, tutorials and consultation on technology.
By signing up, you agree to our Terms of Use and acknowledge the data practices in our Privacy Policy.