DIGITAL MARKETING > PPC
What's Audience Targeting & Strategies That You Need To Go For
Before you start advertising, it's smart to figure out what kind of audience you are targeting, as you don't want your budget and effort to go to waste. Audience targeting is all about splitting or segmenting your total number of potential customers based on different circumstances including demographics, customer behavior, interests, age, or, gender. This can prove to be effective as it will help you deliver customers a more personalized experience based on their needs and interests.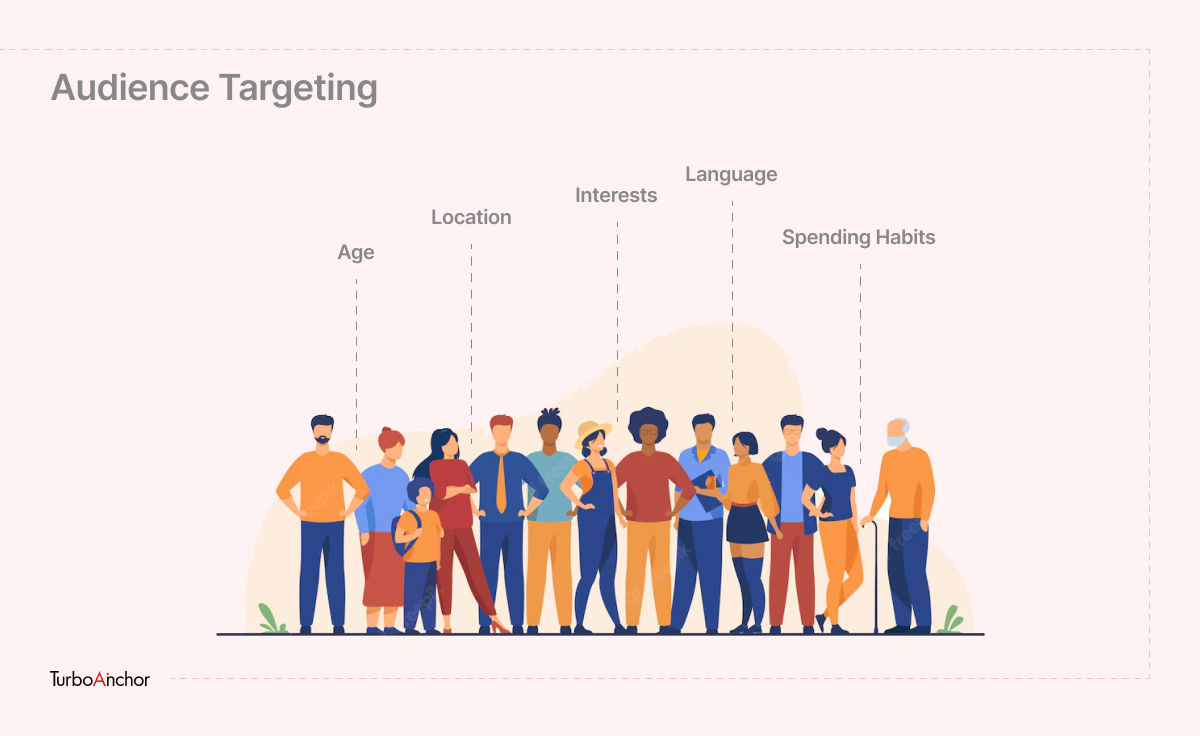 According to an observation, the agency saw a 744% increase in organic traffic within 12 months just with the help of proper audience targeting.[1]
So instead of blowing off your cash on irrelevant audiences that don't make a purchase first focus on your target audience. 
How to find your target audience? 
The following steps can help you find your target audience. You must analyze the data you receive from consumer engagements, evaluate current buyers and purchase trends and optimize as new information is shown.
Checkout your analytics to learn more about your target audience
A feature that most people aren't aware of in Google Analytics is that it not only just tracks visitors who come & go on your website. As a matter of fact, it also lets you know their interests. So now you can segment yourself and make a category according to them, for instance, fitness freaks, foodies, or loves to travel. Once you know your analytics, you can set up content for specific demographics.
For example, let's say most people visiting your website are food lovers and that is totally the opposite of your product or service. So, in that case, should you try putting your ads on foodpanda or Ubereats?  
Well, yes if there's an opportunity why not go for it! It is equally important to keep your campaign's goal in mind. You might want to create content that is aligned with the interests of a broader group of people rather than targeting particular groups if you're trying to increase brand awareness.
2. Conduct Market Research and Identify Industry Trends
To determine your plus points or flaws related to your product or service, dig deep into the market research for your industry. You can check competitors' brands or similar products to focus on your product's unique points. 
Another way is simply to ask your target audience by engaging with them. You can reach out to customers through an Instagram poll or marketing email. If you are launching a marketing campaign, you may consider conducting focus groups to ensure you are targeting the right demographic.
3. Create useful content on social media to appeal to your target audience
Creating content that your audience can go for is all that anyone needs. Keep that in mind if you observe that the audience engages with a particular type of content while creating a content calendar. 
For example, you get to know that Facebook is where you get the most engagement; the platform should be the primary focus of your marketing efforts. Now here you're targeting interests according to where they prefer. 
You can grab their attention by creating useful content like posting promotional discounts, new arrivals, and customer reviews. 
4. Determine your target audience through A/B testing
Well then, now is the time you get started with it for someone who isn't aware of marketing techniques like A/B testing. Testing your content before delivering it helps in avoiding risk. There will undoubtedly be consumers close to your target demographic but will not act on messages. Try to be specific in determining who your audience is and who it isn't. With A/B testing, you can split your audience into two segments. 
For Example, You can improve your marketing content before publishing it officially by experimenting with that content by supposing it into two groups of A & B. 
5. Go for Creative advertising
Well, one of the best ways to grab your target audience's attention is going for creative & interactive advertisement. Consider how you could tweak a general ad slightly to target different audiences. It can be an easy way to ensure your audience feels targeted by mixing up messages.
For Example, You are posting an ad on LinkedIn about a product launch. You have the ad for marketers lined up and ready to go. But can your product influence salespeople and customer service agents, and can you change the language to reflect that? Targeting audiences is essential when it comes to the digital age.
Therefore, remember to keep your buyer persona in mind when targeting audiences. They should be the core focus of targeted ads and content, so your marketing materials can drive a high ROI for your business.
Suggested Read: How to Optimize Your Digital Marketing Strategy for 2022
What is Demographic Targeting? 
Demographic targeting lets you set bids based on:
Age

Gender

Location

Hobbies

Income

Education level

Profession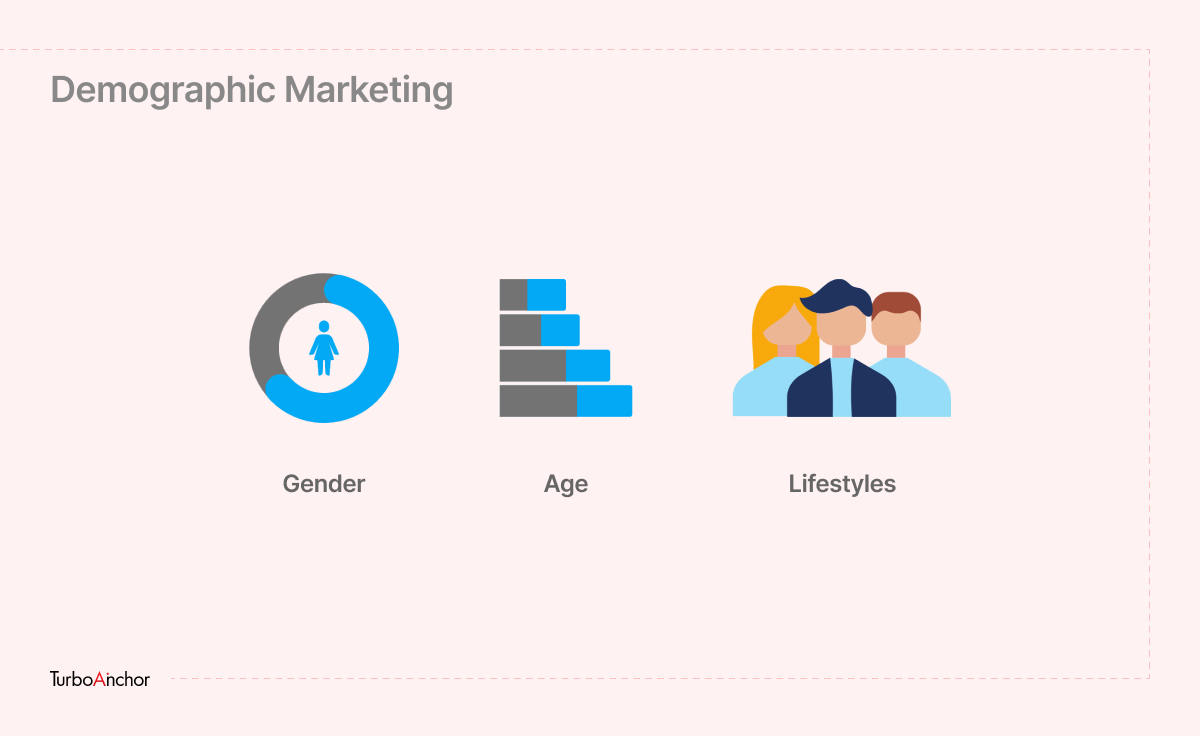 Speaking about the age and gender information is based on the data within someone's Google account so it will be based on logged-in users. Otherwise, the system will make the best guess based on their browsing behavior. To exclude this segment is to restrict your reach significantly.
What is Facebook's target audience? 
In simple words, we can say Facebook's target audience is the segment of people we want to reach out to. Facebook business manager allows you to target ads according to the demographics, locations, and interests of its users so that they can receive the most relevant ads. You can easily create or manage an audience from the "audience section". Another way you can set up a target audience and ad campaign is via ads manager.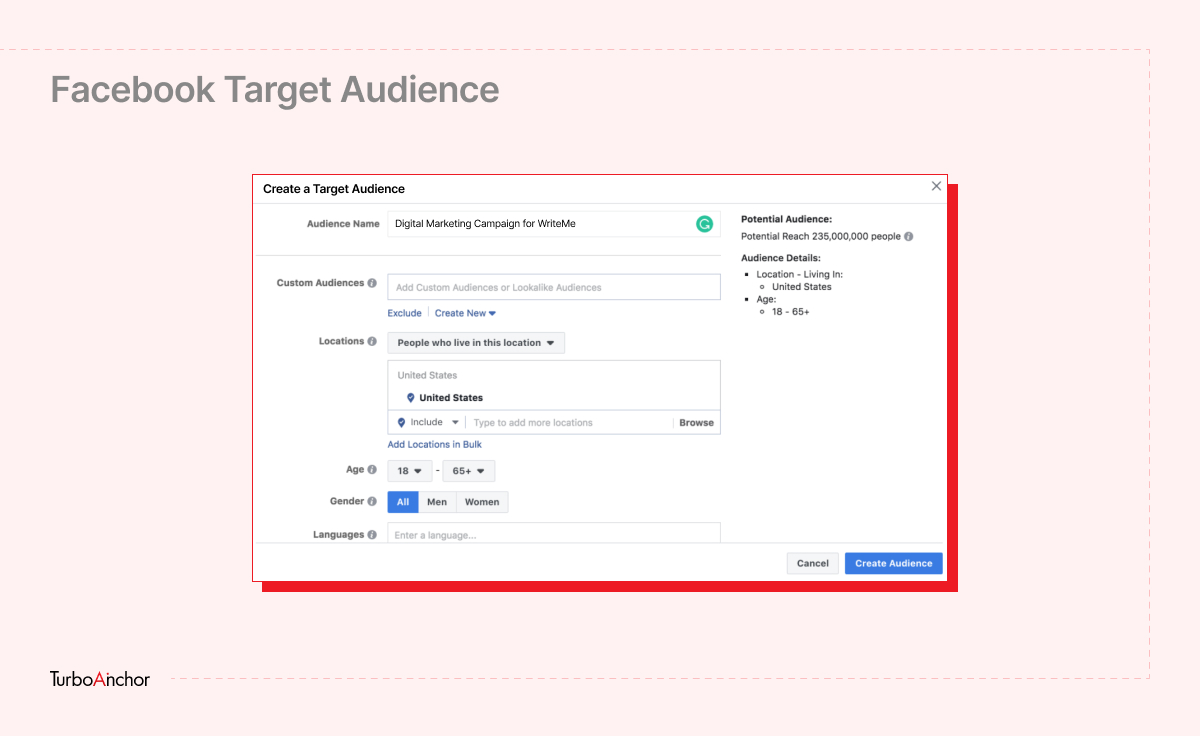 Read More: How to Find Facebook Ad Target Audience?
Here you can create your default audience or create a custom audience.  Last but not least, you can create a Facebook audience using the 'Boost post' option available below every published post on your brand's profile.
What is LinkedIn's target audience?
LinkedIn is the most prominent social platform used by business professionals. Understanding LinkedIn demographics will help you understand your target audience and compose compelling messages for them. LinkedIn is most popular with more aged users, most likely using the site. However, the younger generation is rapidly growing their presence. Observation showed that users aged almost 25-34 were considered the most targeted for ads.[2]
Suggested Read: All Types Of LinkedIn Ads You Need To know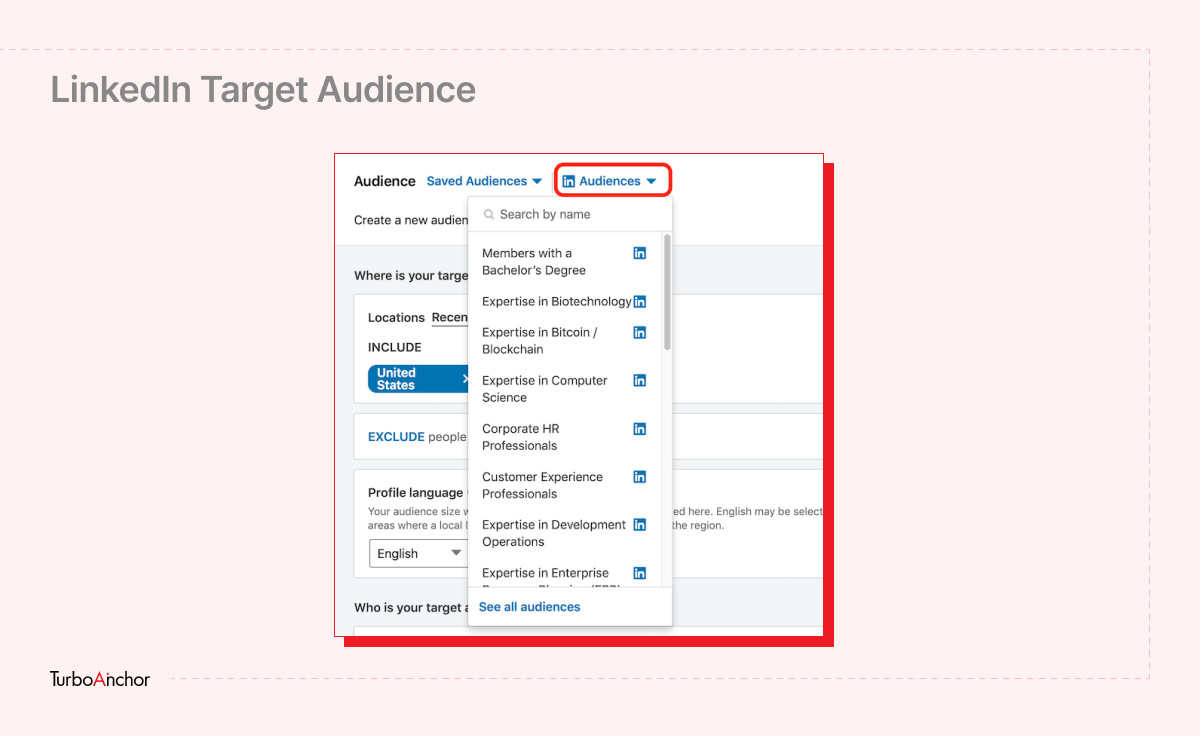 FAQs
What are targeting options?
Targeting options let you know how your ads perform for a specific audience segment; afterward, the bid modifiers are adjusted up or down to boost or lower your bids on that specific audience. 
How do you target customers online?
Observe your previous customers

Keep an eye on your competition

Analyze your product/service

Choose specific demographics to target

Consider the psychographics of your target

Evaluate your decision
What is the ROI for audience targeting?
Businesses these days set a high priority on growth and the ability to retain customers. Marketing to the right audience at the right time is crucial. By analyzing KPIs like conversion rates, customer lifetime value, and net promoter scores, brands can get an idea of how well they are performing in targeting particular audiences. 
Also Read: Amazing! Tips on How To Measure Your PPC ROI?
What is a broad marketing strategy? 
A broad marketing strategy allows you to reach out to a larger target audience via broad reach media, will sell more products, and net a higher return than a more targeted approach. As well as this, targeting a larger audience means you can rely on the size of your target market to benefit you in future product and service offerings. So you know that you will have leads and potential customers waiting to be contacted about your product or service. 
Conclusion 
In the end, we can quote that these are the audience targeting strategies that top marketers use to find and reach their ideal customers. But with rapidly changing technologies, it's considered a good move to keep updating and learning new strategies. A solid audience targeting strategy based on user data will ensure that your marketing messages stand out and achieve positive ROI and digital success.
Also Read:
References:
[1] Audience Targeting Strategies from Digital Marketing Experts – DBM
Get the TurboAnchor® newsletter
Get smarter with the latest news, tutorials and consultation on technology.
By signing up, you agree to our Terms of Use and acknowledge the data practices in our Privacy Policy.